Home
/ Unbiased CapstoneResumes Overview
Written by: resumewriterreview
Unbiased CapstoneResumes Overview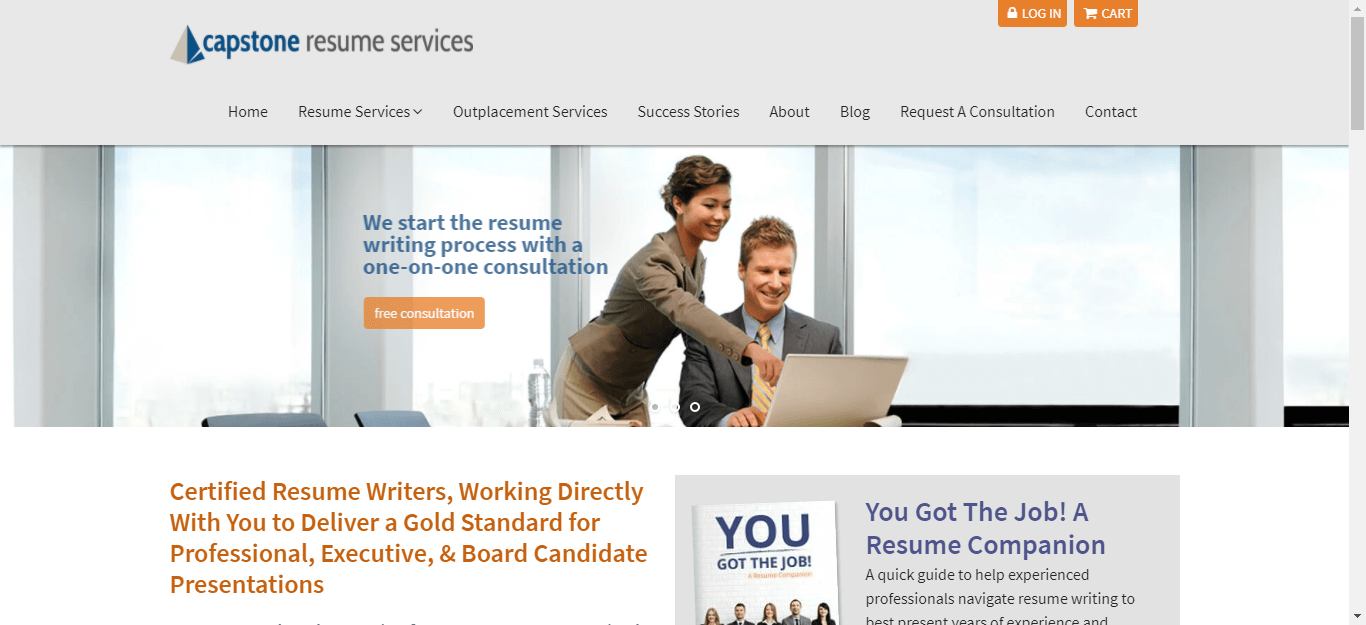 Struggling with resume writing is not a big deal for modern graduates and even professionals. Since you have only one single chance to impress the recruiter or potential employer, you cannot afford to submit a poorly completed resume or cover letter. Everything has to be written perfectly well, so you would really stand out.
CapstoneResumes.com is one of the services that help people like you who need help with their career search and namely, resume and cover letter writing. Do not hurry to place your order through. Check first the review on this service from our experts who managed to check it thoroughly and are here to share the results of their examination below.
Range of Services at CapstoneResumes
On CapstoneResumes.com, you will definitely not face a lack of services. Unlike many other similar websites, they do not offer specific packages or membership plans. On the one hand, it is good since if you need just one document, you don't have to pay any extra fees.
On the other hand, if you need many services, you cannot purchase a package and save your money. You can only order your services separately and still, and there is no discount for such customers.
Anyways, among their services, you can use a resume, CV, cover letter, and LinkedIn profile writing, as well as resume distribution. The last service is not unique; many other companies provide it but get ready to pay a significant amount of money for it.
Pricing and Discount Policy at CapstoneResumes
As mentioned above, there are no specific packages on CapstoneResumes.com. The only package is a resume distribution service that includes a couple of different options. It costs $249.
The rest of the services are paid separately: cover letter writing — $65, entry-level resume — $175, professional resume writing — $299, LinkedIn profile — $249, Executive resume — $349. You can also order an executive biography for $275.
There are no discounts even if you order more than one service. You just pay the full amount for each of them. It is necessary to admit that previously, their costs were much lower. They have raised them not so long ago, and now, their fees are quite high.
Quality
We could not check the quality of CapstoneResumes services and content. We have ordered an executive resume at $349, and this is an extremely expensive service. Since it was the most expensive writing service on the site, we expected to receive a top-notch resume.
Well, what can we say? First of all, they missed the 3-days deadline and delivered it only on the 5th business day. Since there are no refund guarantees, you cannot even get your money back for this failure. If the quality was excellent, those two days would not matter that much, though.
Unfortunately, the executive resume looked more like an entry-level. It was really disappointing. None of the information and experience provided were taken into account. The writer just provided us with a template that contained the facts from our list. It did not look like something written from scratch, nor by a native speaker.
We can truly say that it was a total waste of $349. Waiting for a free revision was a challenge. They did not even consider it to be necessary, so eventually, they just rejected it. If you don't want to waste tons of money, stay away from these writers.
Guarantees
CapstoneResumes.com does not guarantee much:
One free revision if they consider it necessary
No money-back guarantee
Timely delivery
They guarantee one free revision but do not even consider providing it. You cannot have your money back even if you are fully unhappy with the service or quality. Timely delivery doesn't really work. In general, they do not fulfill their own guarantees. This is not a top-notch service.
Support
You won't find any working hours on CapstoneResumes, so you can just try and get in touch with them through one of the ways mentioned on the site. There is no live chat on this website. They have a phone number, email, and a contact form to fill on the site.
We have contacted them both by email and phone. Their customer support is very slow and doesn't have any wish to respond to customers, especially when it comes to a free revision. Reaching them out would be a challenge, so just keep that in mind.
Online Reputation of CapstoneResumes.com
The rating of CapstoneResumes on Yelp has only 3.5 reviews, and this is understandable, taking into account everything we have faced on this service. Maybe we were just unlucky with the assigned writer. But we ordered the most expensive service, and it is supposed to be performed perfectly.
Pros and Cons
CapstoneResumes.com has a range of advantages for users:
A wide range of services
Possibility of getting a consultation
Free revision
The disadvantages of this service are as follows:
High costs
No discounts
Very poor quality
No refund
Very unresponsive customer support
Even if we enlisted their one free revision as a benefit, you should remember that you can get it only if they decide you really need it. Unfortunately, they almost never consider it necessary and avoid replying to your multiple attempts to get in touch.
Verdict
CapstoneResumes provide a very wide range of writing and career services. The quality of those services is lower than average while they cost extremely high. Their customer support does not want to reply to customers. Moreover, they fail to deliver documents on time.
With all this in mind, we do not recommend this resume writing service. If you do not want to waste your money and nerves, choose another, more reliable service instead.
FAQ – Frequently Asked Questions
What kind of services CapstoneResumes offer?
You can get almost any service related to career counseling on this website. Thus, you are welcome to order a resume, CV, cover letter, or LinkedIn profile, resume distribution, or interview coaching here.
Are there any discounts on this website?
CapstoneResumes.com does not offer any discounts or special offers. The only beneficial offer you can enjoy is the package that includes a cover letter and a LinkedIn profile. In this case, you will pay $225 and can save on ordering these two services separately. There are no discounts for new or returning customers either.
How soon does CapstoneResumes can deliver resume?
According to information on their website, the turnaround time is 2-3 business days. However, in reality, it is only the first draft that needs a lot of improvements. You can wait for your free revision for ages, though.
What guarantees do they provide?
CapstoneResumes.com does not guarantee anything like other similar services. You will not find a money-back warranty on their website, no 100% quality. The only guarantee they provide is one free revision if necessary. Customers' experiences say that they never consider it necessary and to claim it requires too much time.
What if I am not happy with the quality?
You cannot receive a refund from CapstoneResumes since this guarantee does not exist. If you are not fully happy with the quality of your content, you are free to request one free revision. Do not expect it to happen soon, though, because they are not likely to reply to their customers.
What other services does CapstoneResumes.com offer?
This company does not offer any specific extra features except for a free revision if necessary (if they consider it needed). However, you can use their blog with free resume writing tips or order a resume distribution service at an extra cost. They also provide outplacement services for both companies and individuals.
Can I communicate with my writer?
Yes, after placing your order, your writer should get in touch with you to discuss more details about your order. Do not expect them to be very responsive, though, because they usually respond when they need it but not when you want.