Home
/ Enhancv Overview: Choose a Good Resume Helper
Written by: resumewriterreview
Enhancv Overview: Choose a Good Resume Helper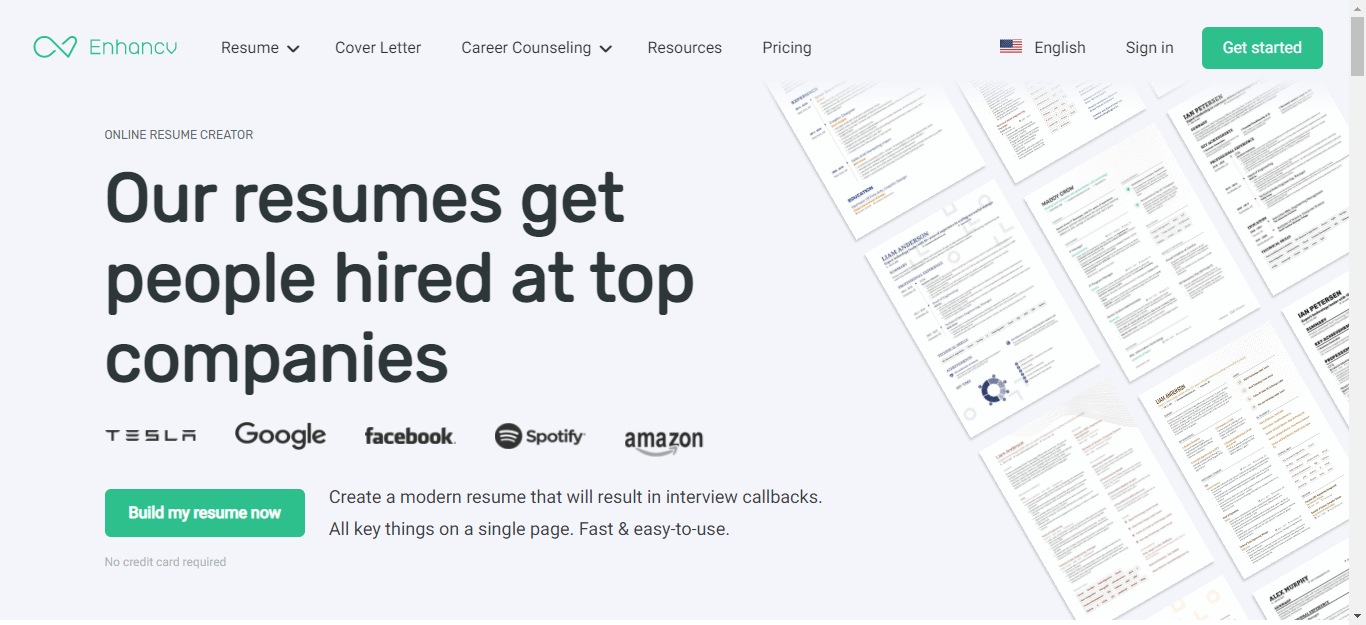 Enhancv.com is one of the resume builders that promise you the best career opportunities when using them. If you struggle with your resume and want to bring yours to the top level, you want to try everything modern technologies have to offer.
This service says that its resumes get people hired at top companies. It means that the resumes they create should be really on the upper level and meet all the requirements of the modern employment market.
Our experts decided to check whether it is really so and whether this website deserves to be called one of the best. See the results of our investigation below.
Range of Services
Enhancv is not a traditional resume writing service. It is more of a resource for your ideas or inspiration. You can hire a professional resume writer or editor here; however, you can use their online tools to build your resume as well.
Among their services, you can use the following:
resume builder;
resume examples and templates;
career counseling;
cover letter examples.
Unfortunately, you cannot call these services full-fledged since they are built more on templates and samples you just buy and use for your own resume or cover letter. As you know, it is not efficient at all since you cannot create a really professional resume this way.
Of course, it concerns an automatic resume builder. However, you can also go to the Career counseling section and hire your writer to create a resume for you. This is exactly what we did after checking their online tool. Let's see how much it costs and whether it is worth its money.
Pricing and Discount Policy at Enhancv
Enhancv.com is not a free service, even if you want to use their templates or examples. Thus, you can pick one of the plans, the costs of which start at nearly $11 per month. This price is valid only if you are using a Semi-Annual plan and pay for 6 months at once. You will be charged each 6 months.
A pro monthly plan costs around $20 per month. From time to time, they offer discounts for different packages except for a monthly plan.
These are the costs for their automatic software only. If you want one of the career counseling services, be ready to pay from $244 to $629, depending on what you want to be included in your package.
If you want to hire an expert who will write your resume for you, it is necessary to pay $99. In general, the prices do not seem too high compared to other services. However, the question is whether their price/quality ratio is really good. Let's see what issues we faced.
Quality
We used both an automatic resume generator and the help of a professional writer on Enhancv. The impressions about their online resume builder are quite contradictory. On the one hand, it is a great helper that gives you a better idea of how to create your own resume. If you struggle at some point with completing your resume, it will be much easier for you.
On the other hand, the quality of this resume is very far from what HR managers are looking for. It is not more than a template containing your information. Employers come across such resumes every day, and all of them look the same. If you want to stand out, you need to find something more serious. Otherwise, your resume risks being put aside, and you will never be invited for an interview.
Finding a free template online and improving it according to your requirements and information would bring exactly the same results. So, why do you need to pay for templates? This is the big question.
Thus, we decided to hire a professional writer who completed our middle-level resume at $99. To our biggest surprise, the writer called the next day only. We didn't have a 45-minutes call. The overall process took less than 30 minutes. The first draft was promised to be delivered within 3 days.
Unfortunately, we did not receive it in 3 days and had to contact the writer to get it.
Although it was just the first draft, it was still written too carelessly to be called a draft of a professionally written resume. The information provided was not taken into account much. It's a pity because it has to be. In other words, $99 was a waste of money because an expert is not really the one. We even thought it was not a native English speaker.
Guarantees
Enhancv.com doesn't care much to guarantee something to its customers. Below, is the list of guarantees you may have, however, they are very doubtful:
First draft delivered within 3 working days
One-time payment
Resume expert writers
Unlimited calls and iterations
Our experience says that almost none of these guarantees are fulfilled except for a one-time payment. Yes, we paid only once, and that's it. The rest of the guarantees were not stuck to.
Support
Customer support on Enhancv is a separate topic that deserves a lot of attention. First of all, customer support simply does not exist on this website. Once you click to their Help Center, you go to the FAQ section, where you should find answers to your possible questions.
If you have any disputes or issues, forget about solving them because this company has zero channels of communication. Only when you pay for hiring a writer will you be contacted by them.
Online Reputation of Enhancv
Enhancv.com has only 19 reviews on Trustpilot, and this is quite strange because all of them seem to be written by one person. They do not look like real experiences at all. Their rating is 4 stars. However, 21% of their reviews are fully negative. This is a big percentage of unhappy customers, even if assuming that all positive reviews are real.
Pros and Cons
Enhancv has a range of the following advantages:
User-friendly interface
Affordable pricing plans
A wide range of options
Unfortunately, the quality of their writers and the automatic generator does not comply with their prices and promises. Moreover, they do not provide any significant guarantees.
Verdict
We have used different services on Enhancv.com. Unfortunately, even their expert writers, who cost much more than just a resume builder, do not cope with their responsibilities. We cannot recommend this resume writing service.
FAQ – Frequently Asked Questions
What kind of services does Enhancv provide?
On the website of this service, you can find both automatic resume-building tools and professional expert resume writers. Apart from that, they offer a lot of templates, examples, and different career counseling services.
How much does this service cost?
Enhancv.com offers a lot of pricing plans depending on what kind of services you want to use. Their plans start at $11 per month and reach $629 per package. To hire an individual resume writer, it will be necessary to pay $99.
Can I create more than one resume with Jobscan.co?
Yes, this automatic resume builder allows you to create multiple resumes. You can manage and access them right from your dashboard. In general, it is very convenient to create several resumes from one account only.
Can I get something back after deleting it?
Enhancv resume builder works like Microsoft Word approximately. There is an autosave function. You can find it at the top right of your resume. While you are typing, it keeps saving information. The editor allows you to reverse a word or several words typed. You can redo words and sequences of words and modify your resume in different ways.
Can I have a free trial?
Yes, you can have a free trial on Enhancv.com. During this period, you can test the features included in the Basic plan. Those features include the collect feedback tool, a couple of sections of your resume, and single and double column templates. The free trial is not even enough to understand whether you really need this service. To have wider access to different necessary options, you will have to pay anyway.
Can I access my resumes after canceling my Enhancv subscription?
Yes, no matter whether your account is free or paid, or whether you have canceled your subscription, the resumes are saved in your account. You can always access it if you need it.
Are there any discounts?
Yes, this service often offers promo codes and special offers. However, keep in mind that those must be used within a certain time frame. When receiving a promo code, you won't understand it. Thus, it is necessary to check their Terms and Conditions so as not to lose your discounts.