Home
/ Evolution Coaching Resume Overview – Something Important About This Resource
Written by: resumewriterreview
Evolution Coaching Resume Overview – Something Important About This Resource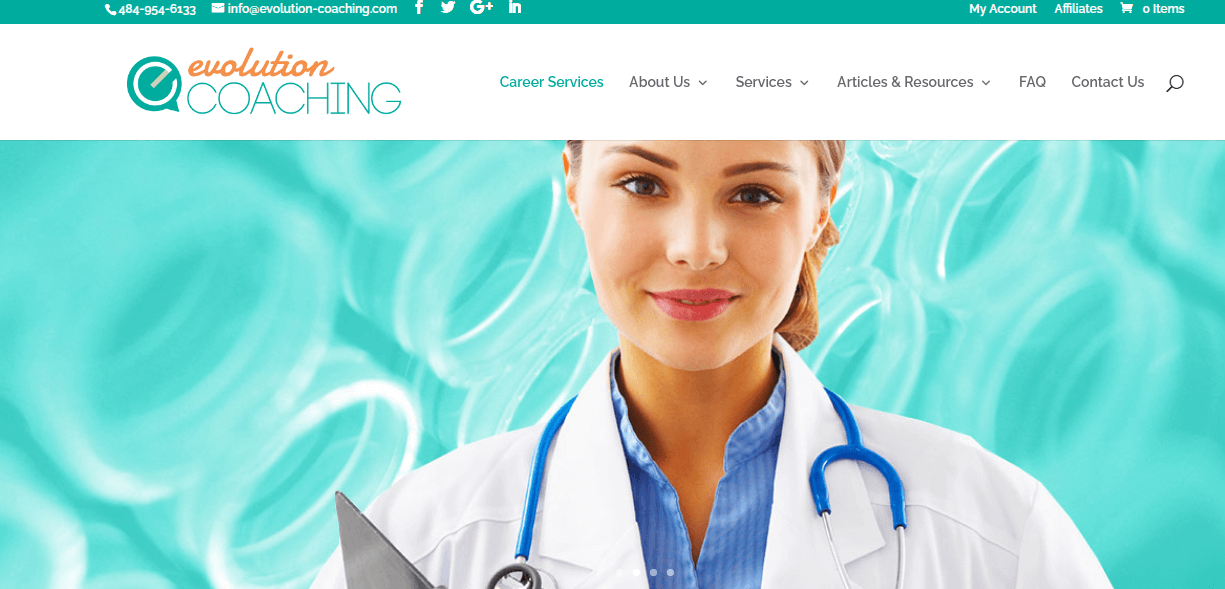 Evolution Coaching is one of those standard writing platforms that offer services relating to resume completion, proofreading, writing some formal letters, and more. The variability of such resources is huge, so we decided to check out this site and give you the most important information in one short review.
If this topic is interesting to you, just go on reading, and you will be aware of everything starting from the ordering process and ending with the quality of the final result.
Range of Services
First, Evolution Coaching is mainly oriented on helping people complete their resumes, cover letter, and any other formal writing that is necessary for the hiring process. They claim to assist any candidates, those with no experience at all, and even professionals who plan to work for military organizations.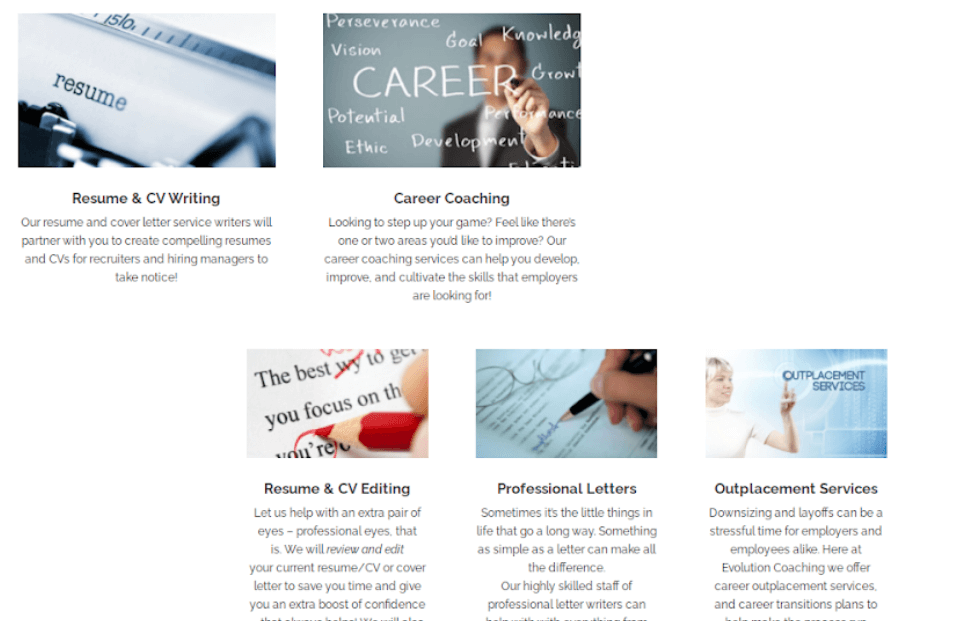 You can also ask for the LinkedIn service, so that really experienced people will fill in your web page to have a professional look. There are many little details concerning the set up that a usual user might not even think about.
Pricing and Discount Policy
To be honest, the formation of prices on Evolution Coaching seemed strange for us. To start from, we couldn't find a list of prices that will be visible right away for every visitor of the platform. This information is considered to be secret or what?
Once we started ordering, everything became clear, but still too expensive. For instance, the writing platform offers three levels of complexity, which are charged accordingly, entry-level assistance, mid-resume assistance, and exclusive service.

One usual CV without any additional help during the hiring process costs as much as $179 for one writing; isn't that too much? The same identical CV, but when mid-level assistance is chosen will be way higher.
Unfortunately, there are no discounts or bonuses for new members, so that we have paid the full sum that was required.
Quality
Sure, the prices are not the most important thing when planning to get an ideal job offer. Every customer will probably search for a quality resource where he/she can order this service. When speaking about Evolution Coaching, we have checked many reviews, user comments, and the most frequent complaint related to the quality of the final result.
After finding out this info, we decided to check it, and it turned out to be true. The worst thing that we have noticed is the resume's standard format, which can be downloaded online for free of charge. Also, we came across a couple of unexpected mistakes.
Generally, the quality of Evolution Coaching may be rated as 3 out of 10. Not the best resource which we have ever checked before.
Guarantees
When reviewing the official website of this writing service they claim to follow such guarantees as:
Quality;
Delivery on time;
Satisfaction of the clients;
Writing that is free of plagiarism.
In reality, they follow only one guarantee – delivery on time and don't bother about anything else.
Support
As for support service on Evolution Coaching, it looks rather usual. You can either choose email communication or instant chatting with the support team. The live chat icon is on the right of the web page, and there is no necessity to search for it.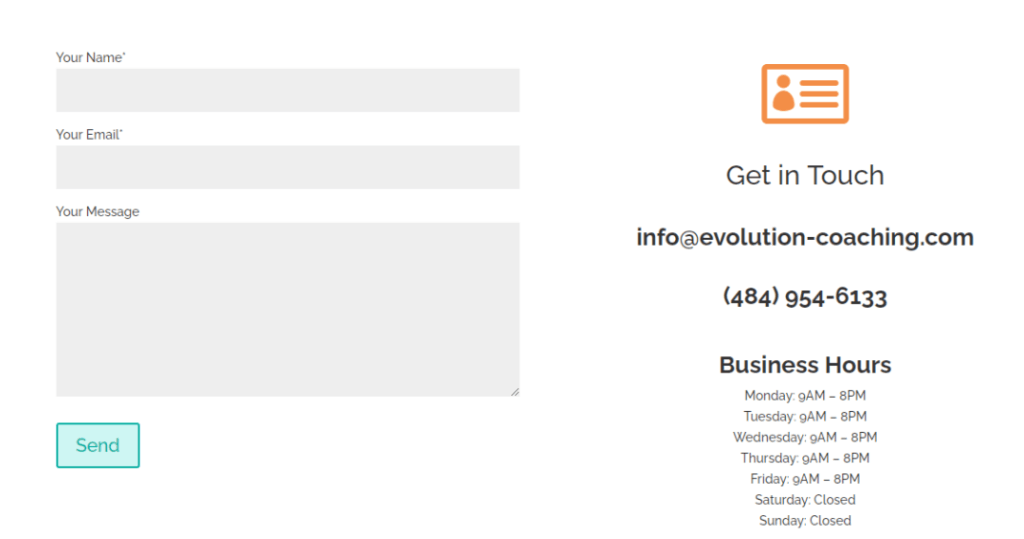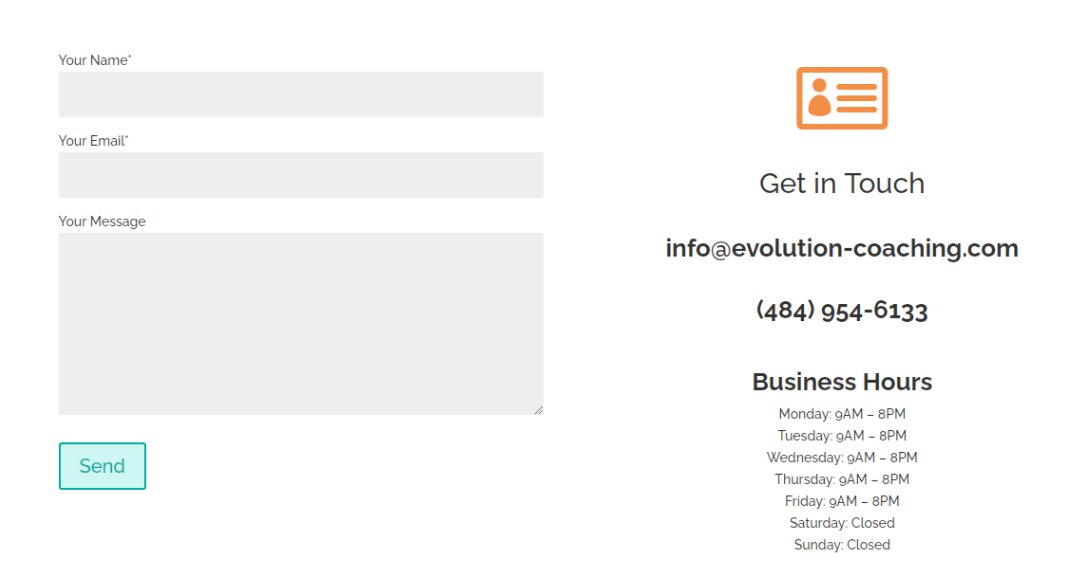 The only difficulty when we tried to contact this service via a live chat was that the service isn't functioning 24/7, and we were always asked to send an email instead of living communication.
Online Reputation
On the website, you may find almost 40 pages of 5-star testimonials. Yet, the first thing we were confused about was the absence of screenshots.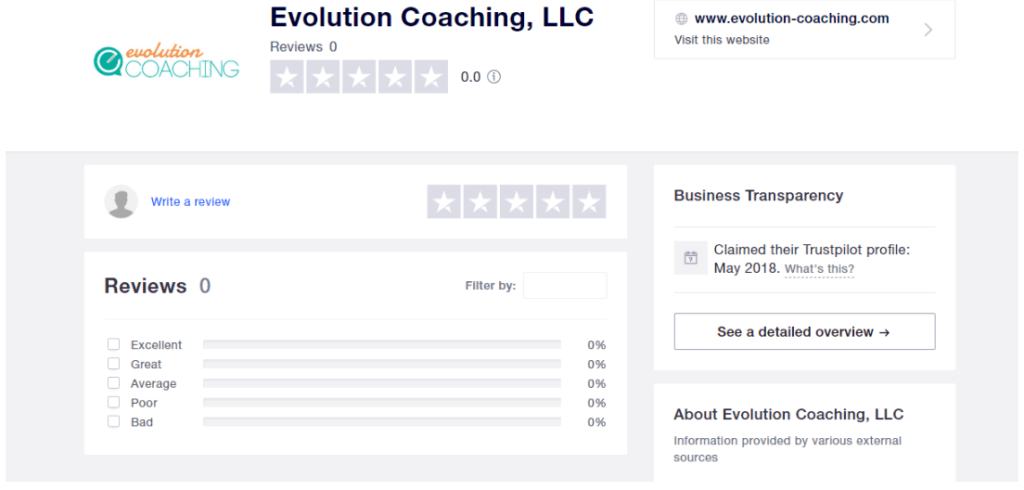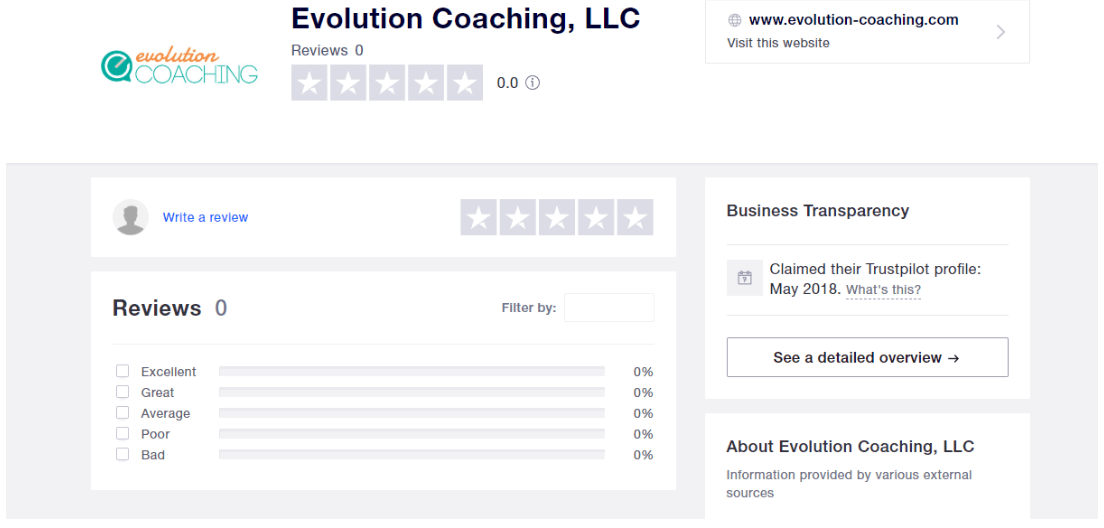 Moreover, we haven't found any comments on such popular platforms as Sitejabber or Trustpilot. How can they have 40 pages of reviews on the site and no comments at all wherever on the Net?
Pros and Cons
Pluses:
On time delivery;
Live chat with the support service;
Simplicity of the ordering process.
Minuses:
Unreasonable prices;
Low-quality;
;Don't follow their guarantees.
Verdict
When entering Evolution Coaching for the first time, its design and all these discussions of their high-quality might look like truth. However, if you start searching for additional information about this writing service, you will easily find lots of negative feedback from the users and professional reviews. Maybe, it is only our negative experience, but you can test this service yourself if you want!
FAQ:
FAQ – All the Question You Might Be Interested In
Why do so many users prefer Evolution Coaching?
They have a great website, very simple ordering process and guarantee timely delivery. That is why first-time customers believe this platform.
What does the process of communication with the writers look like?
The process of communication with the experts is direct. After the placement of an order, you will get a notification from your expert on the email address. Starting from this moment, you can share any additional recommendations with the writers and generally control the entire writing process.
I have already got a CV, can I order only a proofreading service?
Sure, you may purchase such kind of assistance on Evolution Coaching. Nevertheless, such help includes only check for mistakes and some sort of formatting of the existing document. If the content of your resume isn't great, you'd better ask for full resume assistance.
When after the ordering process, I will have a possibility to chat with the writer?
Usually, clients get such a chance within the next day after the order. If you have ordered urgent assistance, then the responsible coach will contact your ASAP in order to get some additional recommendations about the writing process.
Is there a huge necessity in the LinkedIn profile update?
Sure, it is highly important to make your LinkedIn profile look professional. Most of the recruiters can reach out to you without even having your resume if your profile is great and you have all the needed skills for the particular position.
Is it acceptable to use one CV for various job offers?
Yes, you may use the same resume for different job posts, but only if they aren't totally different. For instance, if a similar set of skills is needed for the various job offers. Otherwise, there might be a necessity to order several CVs.
Is there a necessity of purchasing several cover letters at a time?
No, there isn't such a necessity. When sending your cover letter for different job posts, you just need to make a couple of modifications. They can be done in a couple of seconds without any specific skill required. However, if you are planning to send your cover letter to totally various positions, you'd better notify your coach about this.
How many free revisions can be done on Evolution Coaching?
Once you have been sent a resume, you will have 7 days. During this period, you can ask for an unlimited number of changes and revisions. You can ask for really important changes; some minor ones may be personally done by any client.
Are there any guarantees that I will be invited for the interview?
It is almost impossible to guarantee that you will be invited for an interview immediately after sending the resume. The only thing which might be done is to return to the assistance after a reasonable time frame if there weren't any reply to your resume.
What data should I include while making an order?
You need to send any old CVs and cover letters that you might have. You may need to include a certain job posting to which you are planning to apply to. Also, as a new client, you will need to answer a short questionnaire.