Home
/ Find My Profession Overview For Your Career Success
Written by: resumewriterreview
Find My Profession Overview For Your Career Success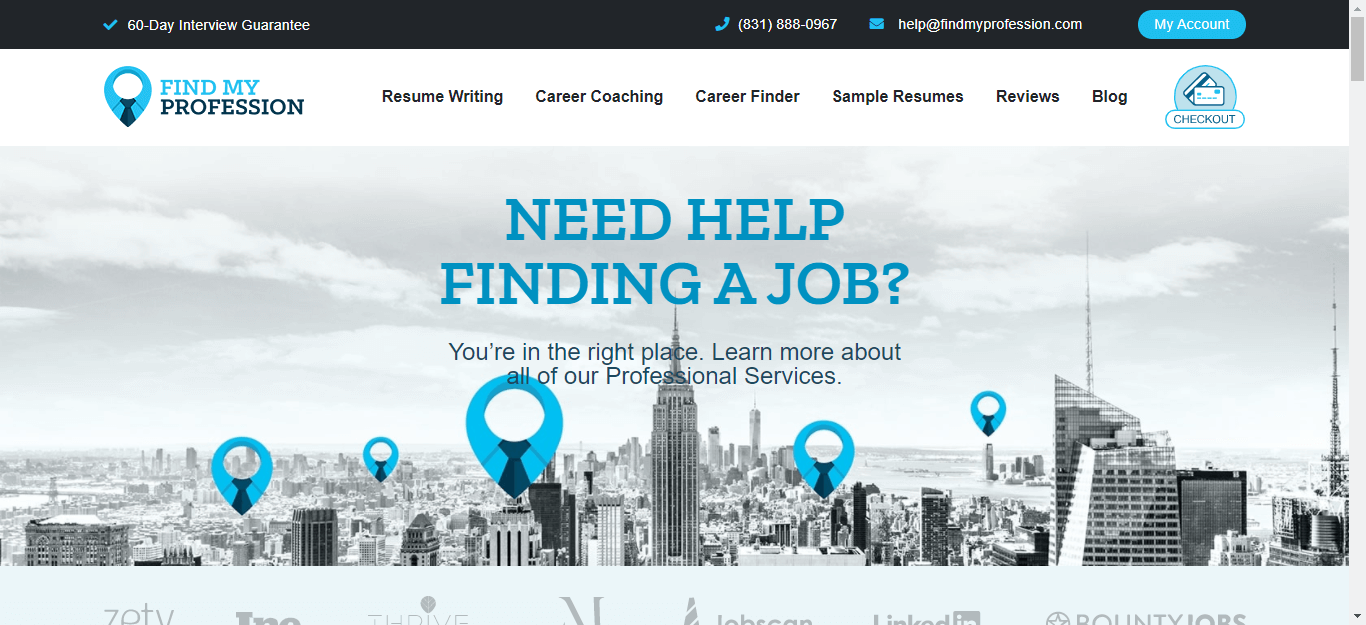 If you are looking to switch jobs or just graduated from your college or university, you need a good resume that would catch the attention of your HR manager or potential employer. If you cannot cope with your documents yourself, using the help of a professional resume writing service would be crucial.
FindMyProfession is one of such services, and you can check the following review to see whether it suits your expectations and can bring the necessary results.
Range of Services
Once opening findmyprofession.com, you will see they provide all services related to resume writing and job search. Thus, on Find My Profession, you can receive such services as career finder, career coaching, resume writing, cover letter creation, a LinkedIn profile makeover, etc.
They offer services for different professional levels, so you definitely would find the one that suits you personally.
Pricing and Discount Policy at findmyprofession.com
FindMyProfession is not a cheap service if that really matters to you. You will find the costs on similar websites much lower. Thus, the cost of their packages varies from $395 for Entry-level papers to $1295 for C-level resumes. The last package includes cover letter writing and a LinkedIn profile makeover.
However, if you do not want to get any packages and want to get just one document written for you, the prices are as follows: $119 for a cover letter (entry-mid level), $149 for a cover letter of a senior-executive level, $375 for LinkedIn profile makeover (entry-mid level), and $649 for the same service at senior-executive levels.
As you can see, their costs are quite high, and not everyone can afford such a service. Let's see whether their price/quality ratio is that good and whether they really deliver such great resumes and cover letters at these costs.
Quality
Since findmyprofession.com charges such high fees for its services, we decided to check whether they provide really excellent quality of papers. Thus, we have ordered a cover letter that cost us $149. To get a resume, you would need to purchase a package that is extremely expensive.
First of all, we did not get the first draft even within the first 48 hours. It took a couple of days more to receive the document. The letter looked more like a template in which the author put the information provided. Also, we suspect it was not written by a native English speaker. The choice of vocabulary was quite strange and sometimes illogical.
We are strongly convinced that the letter was not written by a native speaker. It looked as if it was written by a foreigner. Unfortunately, the quality of this service was far from the best, and we believe that it is not worth the money spent.
Guarantees
Of course, on findmyprofession.com, you can find some guarantees that would ensure you do not waste your money but can have a refund in case of necessity. Let's see what kind of guarantees this website provides and whether it sticks to them:
No 100% satisfaction guarantee
60-day interview guarantee
No money-back guarantee
These are, actually, all the guarantees you would find on their website. However, they are pretty doubtful. It is necessary to visit the Terms and Conditions section to find out more. The 60-day interview guarantee is just a nice advertisement and nothing more.
It is quite difficult to have your resume or cover letter rewritten in case you do not have enough interviews. Unlike many other similar resume writing services, this one does not guarantee that their writers are qualified enough or are, at least, native speakers.
In general, if you want to be sure of the quality or have your money back, it is better to search for a different service since here, they do not guarantee anything at all even though their prices are extremely high.
Support
24/7 customer support? No, findmyprofession.com has never heard of it. If you want to be in touch with your writer or this service round the clock like on other similar websites, forget about it and be patient. This resume writing provider does not reply to its customers as soon as they need it.
You can get in touch with them through one of the channels — an email or phone. We tried both, actually. Can you imagine that no one replied to us on the phone? Although we called during working hours.
Yes, we received a reply by email three days later when the information was already out of date, and we placed an order. Therefore, if you expect to ask a few questions before paying a bunch of money to them, we will disappoint you. You cannot get any information, especially if you are in a hurry and need their assistance urgently.
Online Reputation
We tried to search for reviews of real customers on findmyprofession.com and what we have found was quite surprising. Most reviews on Trustpilot and Sitejabber are more than positive, while different reviews online are quite contradictory, saying that people were not very happy with the costs and services.
It looks like most of those positive reviews are fake. However, maybe we and many other people were not very lucky with the quality of their service.
Find My Profession Pros and Cons
FindMyProfession has the following benefits:
A wide range of services
60-day interview guarantee
Direct communication with your writer
Among the drawbacks, we would name poor customer support, not a very good quality of content, and extremely exaggerated prices that do not comply with the quality of services.
Verdict
After a thorough check of findmyprofession.com, we can say that this service is definitely not for everyone due to very high prices. Along with that, the quality is not much different from other similar providers and, in many aspects, is worse. Therefore, we cannot recommend this resume writing service.
FAQ – Frequently Asked Questions
Does Find My Profession provide unique resumes?
The service guarantees that they write all resumes and CVs from scratch and that your paper will be 100% unique. However, a lot of users complain that their resumes look more like templates where they just put their information. It means that the CVs and resumes might be written by using certain templates. You need to check the percentage of plagiarism additionally.
How soon can they deliver my resume?
The service sends your first draft within 3-5 business days after your first consultation with the assigned writer. After that, you can only review your draft and say whether you are ok with it or you want to make improvements and amendments. If you pay an additional $149 to get Priority Service, you can count on getting the first draft within 48 hours.
How does the process work?
The process of getting your resume is not as easy as you could imagine. First, you must select the package and register. After that, you receive an email that will ask you to send your resume, if any. You should send it or other supporting documents to their Resume director. She assigns the writer for your resume, who should get in touch with you within one business day to discuss the details and start the process.
Do they guarantee a job interview?
Find My Profession offers a 60-day interview guarantee. They promise to rewrite your resume once at no cost in case you are not happy with the number of interviews you had within 60 days. On the one hand, it is a sort of a guarantee that you can have your resume updated when you need it. On the other hand, no one guarantees you can have at least one job interview.
Do they have the career finder service?
Yes, on findmyprofession.com, you can not only order a resume, CV, or cover letter but also facilitate your job search with their help. They offer help with managing your job search from A to Z. They select job positions that meet your criteria and prepare you for your interviews.
How much does a resume cost?
Find My Profession does not have accurate pricing plans. You pay not for the resume but need to buy a subscription. Thus, if you want to get your first draft sooner than in 3 or 5 days, it is necessary to pay an additional $149. It means that your resume cannot be as cheap as when using other resume writing services.
Does findmyprofession.com deliver resumes on time?
The website guarantees timely delivery of all orders. However, multiple complaints from their customers say the opposite. Even though their turnaround time is quite long — 3-5 days for the first draft only, they manage to deliver resumes and CVs with quite big delays.