Home
/ Greatresumesfast Overview Without Any Excuses: Impartial Opinion
Written by: resumewriterreview
Greatresumesfast Overview Without Any Excuses: Impartial Opinion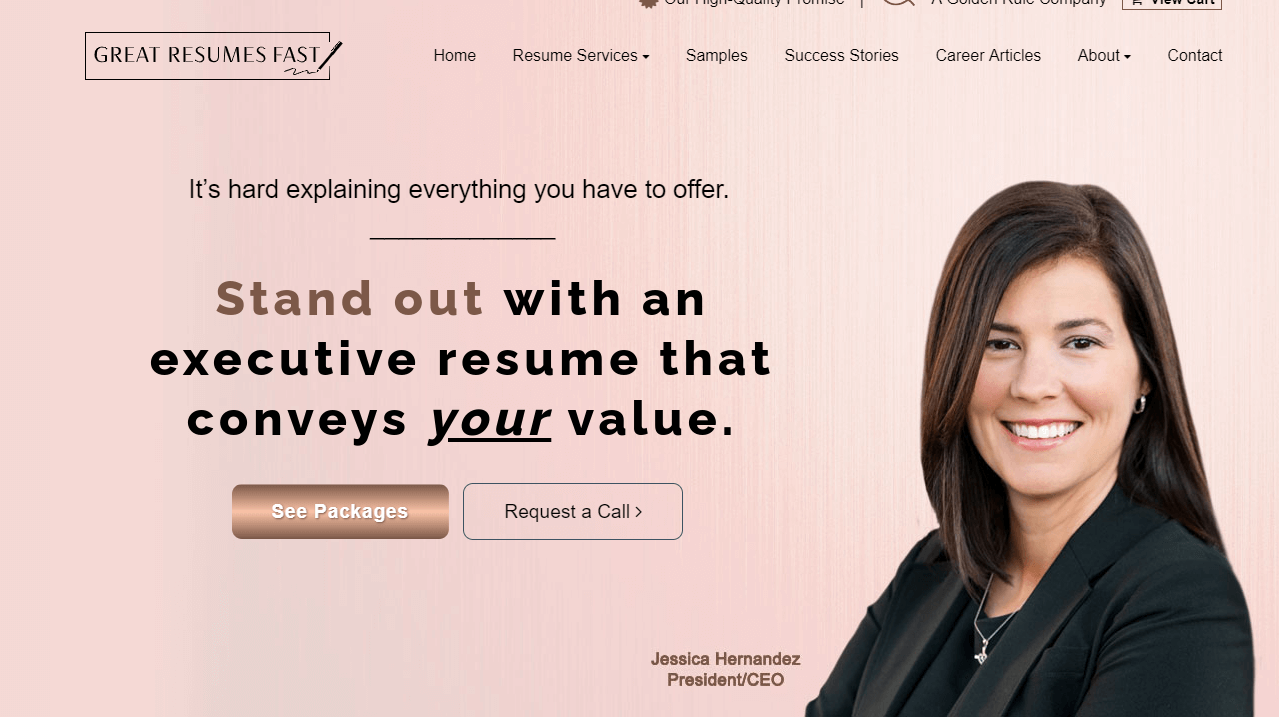 Looking for your very first job? Or maybe you want to develop your career and pursue a new position? In any case, it all depends on your resume. It is a brief document, including all your achievements. And it is the first (and sometimes even the last opportunity) to impress the future employer.
That's why this document should be professional and qualitative. And that's why many people hire expert authors who will come up with a paper written just for them.
Greatresumesfast is one of the companies these days that promises people brilliant careers. However, it doesn't mean that they are really able to meet your expectations. We want to provide you with a detailed review to find out all the truth about this service.
Range of Services
The first thing we can start with is the range of services. At first glance, it seems that they don't have packages, as many other companies have, so you can just find a service you need. For example, it can be professional resume writing, executive resume writing.


How is it different from resume writing? Maybe they've just used popular keywords to attract more visitors who google them. You can also find such services as recruiter distribution or networking power letters. Sounds good, but what is behind?
Pricing and Discount Policy
It is not so easy to find a price list where you can study all prices and make the final decision. You need to click each service from the list to receive more information. Of course, it is not so convenient, especially when your deadline is coming, and you just want to order a paper and get the desired job.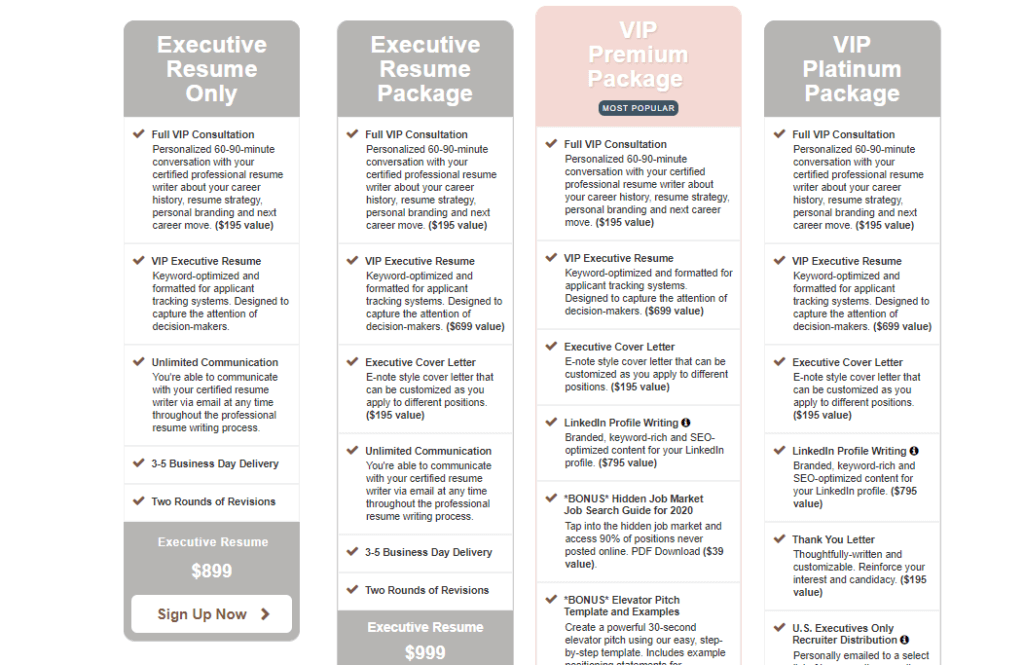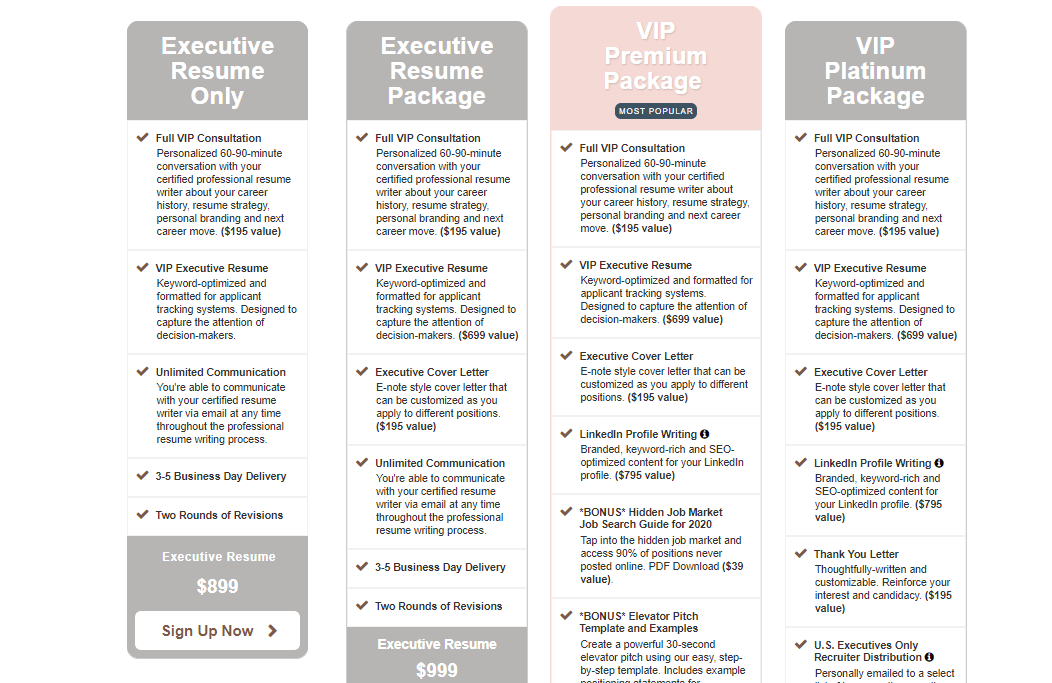 This is what you can see when opening the executive resume writing services. The lowest price is $799. And there is only one question: what? Who will pay the unknown company for this?
Now it is time to see whether the "resume writing services" are cheaper. And there is no information at all!
After a long exploring the greatresumesfast.com website, we've found that the lowest price is $595. It is a basic plan for freshers, for people who don't have experience and are looking for the first job. It is really pretty expensive. And they don't offer discounts.
Quality
Without a doubt, the most important thing about any resume is its quality. If you pay money for this service, you expect to get the result. There are a lot of various free platforms these days that provide people with the opportunity to create a resume online or actionable tips to come up with your own paper.
Speaking about Greatresumesfast, we can't say it is a really professional service. Their resumes contain mistakes and typos; they are not always optimized according to the industry standards. Their customers say they are not satisfied. So, the quality is definitely poor.
Guarantees
Any officially registered company must provide its customers with guarantees. They are necessary to ensure you: it's all absolutely safe. And it also helps you to understand what exactly this company promises, and what you can expect.
So, what does this service guarantee?
Industry knowledgeable Author;
Top-Shelf Writing;
2 Months-Interview Guarantee;
Timely Delivery;
No questionnaires;
100% Confidentiality.
It all sounds good but with one condition: if it really works. And as you can see from our review and from various testimonials, it doesn't. Besides, what do you think about the 2 months-interview guarantees? Anyone will have at least one interview in 60 days! Even without a resume. It is just ridiculous.
Support
Well, it would be fair if you get amazing customer service after paying a lot of money for a resume. Greatresumesfast.com claims that they have a team of friendly customer support managers who are always available to help you. Actually, you can really call them directly or send an email. We haven't found any live chat to contact the manager with our questions.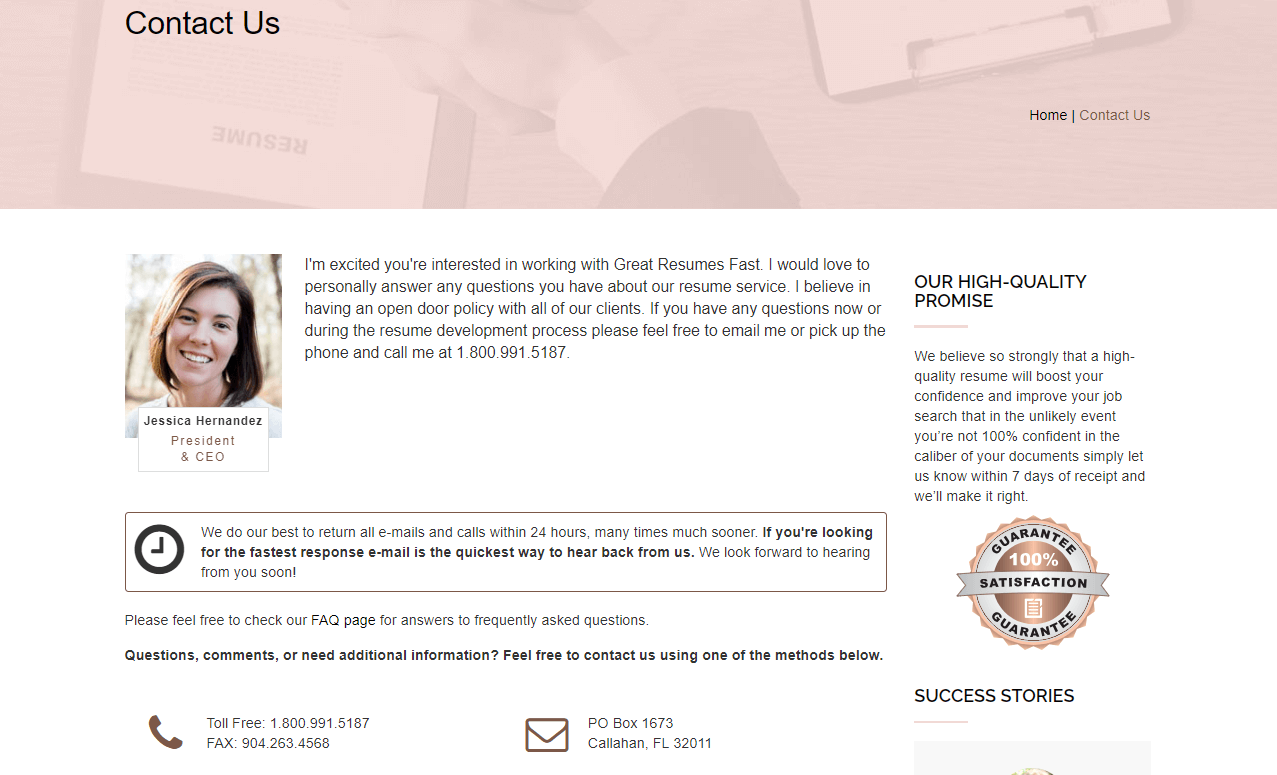 However, even without direct contact with the customer support service, we've mentioned that they are too pushy. You constantly receive notifications with a call to make an order. Each page of their website is created with an intention to sell their service. It was a feeling like we are at the village market where it is pretty noisy.
Online Reputation
If you want to understand whether some company deserves your attention, read the testimonials at independent platforms. It is the shortest way to understand what real customers think since you can find positive comments only on the website.
So, what do people say about Greatresumesfast?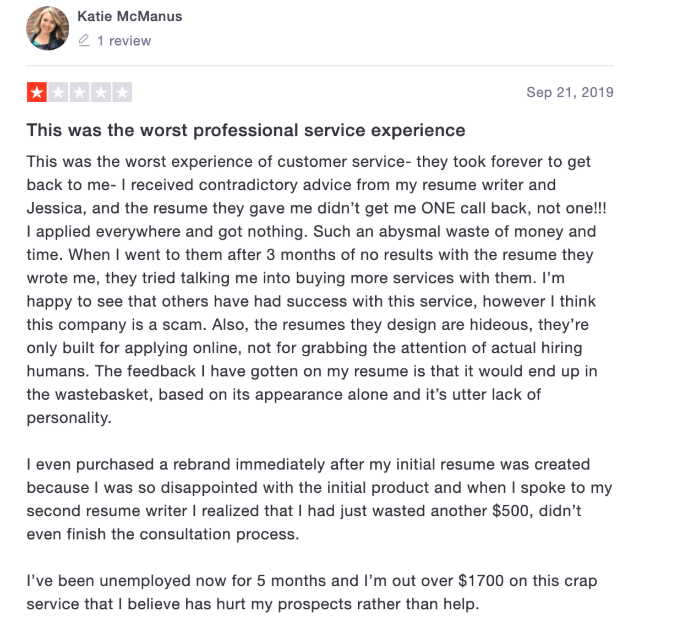 Pros and Cons
As you may understand, this company consists of cons. It is not so easy to find something good in such a bad service. But to be fair, they have something really nice:
Interesting website design;
Career articles;
Free resume samples.
What do you think, is it enough for the lowest price at $595?
Verdict
We can't recommend Greatresumesfast. As we have understood from the various testimonials, they are not real scammers; they provide you with a resume or any other document you've ordered. However, these papers don't work. Many people say that the result was zero. And it is definitely not what you expect when you pay a lot of money to someone who calls oneself a career professional.
FAQ: Everything You Need to Know about GreatResumesFast
How does the whole process work?
The first thing you need is to sign up to work with the company. Provide your contact information, and the resume writer will call you to discuss the consultation. You have no need to fill in questionnaires since Greatresumesfast finds it not so efficient as the personal conversation.
Why are their prices so high?
They provide you with a lot of benefits that should justify this price. However, customers don't go for benefits; they go for a final result. If you can't find a job for several months, it is not what you expect. Besides, such companies should provide a really basic package for people who just need a resume without additional expensive opportunities.
What is the turnaround time?
Once you complete the consultation, you should wait for 3-5 business days until you receive the initial draft of your resume. If you have an urgent order and ready to pay more, you can receive the paper within 48 hours.
What if I'm not satisfied with my resume?
Greatresumesfast.com offers customers free revisions to update the resume and make it better. However, they won't make amends immediately, so you waste your time in any case. The paper shouldn't contain any mistakes.
Which industries do you work with?
Greatresumesfast claims that they write for every popular industry. You can have any career level to hire a resume writer. It doesn't matter whether you're a graduate or a C-level manager; you can use their professional services.
How long is the phone conversation?
It takes about 60-90 minutes. The consultation duration depends on the desired position, your level, and the amount of information you need to discuss. A writer needs as much data about you as possible in order to write an effective paper.
Should I send my existing resume?
Actually, it is not obligatory. However, you can provide it since the Greatresumesfast can analyze your mistakes and offer some new solutions. But if you don't have a resume yet, no need to worry: your author will write it from scratch.