Home
/ Jobscan Overview from Unbiased Experts
Written by: resumewriterreview
Jobscan Overview from Unbiased Experts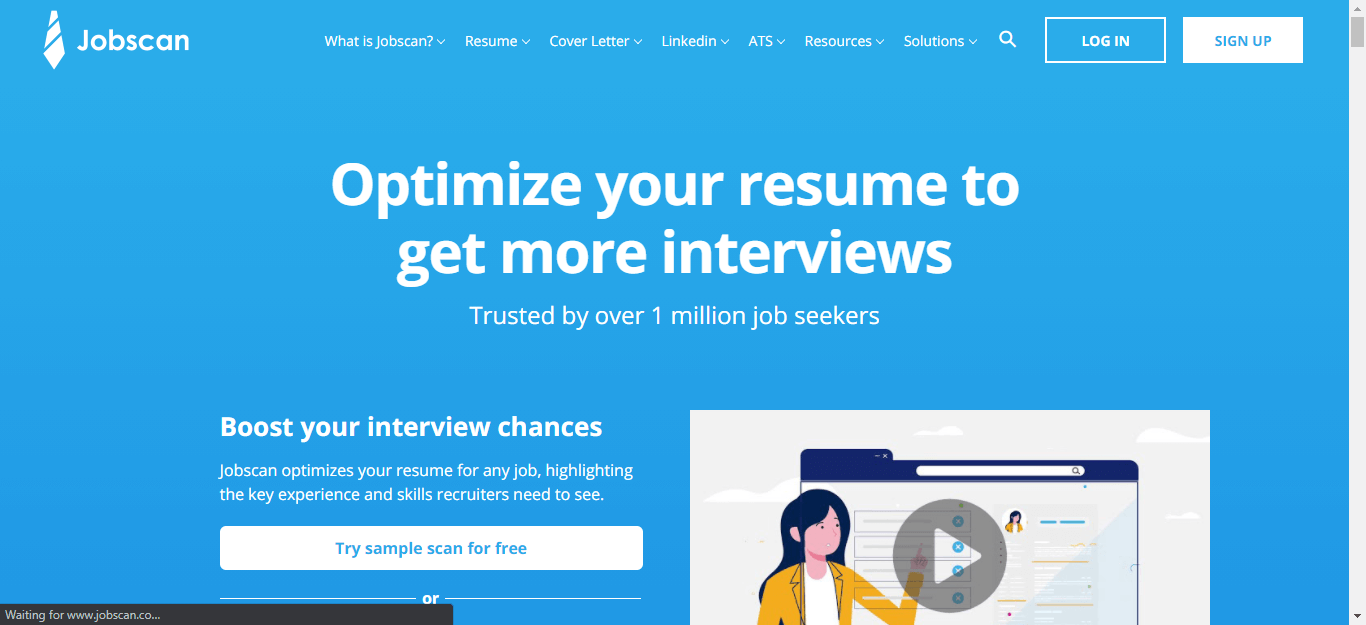 Would you entrust your resume to an automatic tool? Well, if you didn't even imagine it yet, Jobscan.co should turn your image of a resume writing helper upside down. Unlike many other resume writing services, this one does not offer you a professional native English-speaking writer.
Instead, you can use an automatic tool to upload your resume, add a job you would like to apply to, and wait for it to optimize your resume. Is this tool efficient enough, though? Our experts tried to find it out, and below, share the results of their investigation with you.
Range of Services
Jobscan.co is not a standard resume service; therefore, the services you can receive differ from those on the rest of the websites. Thus, thanks to this website, you can upload your resume and have it optimized or improve your LinkedIn profile. It allows you to optimize for ATS.
We didn't find these statistics anywhere else. However, Job Scan itself says that 98% of Fortune 500 companies use ATS in the process of recruitment. They say that if you do not optimize your resume for ATS, you will have difficulties with finding a good job.
We have never faced any good professional failing to find a good job that would match their skills and experience, though. Good workers are always valuable. Anyways, if you decide to optimize your resume for these systems, this website promises to do it quickly and efficiently.
According to information on their website, they do not simply repeat the necessary keywords but also improve the resume. Their system recognizes various tenses, keywords, and acronyms.
Pricing and Discount Policy at Jobscan.co
Jobscan is not a free tool. However, it offers a free trial. If you are very curious, you can get five free scans before you create an account. However, they also offer a Free Forever plan that gives five free scans each month. When referring your friends to this website, you can get more free scans.
To be honest, a Free plan is not enough if you want to polish your resume and make it top-notch and really outstanding. Instead, you can get a monthly subscription for $49.95 per month or save some money and pay $89.95 for three months after one month of a free trial.
An unlimited subscription gives you unlimited scans, scan history, access to the resume manager and learning center, LinkedIn and cover letter optimization, job matching, and some other services.
Quality
The quality of services of Jobscan.co is quite doubtful. First of all, after the free trial expires, you are automatically charged for a monthly subscription although you cancel your membership. This is what happens to us, and we could say that we were unlucky, but the reviews of other users say the same.
Secondly, human beings use ATS in a different way than the machine is doing it. We did not get the promised results, unfortunately. Once the resume we uploaded went through the ATS screening, it became over-optimized and simply could not meet the requirements of potential employers.
We believe that manual optimization with the necessary keywords is much more efficient than using this online tool. However, if you do not know how to spend your money, you can use it to learn about the keywords your resume might need to contain.
Guarantees
Jobscan does not guarantee anything you may meet on other similar websites. Therefore, we didn't find any guarantees, so you can be sure that you will get:
No refund
No 100% satisfaction guarantee
No confidentiality
Therefore, you will not receive any guarantees ever on this website. Unfortunately, there is no even refund guarantee, and once you start using their service, you acknowledge that you agree with their terms and conditions.
There is no quality guarantee either, so you can never be sure that you get the results you hope for.
Support
Jobscan.co has never heard of what customer support is or, at least, what it should look like. You will not meet any client service on this website, unfortunately. At the bottom of their homepage, you can find the Support section.
Once you open it, you can see the Help Center and the Customer support sections. Help Center is nothing but Frequently asked questions, while in the customer support section, you can find their email to contact or just click the blue button and contact their chat.
Unfortunately, there is no live chat option on this website, and after sending the messages both on email and chat form, we never got any replies. It means that once you are charged for your membership after the expiration of your free trial, you will never be heard or replied to.
Online Reputation of Jobscan
Both Trustpilot and Sitejabber have mostly positive reviews about Jobscan.co, however, you can find some negative ones among them as well. Taking into account our own experience with this resume helper, we can say that most positive reviews look fake and written for money.
After checking the Internet more thoroughly, we found more unhappy customers who have the same opinion as we do — this service isn't worth the money spent!
Pros and Cons
Jobscan has the following benefits:
Free trial
Advanced ATS keywords
Lots of options
However, there are also a lot of disadvantages, including:
High costs
Poor customer support
Low quality and inefficiency
No guarantees
Verdict
After taking into account all the pros and cons of Jobscan, we conclude that manual optimization according to the required keywords is much cheaper and more efficient than this service. Apparently, it cannot guarantee any results or job interviews even. Therefore, it is a waste of time and money.
FAQ – Find Answers to Your Possible Questions
Does Jobscan offer a free trial?
Yes, this resume writing service offers a free trial. After you complete authorization and start your trial period, you are charged $1. They do this to verify whether your payment option (card) is valid and can be used in the future when your free trial is over.
No worries, this $1 will be returned to you in a day (however, it often takes 7-10 working days).
What currency do they accept?
Jobscan accepts payments in USD only. However, if your balance is in a different currency, you can still pay according to current conversion rates. Keep in mind that when you are charged $1 for your free trial and your currency is other than USD, you may receive a different amount back since conversion rates change every day.
Does Jobscan.co offer LinkedIn optimization?
Yes, you can use LinkedIn Optimization during your 30-day free trial, and it is included in Jobscan Premium Quarterly. After the 30-day free trial, you can choose to opt-out of the free trial period. Once you do it, you are immediately charged for the full Premium plan.
Do they share my resume with recruiters?
No, Jobscan.co does not share resumes or other information with any recruiters, although they do have a "make my resume searchable for recruiters" checkbox on their website. According to the information provided on their website, this option is to allow them to potentially share your resume in the future. They let you know about it beforehand. If you do not wish to share your resume with recruiters in the nearest future, uncheck this box.
Where is this company located?
Jobscan is based in Seattle, Washington. According to their information, the owner struggled with his job search and created this tool for himself before it appeared to be helpful for others. It is specific software that tells you how you should optimize your resume to succeed.
How much does Jobscan cost?
This tool has a free 30-days trial where you can try whether it is suitable for you at all. It has different membership plans, the costs of which vary. For example, a monthly subscription costs $49.95, while to use the tool for 3 months, you will have to pay $89.95. You should pick your plan depending on what exactly you want to receive.
Can this service write me a resume from scratch?
No, Jobscan.co is not a resume writing tool; it is software to optimize your resume or cover letter. If you want help with creating your resume from scratch, it is better to hire a professional writer for this purpose.