Written by: resumewriterreview
PURPLECV REVIEW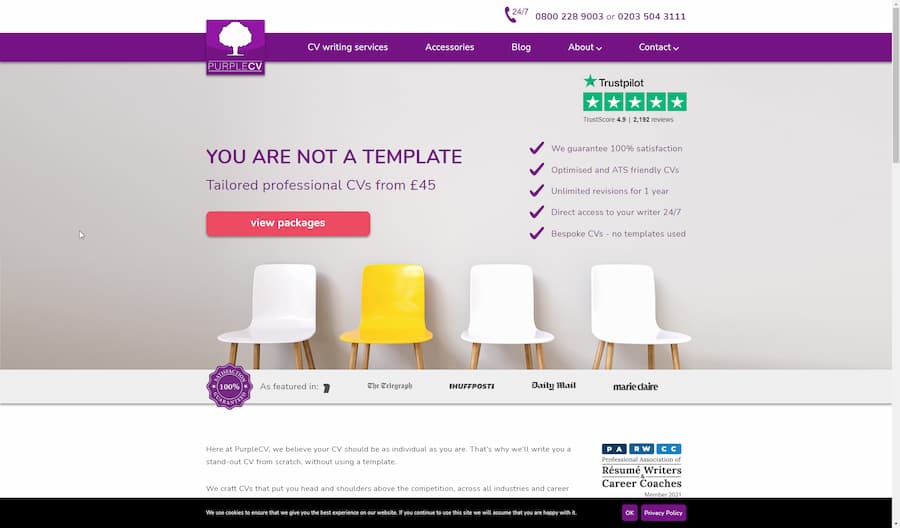 GETTING YOUR CVS AT PURPLECV.CO.UK – YES OR NO?
Featuring a very plain website, purplecv.co.uk clearly did not spend a lot of time trying to attract customers. Judging from the purplecv reviews we found online, their customer support is also not dedicated enough on making purchasing resumes from this service a pleasant experience. Still, this is not an indicator that we are looking at a bad writing service. As a matter of fact, the company has an updated social media profile, and offers a variety of packages we find to be interesting.
A good CV writing service has it all, starting from a variety of services to great prices. In order to determine if this is a good or bad choice for your papers, we decided to evaluate not only purplecv.co.uk reviews online, but also write our own, unbiased review.
QUALITY
The first and most important thing about any resume writing service on the market is the quality offered. At the end, it all comes down to how good the writers are and how well they deliver the papers.
We ordered 'the next step CV' package that, according to the website, is aimed towards people with work experience of 3 to 10 years. Our package came at a reduced quote and cost us £85.00. We found this price to be a great bargain, since the package included a CV, cover letter and a LinkedIn profile.
However, once we got our paper from the service, we were very disappointed. What was supposed to be a CV was a simple template filled with all the information we provided, without a good order. The cover letter was of below average quality since it was not proofread or formatted, while the LinkedIn profile was not at all informative.
LIST OF SERVICES AND PRICES
The list of services at the company is very short, and consists of only four services and four packages. All packages are the same, with the only difference of ordering each of the CV's the company delivers. Therefore, you can either choose to get your 'early career CV', 'the next step cv', 'advanced career CV', or their 'specialist CV'. As for packages, all these CV's come in a combo with a LinkedIn profile and a cover letter.
Prices here look somewhat acceptable, but they are certainly not a great quote to pay considering the poor quality we received. The company obviously uses templates for both CVs and cover letters, which means that these prices are over the roof for the service they provide.
The cheapest cv you can get is of course, the early career cv. This option applies for people with exirience of 0 to 3 years, and comes at a rate of £25. The package for this cv costs £70.
The most expensive option is the specialist CV, which comes at a rate of £175. The package for this CV costs £195.
CUSTOMER SERVICE AND DELIVERY
There are plenty of ways to get in touch with the company, including their social media profiles and the live chat option on the website. However, the customer service is one many customers have complained about, mostly because of their unresponsive and unprofessional behavior. From our experience, the customer service takes a lot of time to answer to queries, and they lack some training in the sense that they could not answer the simple questions we asked.
At the moment of writing of this review, there isn't any purplecv.co.uk coupon or purplecv discount code you can use to get a reduced quote. No review indicates there ever was one, but if there is, you can follow the social media platforms and check this out. We believe that the only discounts offered here are those on the packages, even though they do not really seem to be discounts since the packages are highly priced compared to the CV's rates the company offers.