Home
/ ResumeCompanion Overview: Know to Prevent Disappointment
Written by: resumewriterreview
ResumeCompanion Overview: Know to Prevent Disappointment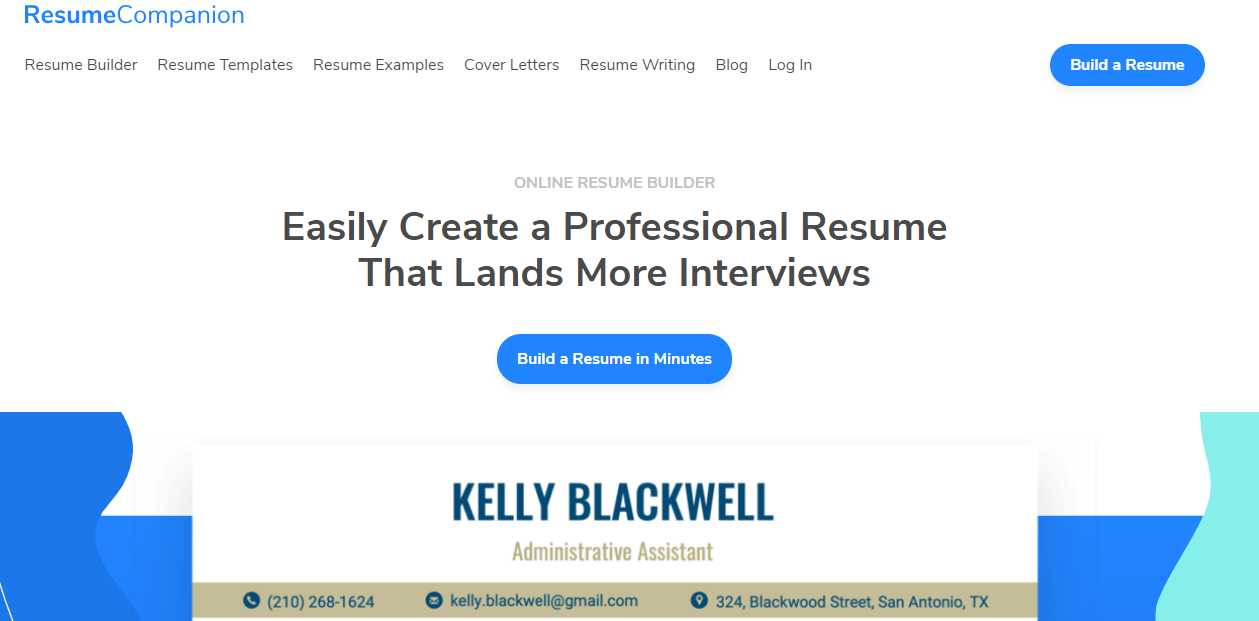 ResumeCompanion is a resume writing platform that operates worldwide and provides services for drafting job-related documents according to your needs and the fields for which you need these documents. The service positions itself as a professional one. Still, our review has identified certain drawbacks of its operation that may and will likely negatively impact customer satisfaction. So, if you are considering this service right at the moment, we suggest you pay a couple of minutes only to review this assessment. Perhaps, this can make you more informed about all aspects of this service operation that may result in wasted time and money.
Range of Services
What kind of services does ResumeCompanion offer? These are related to resume and cover letter writing mostly. The first thing we should emphasize about this service is that it has subdivided a direction into several subcategories. If we speak about resume preparation, ResumeCompanion offers a resume builder, resume templates, and resume examples. If we speak about cover letter making, here we should speak about the same builder, examples, and templates.

How does the service actually work? You need to choose a template that works for you best. Later, indicate details of your profile so such could be inserted into the chosen template. After, that you will automatically get a customized resume. ResumeCompanion calls this resume perfect, but this is not so. It is impossible to deliver a perfect resume by using automated tools. You can make the process faster, but still, the attention of professional writers and editors is required.
Pricing and Discount Policy
ResumeCompanion offers too expensive conditions of cooperation. Compared with other options in the market, you will need to pay a lot for the same result. If we consider that the service provides templates and builders, that may appear to be more than expensive.
The crucial point is that you don't get the entire information about pricing plans at once. You will find out about that later. The 14-days subscription may cost you around $2, and the monthly subscription will be around $8.
They also fail to provide discounts and don't have a loyalty program that can make the service more affordable. The prices for the services are highly related to the next point we would like to emphasize.
Quality
ResumeCompanion offers documents of basic quality only. They are not customized to a particular need. If you want to get some fresh or unusual templates for your job application, you may look through all suggested options. Even if you pass the resume-making process entirely, you still need to upgrade that sample and make it more customized to your needs. Does that kind of approach satisfy you? Does it actually solve your resume writing problem? We don't believe that is the kind of quality you are looking for at the moment.
Guarantees
ResumeCompanion doesn't provide enough guarantees, and most of them are insufficient. Actually, we saw only promises. So, in the case of certain problems, that may be and will be too problematic for customers to claim that any requirements failed from the side of the service.
professional services
quality results
fast delivery
confidentiality
Support
What another problem we have revealed is that ResumeCompanion fails to provide proper support while rendering service to customers. The support team fails to react properly and on time. Sometimes, they fail to provide sufficient answers to the questions that arise. We consider this point as one of the most important for the proper operation of any online service. Customers cannot rely on luck only while requesting and paying for the services. Here is how their support actually looks like.
Also they provide contact details for making requests.

Online Reputation
ResumeCompanion has a reputation that appears to be perfect. It likely looks perfect. We saw many good reviews but also saw a lot of comments of dissatisfied users who told about the insufficient quality and assessed this service as terrible or incompetent. This raises doubts about the proper operation of this service. Quality is the first point that any resume or cover letter-making service should ensure by default. This matter is not guaranteed sufficiently for this case.

Pros and Cons
If you decide to use the service of ResumeCompanion, you may actually face with these pros the service has:
easy to use interface
good templates
availability at any time
At the same time, the service has these cons:
quality that is far from professional
high rates without discounts
lack of professional support
Verdict
We don't consider ResumeCompanion to be a good place for ordering and getting a good-quality document. This is only a platform that proposes a wide range of templates with different formatting. You can choose one that you like most of all and complete all required fields. This information will be inserted into the selected template, and you will get the ready resume. As you may guess, in this case, you will need to make at least minimal corrections. So, if you want to get a new sample for your resume, you may order one here.
The rates are high; still, it may be effective in certain cases. But, if you need a professionally-made sample adapted to your concrete request and job-opening, we suggest a more customized and professional resume-making service. Things are even worse in the case of a cover letter. So, why do we suggest you referring elsewhere?
poor quality of services
non-customized approach to resume making
high rates and lack of discounts
FAQ about ResumeCompanion
What is General Impression about This Service?
ResumeCompanion doesn't look to be a real companion in your possible way to a new job. This service is too generalized, and that appears from the first review. That is how our experts assessed that service. It has a quite simple and non-complicated interface without overloading your eyes with excessive details. Looks well. But, in certain cases, our reviewers noticed the lack of information about crucial and important aspects related to the actual procedure or rendering resume writing services.
What Pricing Policy Does This Service Have?

ResumeCompanion has high prices compared with these ones of competitors. They don't provide sufficient discounts to decrease the load on customers, and this makes their pricing policy more than ineffective and burdensome for prospective customers. Our expert saw other options that managed to deliver even documents of better quality for less money.
What about the Range of Services ResumeCompanion Suggests?

ResumeCompanion can suggest a quite narrow list of services related to resume and cover letter writing as a potential customer. This included providing your templates and access to a resume builder and reviewing your resume or cover letter. Our experts have noticed that the same service, in fact, has been split into separate categories. It appears like the service intended to expand the range of services it offers. In fact, they only duplicate the same service two or three times.
What Kind of Quality Customers May Expect from this Service?
It is declared here from the first lines that the service will arrange writing a professional resume that can increase the number of interviews. Still, we have revealed that this is not appearing to be true in some cases. Of course, this may be related to different writers involved in writing. This can be new writers in this field. But, the service needs to have a quality control department to ensure all customers get documents of proper quality.
What about the Time for Delivery?

The average time for delivery takes a couple of hours. If you need to complete an order fast and quality, ResumeCompanion may not be the right place for that. Your documents may be delivered exactly before the deadline, but they will not be of proper quality at all. So, if any revisions are required, you can fail to submit your requirements or need to amend such documents on your own.
Is It Possible to Expect Confidential Interaction with this Service?

The service states about using templates during its operation. Of course, it has general points about confidentiality and security. However, we have doubts about properly securing any personal or other details of customers that refer to this service. They will not likely share or sell your personal data intentionally. Our impression is that ResumeCompanion is not likely possible. Still, it was obvious to our experts that the service doesn't pay too much attention to the proper security and confidentiality of rendering service to its customers.
What about the Support Team of this Service?

The support team of ResumeCompanion is not effective enough. The first thing we have revealed is a long time of response and providing the answer to the problems customers refer with. Also, support agents also fail to provide correct answers to the asked questions. This is not sufficient enough for a service of such kind. Customer support should operate well. And this becomes especially important in the case of urgent orders or problems.
How Can You Summarize the Offer of this Service?
The offer you can get here is far from comprehensive and is not sufficient if you really want to make your resume/CV distinct. You will likely get a standard template with your personal data indicated there. We see the necessity of making our own corrections to the documents to make them compliant with the initially provided details. The service fails to communicate properly with customers to get more details on how the ready CV should look like. Consequently, the documents don't fit 100% to the target job opening.