Home
/ ResumeGets Overview for Your Convenient Job Search
Written by: resumewriterreview
ResumeGets Overview for Your Convenient Job Search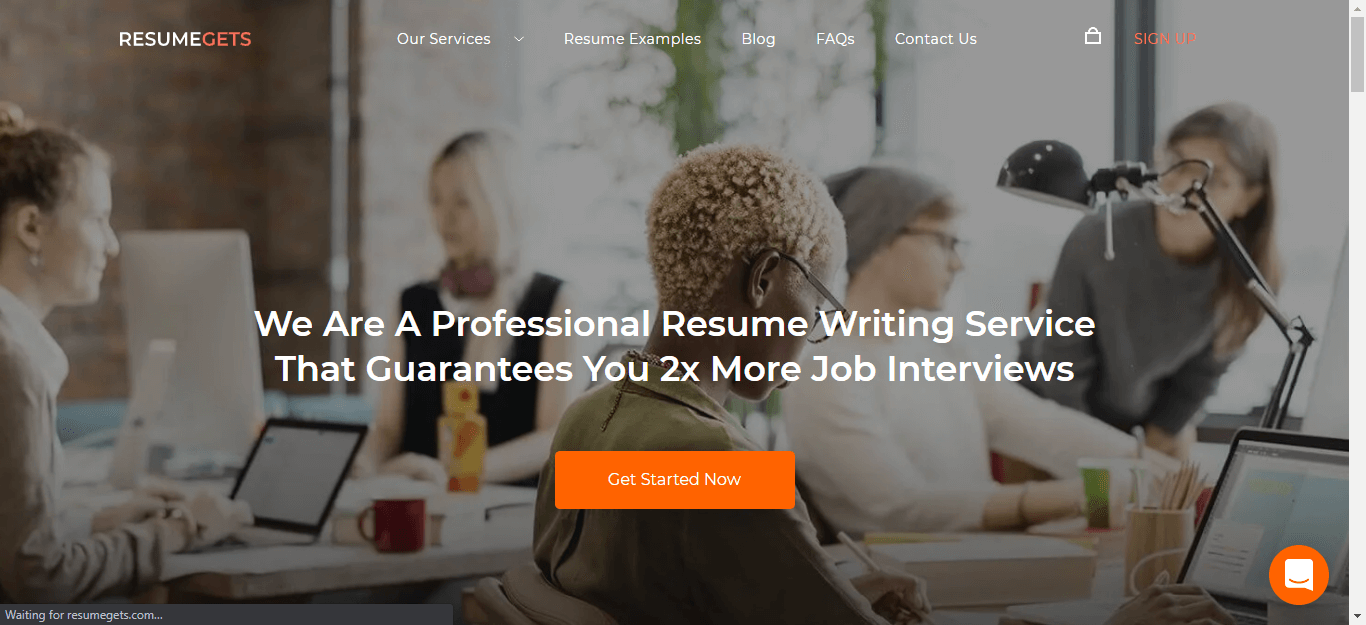 If you are at the stage of switching careers or looking for your first job, you must approach it seriously and create a professional resume and cover letter. For someone busy or those who lack experience in resume writing, it would be quite difficult to cope with the requirements of the modern HR market.
Thankfully, there are tons of resume writers ready to help at some reasonable (sometimes unreasonable costs). One of such resume writing services is ResumeGets.com. It has a very appealing and user-friendly website; however, let's see whether it can give you what you really pay for.
Our experts have used different services on this website and are eager to share the results of their investigation with you. Pick your resume writer wisely not to waste your time and money. The review below is going to help you do that.
Range of Services
ResumeGets provides all kinds of resume services, including resume writing, cover letter writing, CV writing, LinkedIn profile optimization, etc. Unfortunately, we didn't find the resume or cover letter editing service, unlike on many other similar websites. They do offer something interesting, though, for example, resume design or collaboration with employment agencies. You can also order a resume review (it is not exactly editing) — feedback from a professional writer. In general, the range of services is quite good. You can also find a lot of templates on their website for free.
ResumeGets.com Pricing and Discount Policy
The costs vary on ResumeGets from one package to another and from one service to another one. The cheapest package costs $149 and includes a resume and a cover letter. The next package of services costs $259 with a discount at the time of writing (the regular price is $297) and includes a cover letter, a resume, and a LinkedIn profile.
The most expensive package costs $349 at the time of writing (the regular price is $369). It includes all the documents from the previous package and a targeted e-cover letter along with a Thank you and follow-up letters. We cannot say these prices are very high compared to other services. They are quite average.
Apart from packages, you can order different services separately. Thus, a resume review would cost you $19. Keep in mind it doesn't give you anything but feedback from a writer on what you need to improve. A CV costs $149. This is very expensive taking into account the basic package costs the same. LinkedIn Writing would cost you $109.
If you want the service to collaborate with recruiters for you, pay an extra $39 (the regular price is $59). A specific resume design will cost you $49 (the regular price is $59).
Quality
The quality of the written content is the most important aspect when it comes to any writing service. Frankly speaking, we were not happy with ResumeGets.com in this aspect. First of all, the collaboration with our writers didn't start well. Reaching him was a real challenge.
When the first draft was delivered, it was far from being perfect and was not even close to what we ordered. Moreover, the document contained tons of typos, and its vocabulary was very strange. If you apply for a job with that resume, be prepared for a huge failure.
Of course, we requested a revision. It was the second challenge because they simply did not respond and were just wasting our time. We have never seen such an irresponsible service. Finally, the revision was conducted. However, the resume was still far from its final version. It wasn't ready to be submitted.
We are very disappointed with the quality of the content provided, as well as very low responsiveness from the company. The resumes are not worth a penny.
Guarantees
It is very difficult to find the Guarantees section on ResumeGets but we did although it took some time. Here is the list of things they do guarantee:
Quality
On-time delivery
Free versions
Interview
ATS scanning pass
These guarantees seem quite ok but, unfortunately, they are not fulfilled. Quality is too poor to be called quality. Timely delivery — yes, we received the first draft without significant delays, but it was just the first draft. To have it improved takes much more time and patience.
Free revisions are free, but you will have to struggle to get them, actually. We didn't check the resume for the necessary keywords because the quality was too disappointing, but maybe they do ATS scanning. However, it doesn't really matter because you will never be invited for an interview after submitting their resumes.
How can they guarantee a job interview? We have huge doubts about that. It might be possible if you pay extra for collaboration with their recruiters. We didn't do it.
Support
There is no 24/7 customer support on ResumeGets.com. Their working hours are 8 am – 8 pm PST Time, and you can contact them only within these hours. Available channels of communication are email, phone, or a messenger on their website.
Our experience showed that customer support is not very responsive to customers. We tried to reach them for our free revisions issues but there was no response even in a messenger for a long time.
Online Reputation: What Users Say About ResumeGets
The reputation of ResumeGets.com online is quite strange. On the one hand, we have faced too many positive and admiring reviews. On the other hand, there are a lot of 1-star reviews, and customers are really unhappy with the quality.
Taking into account our experience, we can understand those unhappy customers, they describe exactly the same issues. Maybe people who admire this service just were lucky to have professional writers. However, it looks more like a prepaid testimonial though.
Pros and Cons
ResumeGets has a number of benefits:
Lots of guarantees
A wide range of services
Reasonable costs
Their shortcomings are obvious, though — very poor content quality and low responsiveness of customer support.
Verdict
Although they provide some good and unique services, we cannot recommend ResumeGets.com due to the very low quality of work and unresponsiveness of their writers and customer support. It is almost impossible to get a free revision.
FAQ – Frequently Asked Questions
How soon can ResumeGets complete my resume?
After receiving your order and checking the files attached, this service will send you an email to confirm the start of the writing process. They promise to deliver your resume within 2 to 5 working days. Everything depends on what deadline you select. Keep in mind, and this will be only the first version of your resume. If you do not approve it, request a revision.
How many times can I request revisions?
ResumeGets offers free revisions within 45 days after the submission of your first draft. To request a free revision, you should open your account and pick the order you want to modify. Request the revision of this order. It is necessary to provide as many instructions as possible for your writer to understand you well and deliver the resume you really want.
Does ResumeGets.com collaborate with recruiters?
Yes, this website cooperates with different employment agencies in the USA. Those agencies should help you facilitate the process of your job search. According to information on their website, your resume will be sent to their partners across the country once your resume is completed. This way, they boost your chances to find a job.
Is there a money-back guarantee?
ResumeGets doesn't have a money-back guarantee since all sales are considered final. If you are unhappy with the result, all you can do is request a free revision. They say the number of those revisions is unlimited.
Can I communicate with my writer?
ResumeGets.com allows you to be in touch with your writer through emails or right in the messenger on their website. You can receive an introduction email from your writer once he or she starts working on your order. If you have additional questions, it is better to contact their customer support email.
Is ResumeGets a confidential service?
You should check the Privacy Policy of this website. They mention that they do not disclose their clients' personal or payment information. Therefore, you should be sure that none of the third parties will ever learn about your experience with this resume writing service.
Do they offer any discounts?
Yes, you can check their four different packages where they usually offer discounts or special offers. You can check them in their Services section. There are no discounts, special offers, or coupons for new or returning customers, though.