Home
/ Resumesplanet Overiew: find out the truth
Written by: resumewriterreview
Resumesplanet Overiew: find out the truth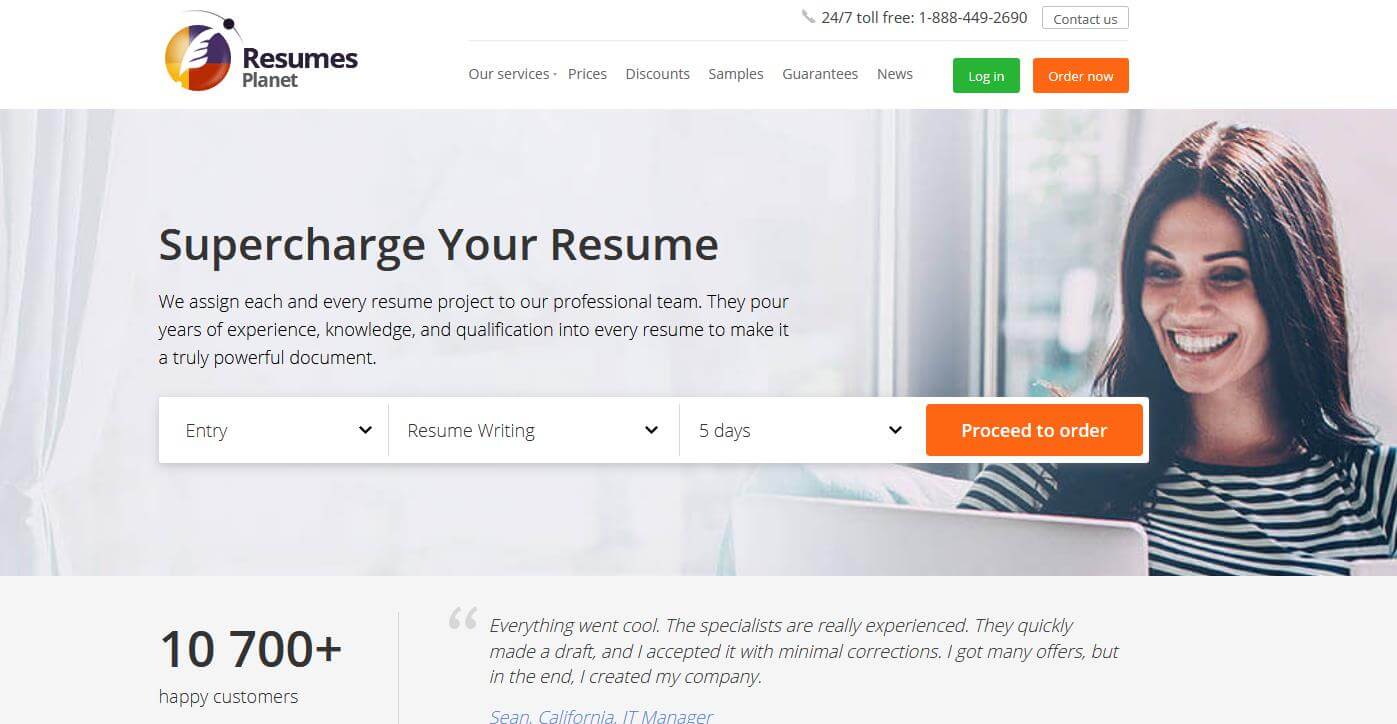 We stumbled upon hundreds of Resumesplanet reviews: some of them were positive, while others – quite the opposite. This made us want to create an overview of our own and to find out whether the comments were right or false.
Even though the company claims to be one of the best at writing resumes, revues, and LinkedIn profiles, it's obvious that they have troubles with quality. We have made an order of our own, and there were multiple mistakes even though the prices are really high. Want to find out what the outcome was? Then go on reading!
Range of Services
Let's start with the services that this company provides. Even though Resumesplanet claims to provide the broadest list of services, we find it rather common. Here's what you can order on their website:
Resume writing and editing;
CV writing and editing;
Writing a LinkedIn profile;
Writing cover letters, as well as a thank-you and follow-up letters.
While filling in the LinkedIn profile is something new, there are already many services that provide this type of assistance. And, by the way, for much better quality. The services are divided into six categories: entry, professional, executive, federal, military, and career change.
To test resumesplanet.com, we have ordered an entry-level resume.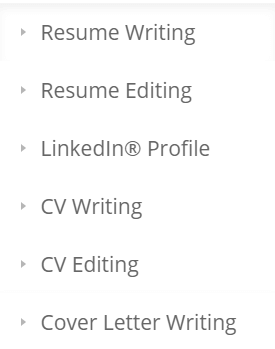 Pricing and Discount Policy
As usual, the price you'll have to pay greatly depends on the type of service, level, and the chosen deadline. For example, for an entry-level resume written within 5 days, we have paid $99 – the same assignment but of executive-level costs $169.
In addition, there are several discount packages that allow paying less if ordering two or more services at the same time. For example, when ordering both a resume and a cover letter of an entry-level, you can save $30. Users can get familiar with a full list of packages on the separate Discounts page.
Unfortunately, we didn't find any loyalty and referral programs, and there were no bonus codes. Thus, to save money, you'll only have to order at least several documents. And considering that the prices are rather high, we doubt that there will be someone to hire resumesplanet.com.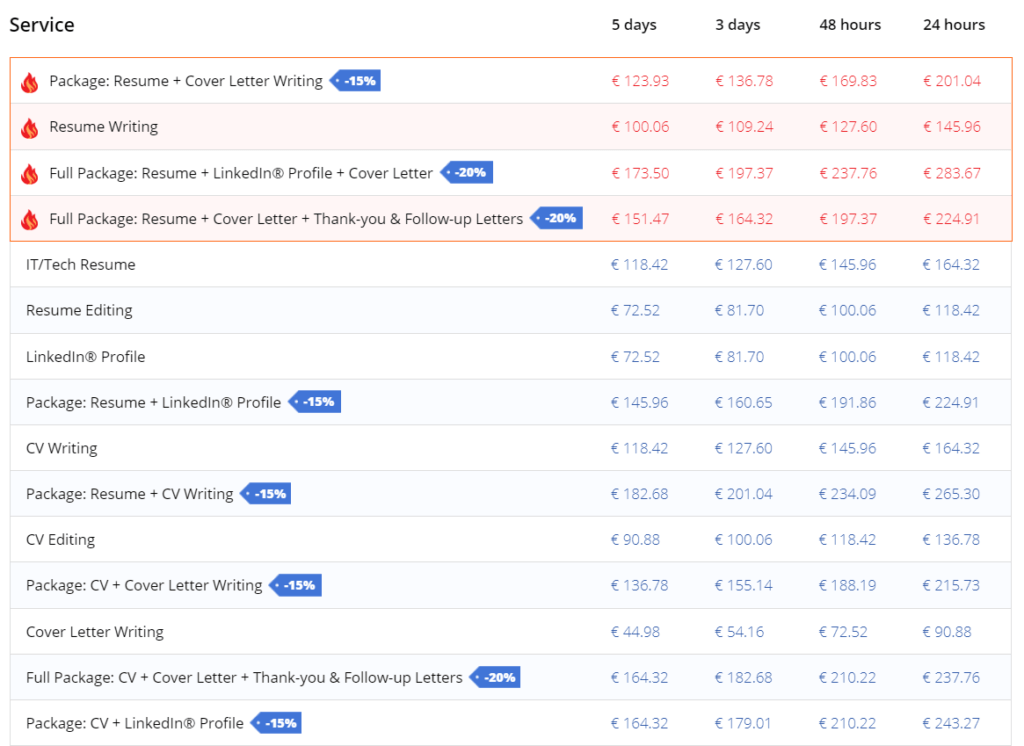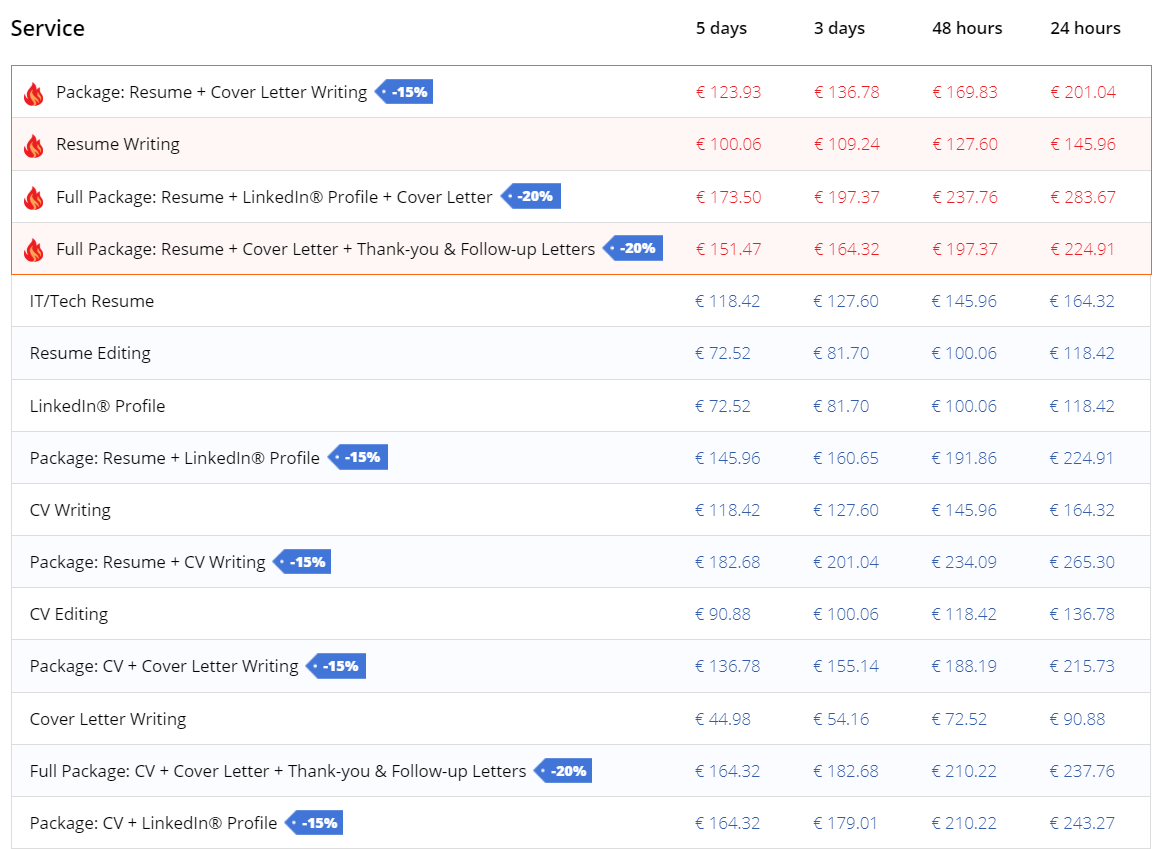 Quality
As we have mentioned, to make our review honest and genuine, we've placed an order of our own. It was an entry-level resume with a 5-day deadline. We were quite optimistic at first, but when the final day approached, and we didn't receive any order, we started wondering what other surprises we should expect.
The order was completed with a 2-day delay, and the writer didn't explain what the reason was. Unfortunately, the quality of the resume was rather low, and it seemed that the assigned resumesplanet writer wasn't a native speaker. There were multiple typos and mistakes in the text, and it was obvious that the writer didn't read our formatting requirements.
When we wanted to get revisions, we didn't get any response. The company was simply ignoring us.
Resumesplanet Guarantees
Any responsible writing service should provide its users with guarantees to ensure their protection and safety. Unfortunately, Resumesplanet failed and followed the pattern of many other writing services: a wordy and confusing text without any details. Here are the guarantees that we managed to find:
Free revision if you don't land an interview 30 days after delivery
Timely completion
Free revisions during the first 24 hours after completion
A full refund
Sounds promising, right? Unfortunately, all the guarantees are false. First of all, we have found numerous comments from users, who said that the company blocked them and stopped answering after they downloaded resumes. Thus, even if you don't have any interviews, don't hope for a revision. The same happened when we wanted our resume to be revised.
Timely completion was already a false promise because they delivered our order two days after the indicated deadline. And finally, they never return money back, finding tens of excuses or even blocking your account.
Support
The managers at Resumesplanet can be reached via a toll-free number and email. Unfortunately, it turned out that they often have breaks and that the number is not free. Thus, we paid lots of money for the call because we didn't get an email response.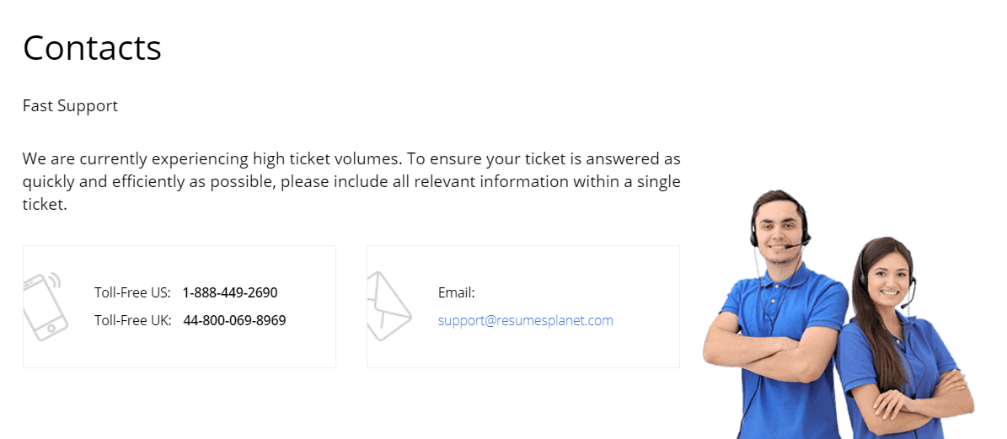 Online Reputation
There are many online reviews and hundreds of comments. Some say that the service is decent, while others – that it has lots of problems. And the biggest problem is that we found that many positive reviews are written by the same person.


Pros and Cons
Pros:
Modern website
Many discount packages
Cons:
High prices
Late submission
ESL writers and managers
Resumesplanet Verdict
Today we have reviewed resumesplanet.com. It is a website where you can order resumes, CVs, LinkedIn profiles, and cover letters. Unfortunately, we can't say anything good about them: the quality of the order was rather low, the customer support didn't answer, and the overall impression was very poor.
FAQ: we'll answer all your questions
How much time do they need to complete an order?
There are different deadlines the company offers, and the delivery date greatly impacts the price. However, they ask customers to place an order at least 72 hours before the submission to give them enough time to write a thorough resume. Unfortunately, this concerns business days, so you shouldn't expect to get assistance during weekends.
Who will be working on a resume?
Resumesplanet says that they have over 200 writers in the team, all of whom are certified resume writers in around 40 career fields. However, there is no way subscribers can check those certificates and writers' backgrounds, so you should take a word.
What formats are available?
There are three formats on offer: web, electronic, and scanned. Web resumes are available online, and customers can alter them quickly and from any device. Electronic resumes are sent to employers using email. While a scanned resume is for companies who use OCR and scan CVs on keywords. Unfortunately, when we requested a scanned format, we didn't get it.
What's the difference between a resume and a CV?
The main difference between them is the length and content. Usually, a resume is rather short and summarizes your skills, background, and achievements. A CV is more detailed and gives a deeper description of your professional life. A CV is usually more than two pages long. As you understand, the price of a CV is much higher.
Are there any discounts?
At Resumesplanet.com, you can find a separate page with discount plans and packages. Unfortunately, you won't be able to get a discount for placing several orders or bringing a friend. All bonuses concern packages. For example, you'll get $23 off when ordering both a resume and a cover letter or $50 off for a resume, cover letter, and LinkedIn account writing.
Can I talk to writers?
It is said that you can communicate directly with the assigned writer through a messaging system and to track progress. Unfortunately, we failed to get a response from our writer and had to contact the support team for assistance. Which, by the way, was rather slow to answer. And when we received an answer, it was difficult to understand what they were saying because the manager was obviously a foreigner.
Are there any revisions?
There is a 'Revision Request' button on the profile page, where you can indicate the reasons and requirements for the revision. However, you should read the Guarantees page first to be sure that your case is subjected to revisions. Unfortunately, Resumesplanet does everything they can to avoid helping customers.
Is my personal information safe?
Like many other services, this platform has a Privacy Policy page, which is too long and wordy to understand at least anything. Yes, they say that they never share your data with third parties and that your banking details are safe, but they don't explain what software and technologies they use for this purpose. Thus, you can't be sure that when placing an order and indicating your personal information (real name, workplace, education, certificates, etc.), they won't end up somewhere online in free access.
Get the Job You Deserve!
Professional Resumewriting Service
Get started