Home
/ Resumewritinggroup Overview – The Most Comprehensive Survey
Written by: resumewriterreview
Resumewritinggroup Overview – The Most Comprehensive Survey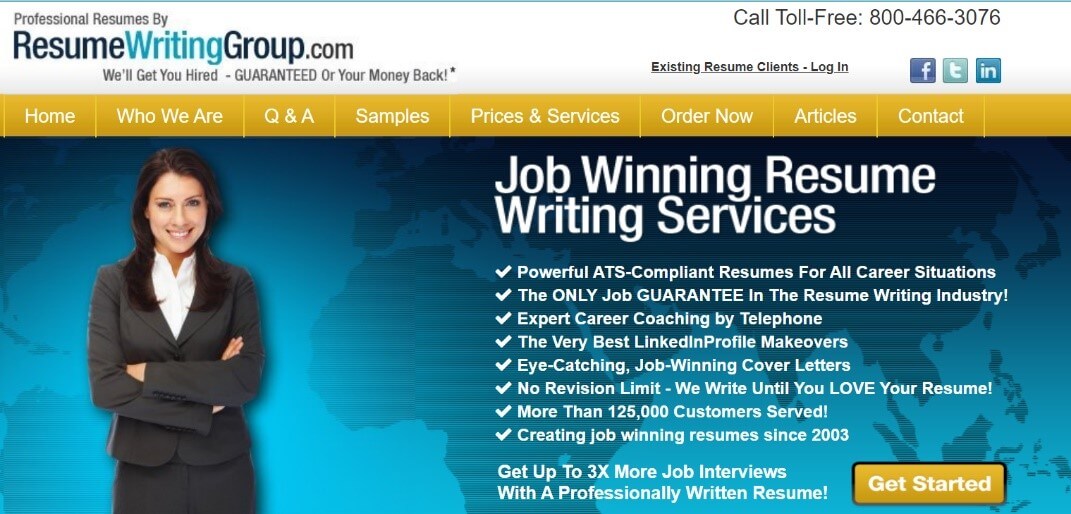 There are many writing services on the global market when it comes to completing resumes. That is why we decided to review them and help you decide which company deserves your attention. Today we will talk about Resume Writing Group, a service that was established in 2005. It has both pros and cons, so read the review attentively to make up your mind whether they are a good fit. Unfortunately, they failed to help us, so we don't think it is the right place to go.
Range of Services
When joining their website, you may see that they call themselves the company with the best quality and the best pricing on Earth. Sounds too ambitious, right? However, let's take one step at a time and start with the services they offer. Apart from completing resumes for students and the entry-level, they claim to deal with professional and high-level executive resumes, as well as resumes for the governmental and federal institutions. In addition, Resumewritinggroup offers writing letters of recommendation, thank-you messages, and completing or editing LinkedIn accounts. There are also a few options for those who want to get ready for an interview. However, we already know that many services don't mean quality, so we decided to place an order of our own and asked to create a federal resume.

Pricing and Discount Policy
The prices at the resume writing group start at $99 for an entry-level or student resume and may reach $199 for a senior and high-level executive resume. We were surprised to find out that you'll have to pay this price, not depending on the urgency or a particular specialization. The price depends only on the four types of services. These fees are extremely high, and it is surprising that they claim themselves a company with affordable fees. On top of it, there are no discounts or bonuses, which means that you'll have to pay an impressive sum for a resume. The only 'reward' is the referral system, which grants you $20 for every friend that you bring to Resumewritinggroup. However, this person will stop calling you a friend once he or she spends so much money.

Resumewritinggroup: Quality
After ordering a federal resume, we were extremely disappointed to get an average-quality document that lacked formatting and was poorly written. And when contacting the support team and asking for a refund, they required proof that the resume was sent to 40 employers and was rejected. What we didn't like about the order was that the writer failed to meet our requirements and didn't follow the guidelines. And the writing style was completely different from the one we asked for. Thus, we paid for nothing.
Guarantees
According to the resumewritinggroup.com website, they guarantee that you'll be employed within 45 days. They also claim to have revisions and a money-back guarantee, but unfortunately, they failed to provide them. Thus, we won't include these guarantees to the list above. The only guarantee that we couldn't check was the 45-day employment because the resume was fictional. However, something tells us that it's impossible to guarantee such a thing.
free revisions
refund
45-day employment
Support
Customer support at resumewritinggroup.com was another disappointment. On the website, it is stated that you can reach them via phone number and through the form on the website. However, after trying to contact them several times, we didn't get any answer. It seems that they stop answering your messages and calls right after you pay for the order. Many customers claim that even when the managers answer, they never provide the guarantees and revisions, and never answer if you want to demand something.
Online Reputation
After reading comments and testimonials online, we found hundreds of customers, who were rather angry with resumewritinggroup. They claimed that the quality of received resumes was rather poor and that the managers were rather rude.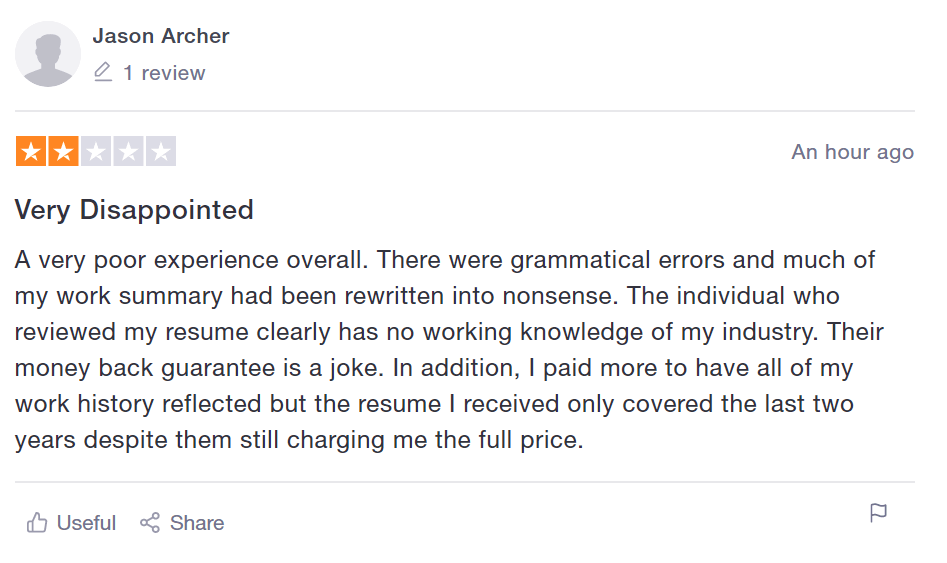 Resumewritinggroup Pros and Cons
Pros of the company:
many services on offer
a referral program
on the market since 2005
Cons of the Resumewritinggroup:
bad quality of resumes
absence of discounts
unprofessional customer support
Verdict
It is the right time to tell you about our overall impression of the Resumewritinggroup. All in all, it is a legit company, which completes resumes. However, the quality of these resumes is rather poor, and if you want to get a first-class document, it's better to search for a writing service elsewhere. In addition, their customer support is unfriendly, there are no guarantees and discounts, and the price is extremely high. We can't recommend this company and will never use their services again.
FAQ – answers to the most common questions
How quickly they complete resumes?
Resumewritinggroup.com complete resumes within three days. However, they say that Senior Executive, Military, and Federal resumes may take up to 5 days. Note that this means business days. It seems that the company doesn't work on weekends, which means that if you have an urgent order on Friday, no one will start working on it till Monday.
What if I have employment gaps?
This writing service says that they use previous career information and adjust them to new goals and requirements. However, many customers claim that in such a case, the company simply delivered a short and unattractive resume failing to include data that could be relevant for the employer.
Is it possible to order cover letters without paying for a resume?
Yes, there is such an option at Resumewritinggroup. To do that, you need to un-check the Resume feature on the order form and choose the services you need. Unfortunately, the price will remain quite high.
What other services can I get?
Apart from creating resumes, this writing service claims to complete cover letters, writing LinkedIn profiles, practicing interviews over the phone, and posting resumes. The only problem is that they supply each of these services with an additional number of features that significantly increase the final price.
Can I communicate with the writer directly?
No, there isn't such an option. You need to contact the support team, and they will send your message with guidelines or questions to the writer. As you understand, this significantly prolongs the process, and you may wait for an answer for hours or even days.
Are there any guarantees provided?
Here are the guarantees the Resumewritinggroup.com provides: the only US or Canada based writers, free revisions, timely delivery, and extra $100 return if you don't like the result. However, when getting familiar with testimonials and talking to company representatives, it turned out that some writers are not native speakers, and the service rarely returns the money.
Are there any discounts?
The main discount of this platform is a referral program. For bringing friends and making them place an order, users can get a $20 return. This, every referral will earn you $20, which will be sent to the indicated card. Unfortunately, this is the only discount you can get: no free pages, no bonuses, and complete absence of a loyalty program. Most likely, they are not interested in regular customers.
How will I be able to download the resume?
This writing service sends two copies of the resume to the indicated email. One is in an MS Word format, and another – in PDF. These two files are also available in the client services center. However, we had trouble with downloading the resume we have ordered, and it took the customer to support almost two days to fix the problem. In addition, their safety is doubtful, and you may easily lose the resume and sensitive data when downloading it.
Get the Job You Deserve!
Professional Resumewriting Service
Get started