Home
/ Brooklyn Resume Studio And Everything You Need To Know About Collaboration
Written by: resumewriterreview
Brooklyn Resume Studio And Everything You Need To Know About Collaboration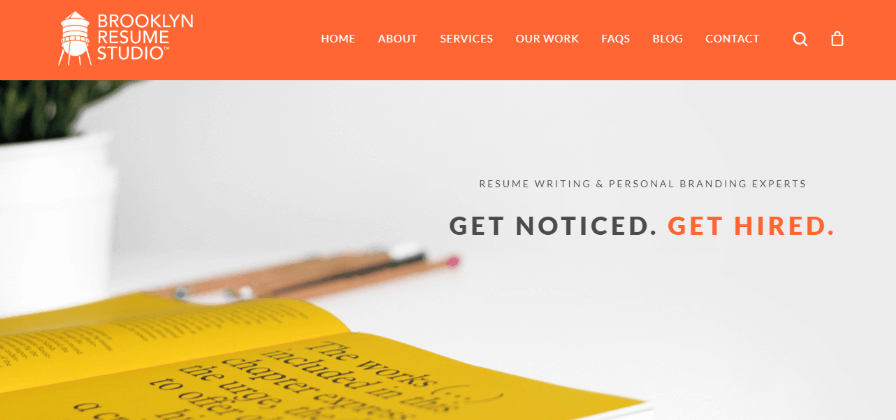 Brooklyn Resume Studio is an online site that specializes in submitting resumes and many other work-related documents. The company positions itself as professionals who have helped people get their dream job and created a resume for more than ten years. To be sure of their competence, we conducted research and gave an honest review of the company. All information about the price, guarantees, quality is provided below. We advise you to study all the material before making a choice.
Range of Services Brooklyn Resume Studio
A wide range of services can be found on the Brooklyn Resume Studio website. You do not need to contact the managers to clarify the information, because the services are already indicated on the first page. All services can be divided into two categories.
The first category is to resume writing services. Writers can also write a cover letter, biography, portfolio, online profile, advice on how to impress an employer and behave in an interview.
The second category includes personal branding services. Site staff assists in the design of logos, business cards, site design, portfolio review, brand design.
Of course, this is the site's advantage, because the list of services is quite large and it is not easy to find such benefits. But service prices are volatile. To find out the exact cost, you first need to contact them and find out how much they can offer you, which is very inconvenient if the order is needed urgently because waiting for a response can take several hours to a whole day.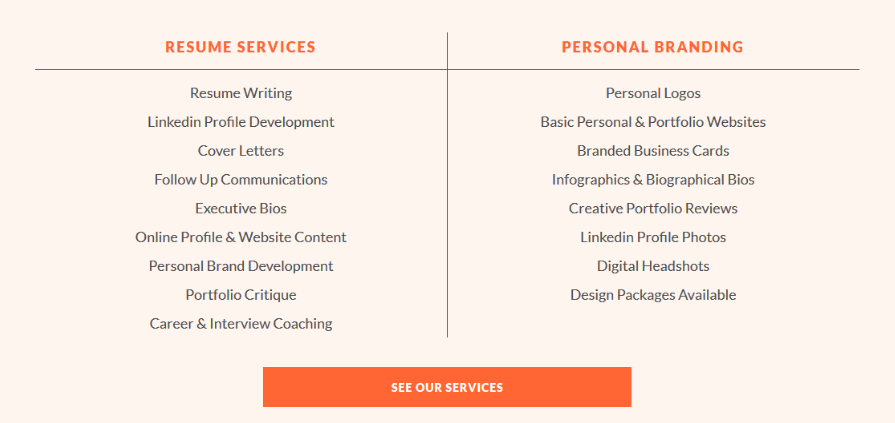 Pricing and Discount Policy
If you want to know the paper's cost from the Brooklyn Resume Studio brand, you will be disappointed. They chose to hide the price of their services from clients. But we contacted the support service to answer how much the paper ordered by us would cost.
We were shocked at how much they wanted to receive for the document. Because Brooklynresumestudio.com has a lot of services, they decided that the price should be huge. We paid over $ 500 to get a resume. We faced such high prices for the first time in our work, even though the document's requirements were small. We have clarified whether we can get a discount as the first customers, but unfortunately, all that was offered to us is a cover letter as a gift. But if you are a military man, then there is a 10% discount on any paper.

Quality
Opinions were divided on quality. Judging by the comments, we saw clients satisfied with the quality, but some clients were not delighted with the document. To give you honest feedback, we have made an order for a resume, cover letter, LinkedIn profile. Of course, at first, they did not find out the price until they contacted the manager. After our order was ready, we found completely irrelevant information. All the data we provided in the wishes were uninteresting, and the personal qualities did not attract the employer. We concluded that the document's author did not think about the quality and made a document according to a template that does not differ in originality from hundreds of other resumes.
Guarantees
We decided that a company with an expensive price list should provide good grants. Unfortunately, having examined the entire site, we did not find a separate page or mention that the Brooklyn Resume Studio brand is responsible for the provided documents. We wanted the author to improve when we made an order, but this service is not free, and we had to pay extra. Other services provide a free revision for 30 days. The manager indicated only such garnishes:
Delivery of the document.
24/7 support.
The price does not change during the writing.
Refunds if the author did not fulfill the requirements specified in the order.
Support
When you place an order, you expect the answer to come quickly. But for them, those clients who make large orders are in advantage. If you only want to buy one resume, you will most likely wait for answers to questions for several hours and sometimes all day. The only advantage is that the support team can answer any question without any problem.
But you must admit that clients pay a lot of money for a document and the quality of service should be at its best. Unfortunately, the Brooklyn Resume Studio brand prefers to divide customers depending on the order's price, which indicates that they are not professional.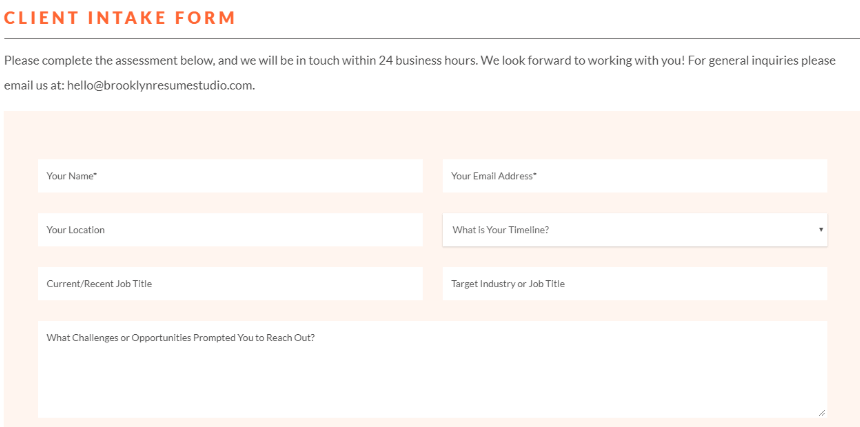 Online Reputation Brooklyn Resume Studio
Agree, if the site lacks information about the warranty and price, then most likely, the site has something to hide and cannot be called successful. This site is not popular among customers. Yes, they have a wide range of services, but when people find out about the price, the desire to share the order immediately disappears. A person looking for a job does not have a lot of money, so the company should think about the pricing policy. Moreover, paying for paper and not getting a guarantee is equivalent to buying a pig in a poke. Customer reviews evidence this.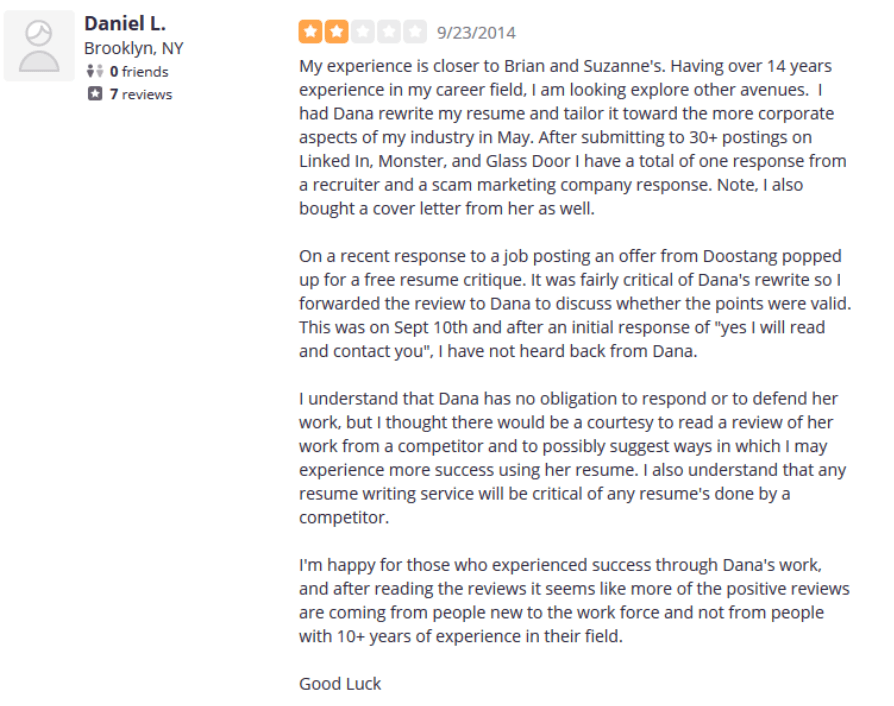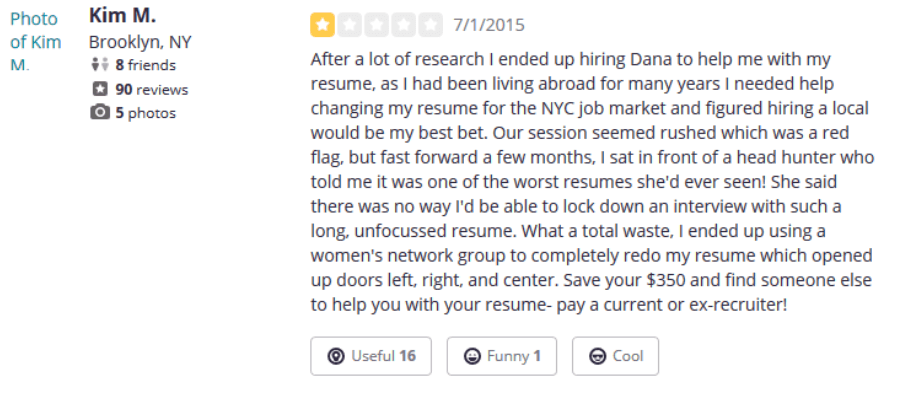 Pros and Cons
To make the right choice, you need to know the strengths and weaknesses of the site. We have prepared several pros and cons that the Brooklyn Resume Studio brand has.
Pros:
A wide range of services.
The support service answers all questions.
Sample documents are included.
Delivery of the document on time.
Cons:
It inflated pricing policy.
Waiting for an answer to a question is several hours or a whole day.
There are no guarantees for the document.
They are dividing the customers depending on the amount of the order.
Writers do not have original writing skills.
If you need improvements, then you need to pay extra.
If you want to make a refund, this is possible only if the author did not fulfill your requirements.
Verdict
Of course, the Brooklyn Resume Studio brand has a wide range of services, even those that are not so popular in the market and are hard to find. Also, the support service has enough knowledge to help you with worried questions. However, these two qualities are not enough to give a positive review. We have a negative impression of cooperation. The pricing policy does not correspond to the quality, and the lack of guarantees indicates that they are not confident in the documents they sell, thereby putting the client at risk.
FAQ For Those Who Don't Know Anything About Collaboration With The Brooklyn Resume Studio Brand
Will the service be able to make the original document?
Representatives of the site claim that more than 90% of clients trust their services. But our experience shows that writers are not willing to give their best for your interests and careers.
Does the site have unique features?
The site contains information that their employees are designers, writers, content managers who can make various documents. Of course, this is the main advantage, but the quality leaves much to be desired.
Can I have a look at some examples of work?
The site has a separate page called "Our Work" dedicated to examples. If you look at all of them, you can conclude that they are monotonous and only the design changes.
What's the checkout process?
When placing an order, you will be faced with the fact that you will need to fit into the company's schedule. If you need an urgent document, you won't get it. Also, processing an application and finding a suitable specialist takes from 5 to 7 days. Other sites process orders several times faster. If you have any questions, you can only ask them during business hours, which is contrary to their rule of support 24/7.
Can I get a quick consultation?
You can chat online or by phone, but you must understand that the manager's response can take a long time. If your order is accepted, then a refusal may come due to a lack of specialists after a while.
Can I make adjustments for free?
The site is completely incompetent in such important aspects. To make adjustments, you need to pay extra, and they don't care if you already paid a lot of money.
How long does it take to complete an order?
Due to the fact that the Brooklyn Resume Studio brand lacks specialists, they make a document within a week, while other companies make paper in a few hours.
Are there any discounts?
Unfortunately, discounts are not intended for newbies, and also for regular customers. You may only be offered a cover letter.
What is the pricing policy?
The site works only for 100% payment, which means you will not be able to return the money if you do not like the quality.