Home
/ UK.CAREERSBOOSTER.COM REVIEW
Written by: resumewriterreview
UK.CAREERSBOOSTER.COM REVIEW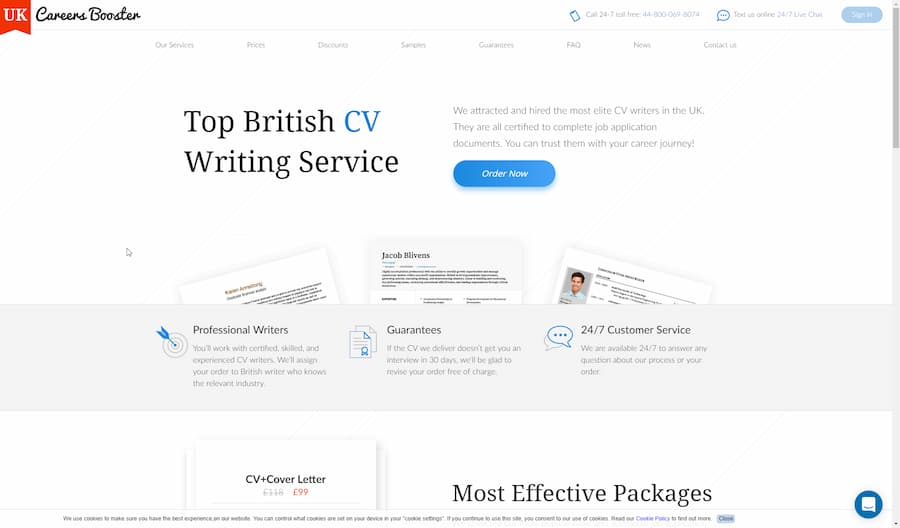 THE MOST DETALIED UK CAREERS BOOSTER REVIEW. IS THIS SERVICE WORTH YOUR ATTENTION?
Uk.СareersBooster.com is highly ranked on the resume market. Their samples are very realistic since, according to their past customers, the resumes and other job application-related products have proven to be very effective in landing them interview invitations.
The service works with UK certified resume experts and from their website information, they only have 70 writers on board. These writers are employed through a detailed hiring process and further trained to assist people in landing the jobs they want.
To check how valid all this is and why the company has become so popular among its audience, we ordered a package to see their quality. Read on to find out more.
QUALITY
We ordered a package of CV and cover letter for a price of £99. The service we received was excellent, both from their customer service and their writers. The CV was detailed and highlighted just the right information. It was formatted as we requested and focused on the job descriptions we sent as an example of where we would apply with it.
As for the cover letter, this was definitely not an edited template. Most services used the same template to write cover letters, but judged by the work the writer had done with ours, it was safe to assume that this was a custom-written product. It was concise, without mistakes, and fully original.
LIST OF SERVICES AND PRICES
UK Careers Booster has services that can take you from start to finish when it comes to your application process. You can order a CV, resume, thank-you letter, follow-up letter, LinkedIn profile help, and cover letter. Their CV services include technical CVs, career change CVs, professional CVc, etc. Price also depends on experience level.
In terms of pricing, it is cheaper to order a package of two or more products than it is to order a separate service. Discounts are only applied to packages and based on what we have seen, the packages have excellent rates when you add the special offers. You can get up to 35% on a package.
In their packages, you can find different combinations that fit the need of all customers. For example, you can choose between the following combinations:
CV and cover letter
CV and LinkedIn profile
CV, LinkedIn profile and cover letter
CV, LinkedIn profile, thank you and follow-up letter
Resume, cover letter, thank you and follow-up letter
The rates for packages start at £99 for graduate level and go up to £229 for an executive level. If you choose to order individual products, you can pay different quotes from £39 to £155.
CUSTOMER SERVICE AND DELIVERY
This is one of the few resume companies that have non-stop support to aid and serve their customers. Their guarantees include free revisions within 24 hours after the order delivery, timely delivery guarantee, quality guarantee, and the best of them all – a free rewrite for those who haven't received an interview invitation in a period of 30 days from the package delivery.
When we got the chance to speak to their customer service, we learned that they are very respective with their customers. The agents are trained well and handle requests fast, which can also be seen if you read the testimonials from existing customers of the company. In our case and our evaluation of the testimonials, we can say that their delivery policy is great, since there isn't any mention of delayed delivery on the Internet.
Overall, uk.careersbooster has plenty of package choices, as well as individual products that help people land an interview and a job. Their services take you from start to finish, and you can also combine different products and save money in the process. Unexpectedly, it is a quite cheap service with a high reputation, which they once again proved with our order.