Home
/ ResumeZest Overview — Find Out the Truth About Career Services
Written by: resumewriterreview
ResumeZest Overview — Find Out the Truth About Career Services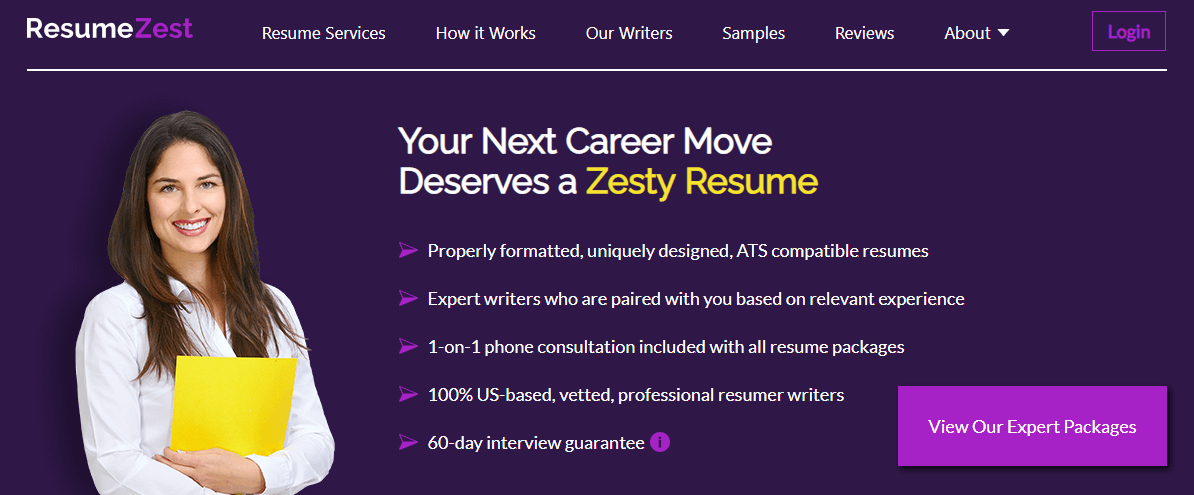 The period when you have to start or switch your career is pretty challenging. Even if you're a good professional, you need to understand what your potential employer wants from you and create a convincing resume. Actually, many job seekers claim that this task is the most difficult. You may have some knowledge and experience, but it doesn't mean that you are able to introduce them in your CV. Even the smallest mistake may cost you a job opportunity, and it causes a lot of stress and anxiety.
That's why resume-creating services like ResumeZest are pretty popular these days. Their target audience includes students, fresh graduates, and candidates who are looking for new opportunities. These services are incredibly demanded in days of pandemic when a lot of people have lost their jobs. So, we want to conduct a little research and provide you with an honest overview of resumezest.com.
ResumeZest Range of Services
The first thing you should pay attention to is the list of services. What can this company do for you? What do they mean when they say, "we will create a resume for you"? There are pretty many services that help you to make your CV look more attractive, using such basic design tools as Canva. So, it is necessary to define your expectations and to make them clear from the early beginning.
Take a look at the list of services from ResumeZest: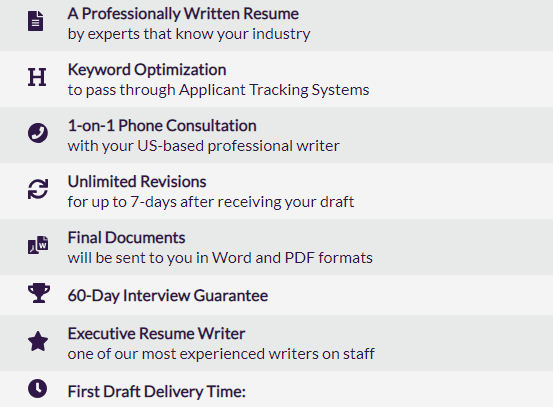 If you analyze some other companies in this niche, you'll quickly understand that most of them have the same features. It means they are not unique and special, and the list of services doesn't guarantee you that you will receive the quality that you need. At least, you know that it comes not to design only.
Pricing and Discount Policy
The next aspect to consider is price. Actually, it is of great importance since you're not buying a dress or a new iPhone. You're going to invest in your future career, and you definitely don't want to waste your money in vain.
Speaking about resumezest.com prices, they are just shocking. As you can see, the cheapest package is $179. It means they want students with zero experience to pay a lot of money for their resumes. We believe that people who are ready to pay this sum just don't need this job because they are millionaires or something like that. And what about C-level candidates? Do this company's representatives really think that they are ready to splurge for a sheet of paper? Unbelievable!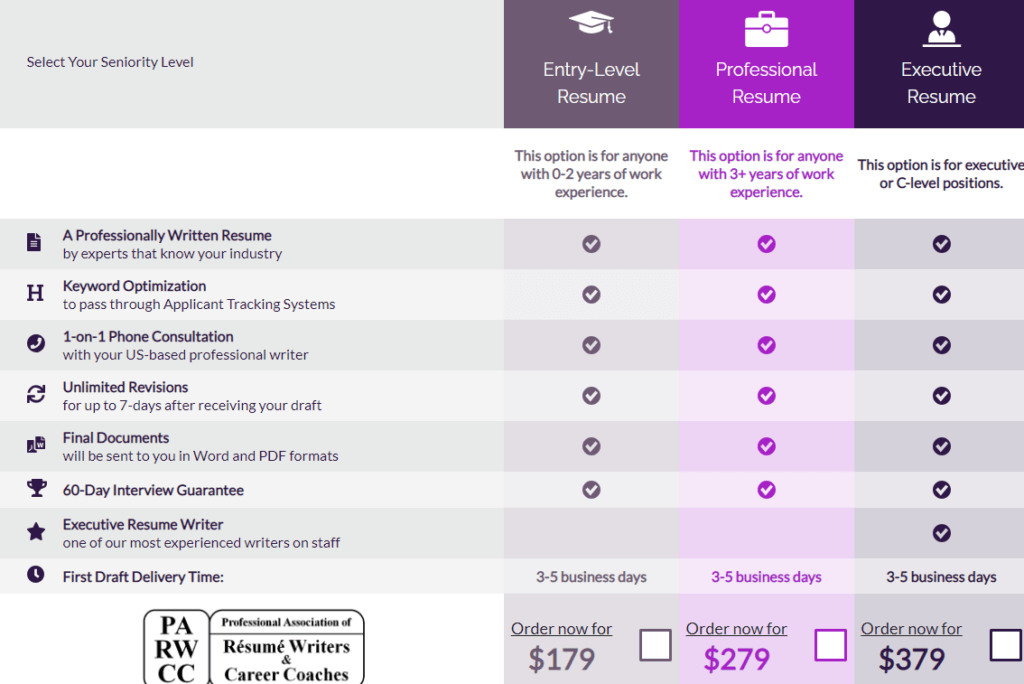 ResumeZest Quality
If you do a little research, you can find out that they have a paper with samples for entry-level resume, professional resume, and executive resume. We have read them to understand what ResumeZest offers and whether this quality can justify their high prices.
Unfortunately, we can't say that their resumes are something special. Moreover, they are really outdated. Nobody will read these blocks of texts that are overloaded with information. And there is absolutely no visual component, even via Canva. So, quality is surely an area of improvement.
Guarantees
Whatever company you want to hire, you always should check its guarantees. Such a responsible approach will protect you from scammers who just gather your data or even get your money and don't provide any result.
What are the guarantees of resumezest.com?
60-day interview guarantee;
Money refund;
3-5 business days turnaround time;
100% U.S. based authors.
They can't provide you with a guarantee of employment, so you shouldn't expect this even when you pay a lot of money. However, a 60-day interview guarantee sounds really crazy since it is possible even if you write an average resume by yourself. Besides, they don't explain in what cases they will refund your money, and they just ask you to contact them if you're not satisfied.
Support
What is also shocking about ResumeZest is that they don't have a live chat! If you have some questions or issues, you should send them an email or make a call. Are they from 2021?
Online Reputation
Before you buy any services, it would be a good idea to delve deeper and find more reviews about the company. Especially from people who have already ordered their services and can share their honest experience.
We checked the most popular websites with customers' testimonials for you. So, what do people think about resumezest.com?

As you can see, people are not really satisfied. However, there are also some positive reviews, but it looks like they were created especially to boost the company's reputation. We checked their website also, and guess what? There are the same positive testimonials on both pages! It means they post them themselves. What a shame!
Pros and Cons
Of course, all companies have their advantages and disadvantages, and this one is not an exception.
Advantages:
Nice website;
Clear list of services;
Fast turnaround.
Disadvantages:
Information about 4 authors only;
Extremely high prices;
Lack of guarantees;
Suspicious online reputation;
Poor customer support options.
Verdict
Well, we don't recommend you to place your order on ResumeZest. They don't guarantee you a personal approach, and the only thing they can do is to save some time for you. It would be better if you create your resume by yourself; at least it won't cost you $179+.
FAQ — All You Want to Ask About ResumeZest
What Is Resumezest Specialization?
It is a writing service specializing in creating resumes, cover letters, professional bio papers, and other documents necessary to boost your career. They claim that they have experts in all industries.
What Guarantees Do I Have?
They believe it is their advantage that they give you a 60-day guarantee of an interview. They claim that there are many companies who leave their customers alone once the resume is ready. However, 60 days don't sound like 3 days or even 7 days. Just imagine, they offer you a 2-months guarantee! Even people with the worst resumes ever can get an appointment in 2 months. So, it is definitely not the guarantee that you can rely on.
Besides, they don't tell you what you actually receive if you don't get this interview when they promise. Will you get your money back? Ok, but what about the time that you've lost?
How Much Do Their Services Cost?
Their prices depend on several factors. You can find 3 packages with different criteria. For example, if you're just starting your career, you should pay $179. And if you're a C-manager, the price for you will be $379. There are also additional services, for example, writing a cover letter or a LinkedIn profile editing, and they start at $49.
Obviously, these prices are extremely high, and it is difficult to understand ResumeZest's pricing policy. Why do they charge so much? Are there worse authors for junior candidates? Think about these questions before you place an order.
When Will I Receive My Paper?
All resumezest.com packages promise you that you will receive your resume in 3-5 business days. Pay attention to the fact that this time begins only when you send the required information. It means you have to place an order, then contact your author and prepare some data, and only after that will they start working on your order. And if you need your paper urgently, they can do it in 48 hours, but you should overpay.
What Are the Authors' Qualifications?
It is difficult to find enough information about their authors because they have pretty general descriptions only. We know that writers are U.S.-based and have experience in different fields. They are also members of some coaching organizations, which sounds not that convincing.
We know nothing about their education, concrete experience, resume writing experience, etc.
How to Place an Order?
Firstly, take a look at their packages. As soon as you choose a plan that you like, you can proceed to the checkout process. They will explore your requirements and reach you within 48 hours. It sounds not that good that you should pay in advance, even before you contact the author and ask some questions.
Is It Possible to Stay in Touch With My Author?
Once you placed your order and the manager matched you with your author, you'll receive access to their platform with chat, where you can send messages. They say you can do it whatever time you want, but it doesn't mean that you will receive quick responses. They work during "normal business hours," which stands for Monday-Friday/8-5. But what about customers who live in different time zones? Candidates from abroad who are looking for a job in the USA? They are definitely not customer-focused.