Home
/ EmploymentBoost Overview — Everything You Should Know About This Service
Written by: resumewriterreview
EmploymentBoost Overview — Everything You Should Know About This Service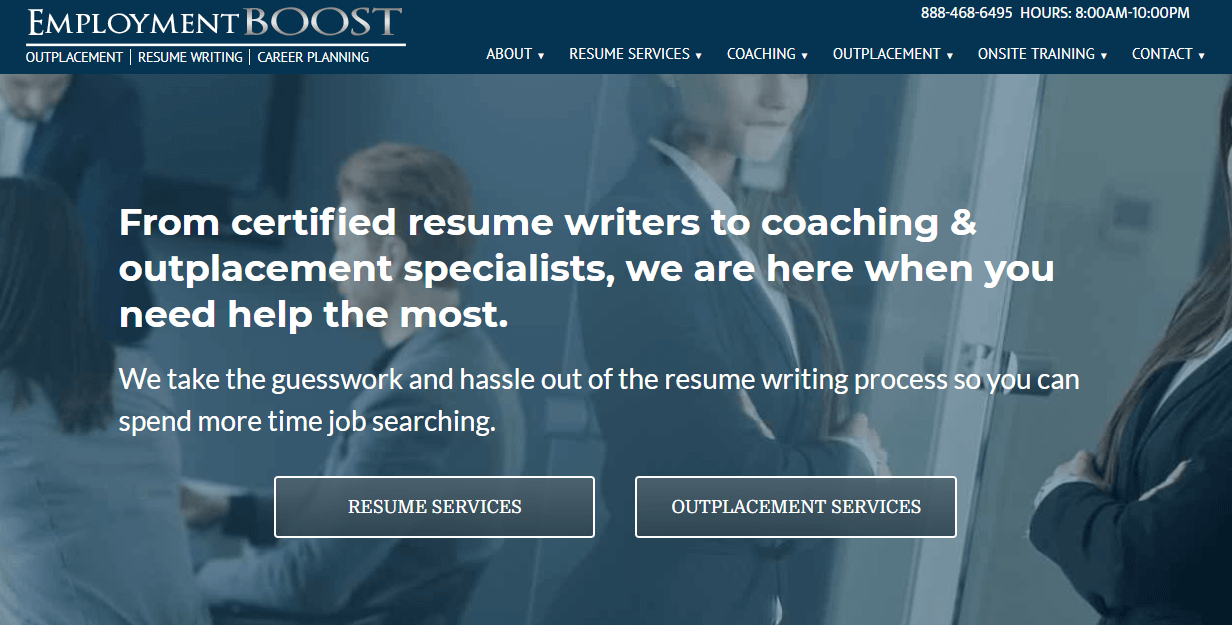 Building a career isn't that easy these days. The market is very competitive, and you have to be a unique professional with valuable skills if you want to find your place under the sun. Besides, it is essential to come through several stages of the recruitment process. For example, you need to write a resume that will impress your future employer.
Sometimes this task is the most challenging since you have the only chance to make a first impression. Even if you're a decent professional, the company might not understand it when your resume is poor. That's why companies that help you with resume writing are very popular these days. People need a guarantee, and they are ready to trust people who promise some results. But are all these companies reliable? Let's find out in our EmploymentBoost review!
EmploymentBoost Range of Services
First of all, it is necessary to look at the range of services — what does this company offer? They should provide you with complete information so that you know what to expect in advance. When exploring employmentboost.com, you can find out that they are specialized in:
resume writing;
career coaching;
college planning;
interview preparation;
outplacement;
professional training.
At first sight, this variety of services looks good. But it is really difficult to define what their primary focus is. Is it possible that they are experts in all these fields?
Pricing and Discount Policy
As you may understand, their prices depend on the services that you choose. And they don't have a separate price list with all options available, and you need to look for them by yourself.
For example, there are prices for resume writing: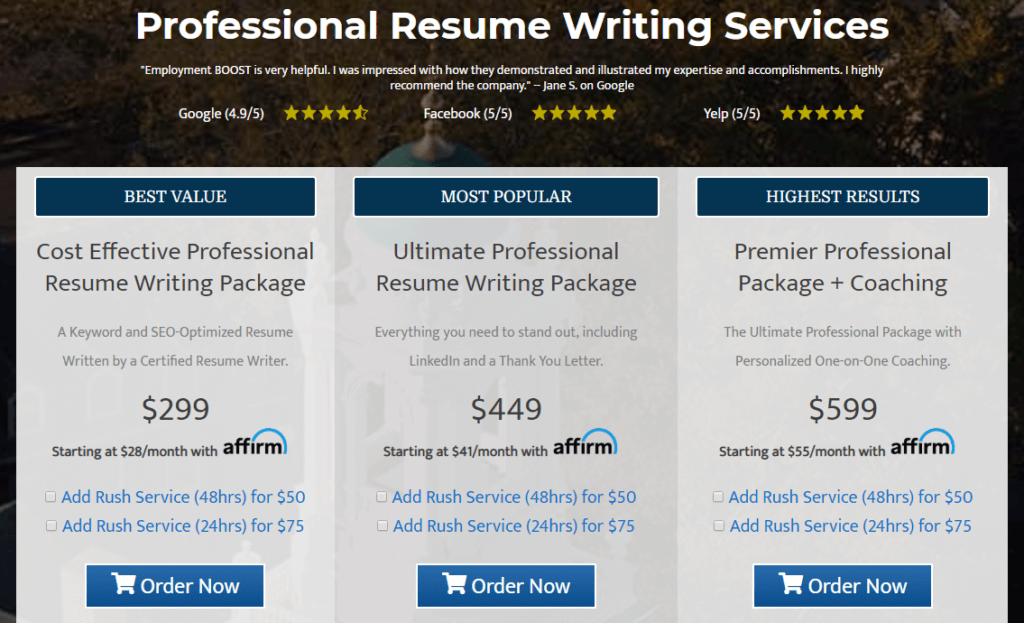 We bet that most people are looking for a company to help them with a resume since it is a very challenging task. But do you think that it is ok to ask $299 and more for such services? It is very expensive! Especially when it comes to fresh graduates who are looking for their first job. So, it is expected that they should ask their parents for money to get a resume? It's ridiculous!
And what about interview preparation?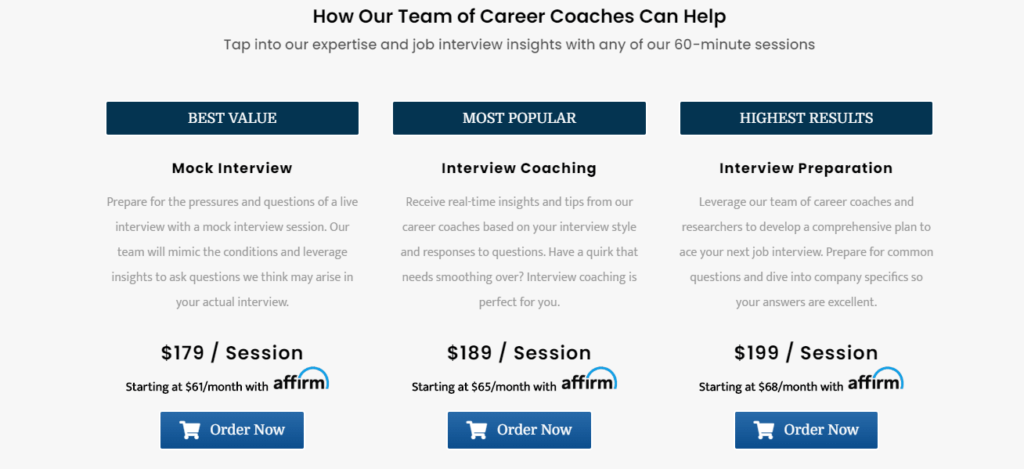 The cheapest session is $179. EmploymentBoost has really high prices, and they are definitely not for everyone.
Quality
Unfortunately, we haven't found any samples to understand the quality level. They have some career articles on their website, but they don't let you get the bigger picture. The only thing you can do is place your order hoping that they are not scammers who will take your money away. They claim their resume authors and career coaches are professionals, but they don't have any proof. How should you trust this company if you still know nothing about them?
EmploymentBoost Guarantees
When you want to understand whether any company deserves your attention, you should consider its guarantees. Situations when you're not satisfied with the services are always possible, and it is very important that you're protected from them. For example, will you get your money back if the company provides you with a poor resume that you don't like?
Let's find out what are the EmploymentBoost guarantees:
Job interview within 3 months;
Personal data safety;
Several payment options;
No refunds.
Yes, you get it right. All their sales are final, and they don't return the money. It is because they are very confident. They claim that it is not their fault if you don't get an interview or a job. Wow. So, what are the reasons to order something from them?
Support
Customer support is necessary to stay in touch with the company when you have some questions or issues. Unfortunately, EmpoymentBoost can't provide you with 24\7 service as they don't have a live chat. You can contact them via phone, but only 7 am-10 pm. Or you can send an email. They claim that they respond quickly. However, it doesn't take them seconds, so that you need to sit and wait.
Online Reputation
When you want to place an order from any company, it would be a good idea to check its online reputation. All businesses post positive testimonials on their websites, but what about negative ones?
Take a look at some reviews about EmploymentBoost: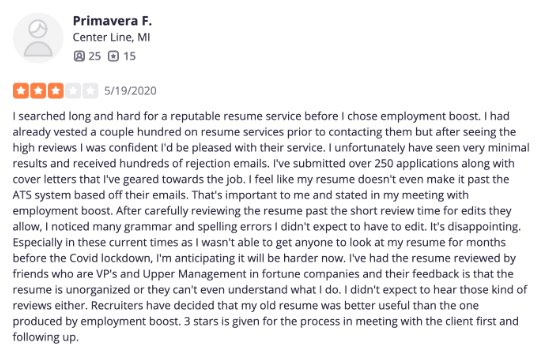 EmploymentBoost Pros and Cons
All services have their pros and cons, and you need to decide what is the most important for you.
Advantages:
Nice website design;
Variety of services;
Articles with career advice.
Disadvantages:
High prices;
Lack of guarantees;
Poor customer support;
Unclear online reputation;
No money refund;
Lack of information about authors.
Verdict
We hope that you have the same verdict by this time — EmploymentBoost is definitely a company to avoid! There are no reasons to choose this company among others, as they can't provide you with decent resume services. Moreover, you just can't keep calm since they do nothing to relieve anxiety and guarantee you the perfect result. Take a look at our other reviews, and
FAQ — Answers to Your Questions
What Stages Does the Ordering Process Consist Of?
First of all, you need to upload your resume along with additional documents (cover letter, job description, references, etc.). Then you'll receive a questionnaire to fill in so that the company's authors know your expectations. As soon as this form is ready and reviewed, you'll have an appointment with a career consultant. He or she will be working on your resume and deliver it once it is ready.
How Long Should I Wait to Get My Resume Ready?
EmploymentBoost delivers the first draft within one business week after your appointment when it comes to standard purchase services. The final term also depends on other factors, e.g., on your interaction and time of response. For example, when customers don't provide the necessary information, authors just can't finish their work within the required terms.
If you need to receive your paper faster, you can order a resume rush service. However, pay attention to the fact that it will cost you more.
Should I Order a Cover Letter?
When you're ordering a resume, you need a decent cover letter as well. It is a paper where you write about your experience in more detail, explain gaps, describe your motivation, and so on. When different people write your resume and cover letter, it does not look that good. Your potential employer can notice this difference. That's why when you decide to order a resume, it would be a good idea to order a cover letter as well.
What Payment Options Are Available?
EmploymentBoost has a wide range of payment options for users. You may pay by Visa, Mastercard, American Express, Discover. If you have a PayPal account, there are also additional payment options.
What Outplacement Services Does Employmentboost Offer?
Outplacement plans include one-on-one consultation, professional resume, cover letter, LinkedIn profile improvement. They also provide you with a resume revision period, SEO optimization, interview coaching. If you are ready to pay more, you can choose an Outplacement Elite package that includes career planning and transitional support. The basic outplacement plan costs $999 per person.
What Are College Workshops by Employmentboost?
EmploymentBoost has services for college students who consider starting their careers. They provide some workshops and masterclasses where you can learn to:
write an entry-level resume;
develop LinkedIn profile;
plan career;
look for a job.
Prices are discussed individually.
Why Do I Need Coaching Services?
Sometimes it is not enough to have a good resume to get a job. The interview stage is the most challenging one. EmploymentBoost has some coaching plans for seekers who need more help. This company really has a lot of various services, but they are very costly. For example, professional interview coaching services start at $189. And if you want a personalized consultation and a career planning session, you have to pay $599.