Home
/ PARAGON RESUMES REVIEW
Written by: resumewriterreview
PARAGON RESUMES REVIEW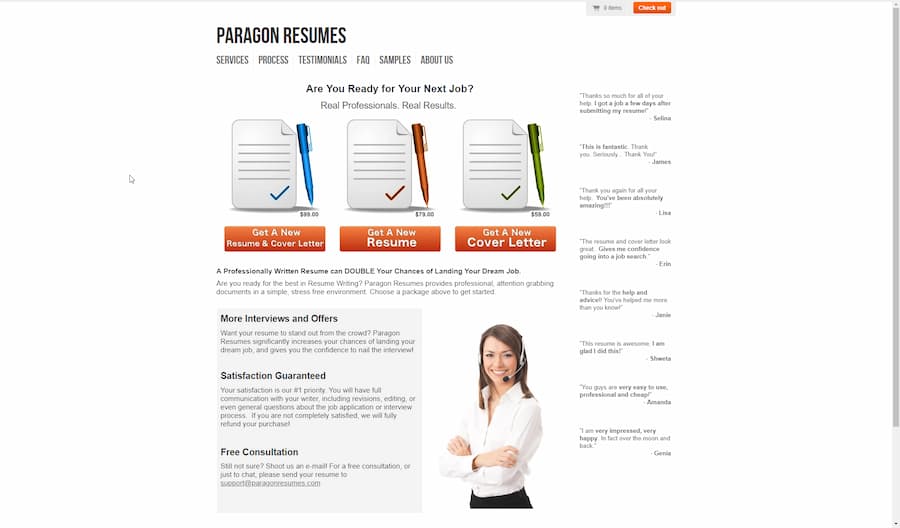 CAN THIS COMPANY HELP YOU TO FIND YOUR DREAM JOB?
Due to the emergence of so many job portals all across the globe, employers filter out resumes at a higher pace than ever before. This means, if a resume is not optimized for search engines, or the language used is not up to the mark, it may not even get through to the phase where it is shortlisted to be considered for an interview call, let alone a job offer. This is why there are numerous resume-writing services available online nowadays. Today, we are going to look into one such website – Paragonresumes.com.
QUALITY
There are two ways to check the quality of any service providing website.
Browsing through the website in detail.
Testing the service by placing a small order.
For coming up with our very own version of paragon resumes review, we did both the above. The web design of paragon resumes is quite simple and plain. The home or landing page is very precise, and is not doing a good job of selling the services or the company. The 'Samples' section is interesting, as we can straight away look into the quality of the resumes they produce by viewing the samples.
We went along to place an order at the site, and received it on time. The resume seemed well-structured, lengthy enough, and written by a professional from the same field as the resume required – software engineering. Some light and technical jargon was used, which made it sound genuine and knowledgeable.
We could not figure out what exactly was it, but we felt like something was not up to the mark. The format was standardized – or perhaps, was it too standardized? When we looked deeper into it, it turned out that they had used a ready-made template to build up the resume!
LIST OF SERVICES
Unlike other resume-writing service providers, this company only offers basic resume writing and cover letter writing. Their 3 packages can be listed as follows.
Resume and cover letter
Resume only
Cover letter only
They do not offer building social media profiles. Many competitor companies offer LinkedIn profile makeover and consultancy on how to make one's social media presence be in-line with one's professional profile. This could hurt their customer base as well as revenue. They do mention on the site though that users can drop them an email along with their existing resume to get 'free' advice on how to make improvements. But the way it is written appears more like an attempt to gather an email database, rather than providing effective and productive consultancy.
PRICES
The following table shows the price for each of their package. These are fixed prices are fixed, and seem to be quite reasonable and competitive for the simple services they are offering. There is no mention of any discount, promo codes or coupons. They offer 2 payment methods.
| | |
| --- | --- |
| Package | Price |
| Resume and cover letter | $ 99 |
| Resume only | $ 79 |
| Cover letter only | $ 59 |
CUSTOMER SERVICE AND DELIVERY
While we browsed through the website, looking for ways they are offering customer support, we only found the email address mentioned on the home page and an 'FAQs' section. There was no contact number, chat bot or contact form. The FAQ section has a list of 8 basic questions, which do not seem to address the most crucial issues such as a client payment getting stuck or an order not delivered on time. It appears as though the section was created to complete the page, just because it was probably part of the theme they chose for the website.
GUARANTEES
Interestingly, the site states 'Satisfaction Guaranteed'. They also claim that they make full refund if a customer is not satisfied with the order as delivered, even after several revisions are made to it. This is definitely a green flag. Whatever the work quality of a service provider, if they can guarantee 100% refund in case they do not deliver up to the mark, any website viewer would at least not hesitate to try out their service. We also felt safe to experiment with the site after reading this. We were aware though that the process to request a refund could turn out long and bothersome, due to the absence of any live chat on the site.
ONLINE REPUTATION
We read a lot of paragon resumes reviews during our process of thoroughly reviewing the site. To our surprise, their online reputation based on most consumer reviews is far worse than we expected. Some customers who have given them a score of 0, while others have given 2 or 3, which is very bad on a scale from 1 to 10. The company definitely needs to put in effort into marketing, so that they can build up a positive reputation. Otherwise, there is little hope for their revenue.
CONCLUSION
We can say that the site is running, but not quite effectively. As there are so many options available for users these days, they could easily get diverted to a competitor's site for getting their resume written, and we would not blame them if they do so. We would not say that our experience with this site was very bad, but it was not fantastic either.