Home
/ Resumeedge.com overview: general points
Written by: resumewriterreview
Resumeedge.com overview: general points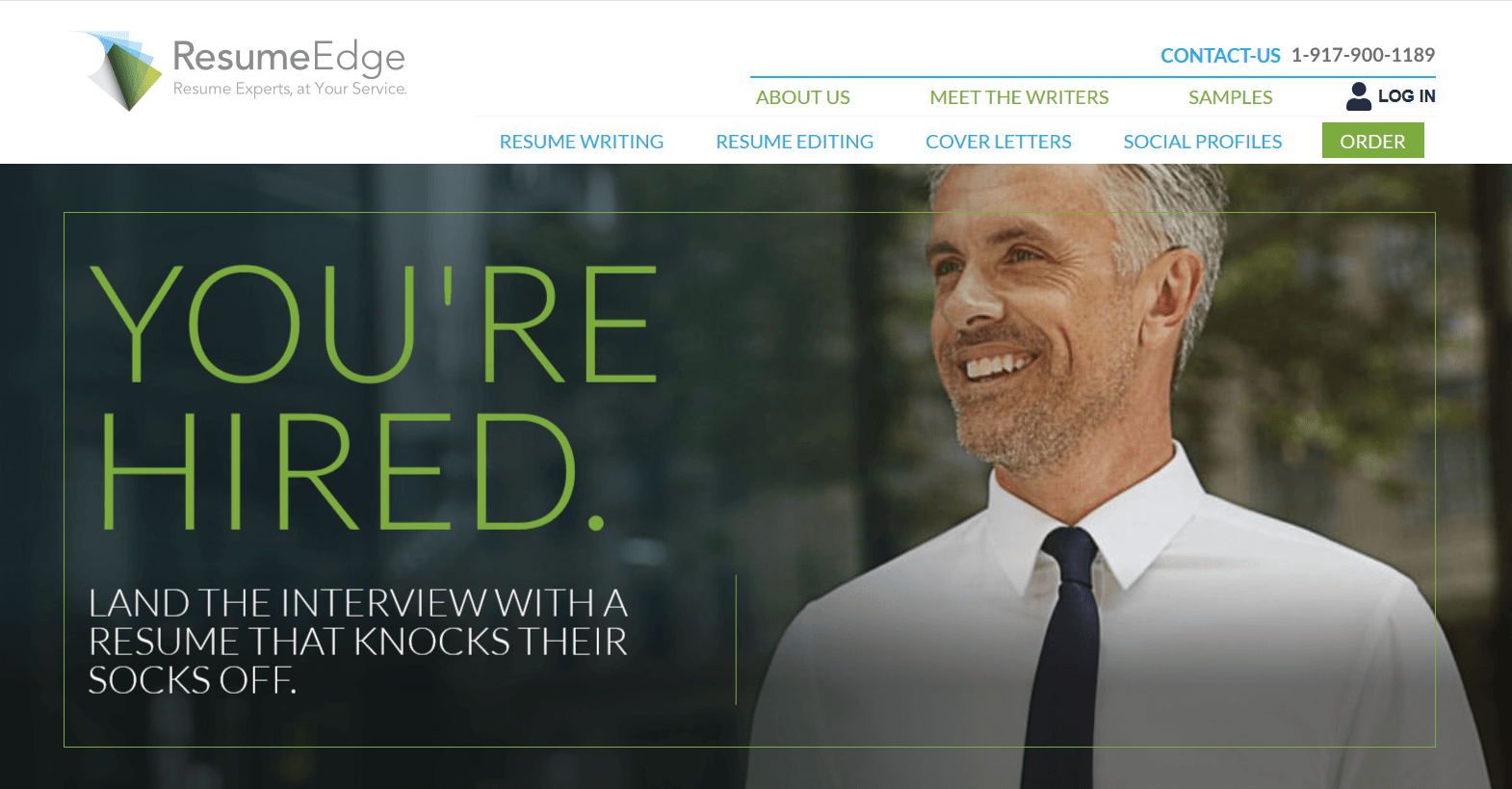 Resumeedge.com is a company that specializes mainly in writing different job-related documents. Since 1998, this service offers its writing assistance worldwide. So, we can provide here a more or less comprehensive review of its ordering procedure, prices, pros, and cons of cooperation with this company. We relied not only on the information from its website but also on reviews from customers to find out how it works, in fact. This company offers its experience, quality, and results. We decided to check all these points.
Let's look at its services.
Range of Services
Here you can order CVs, cover letters, and content for your social profiles. However, the major specialization of this company is CV/resume writing and editing.


We looked for reviews and found out about the low quality of writing profiles for social media accounts. So, we can make a preliminary conclusion that it is not recommended to order any kind of supplementary services of this company. Let's look at how it provides the main services.
Quality
The quality of many prepared CVs and cover letters suffers a lot. These documents sometimes lack clarity and are not structured properly. Moreover, some of their former clients even corrected the received documents on their own. Here are some examples: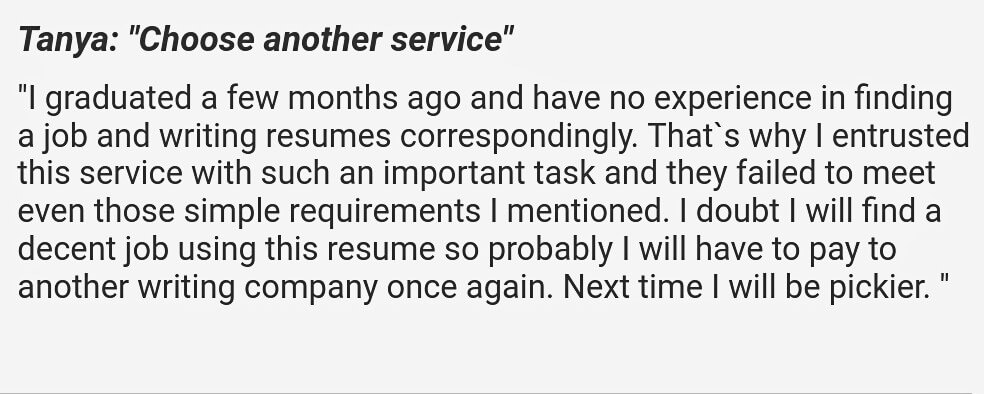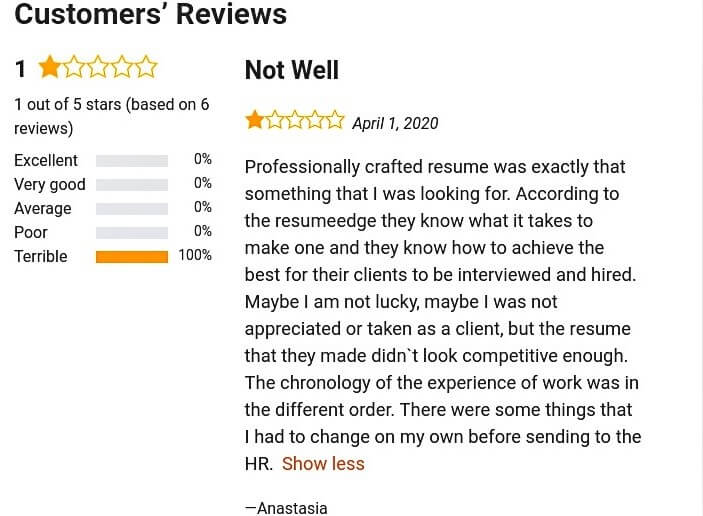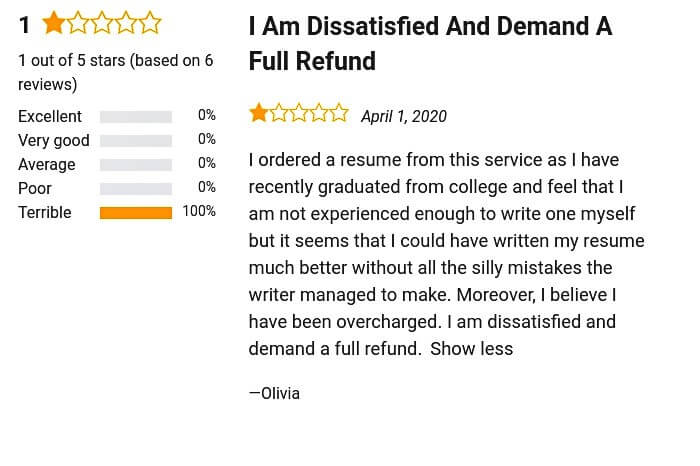 We have found out the presumable reason for that. This may happen due to the absence of skilled and qualified writers. They likely don't have degrees in English. Here is what one customer says:
We are also disappointed with their non-perfectionist approach. From our point of view, it is inappropriate for this kind of service. However, as its customer Tia (see our screenshot again), we also believe in their potential.
Pricing and Discount Policy
Well, prices are high for this kind of product and for the quality this service offers. If you want to order something more or less solid, you need to pay from approximately $200 to $290. Your final price may vary depending on the number of options you want to choose. Here is how one of their offers look like: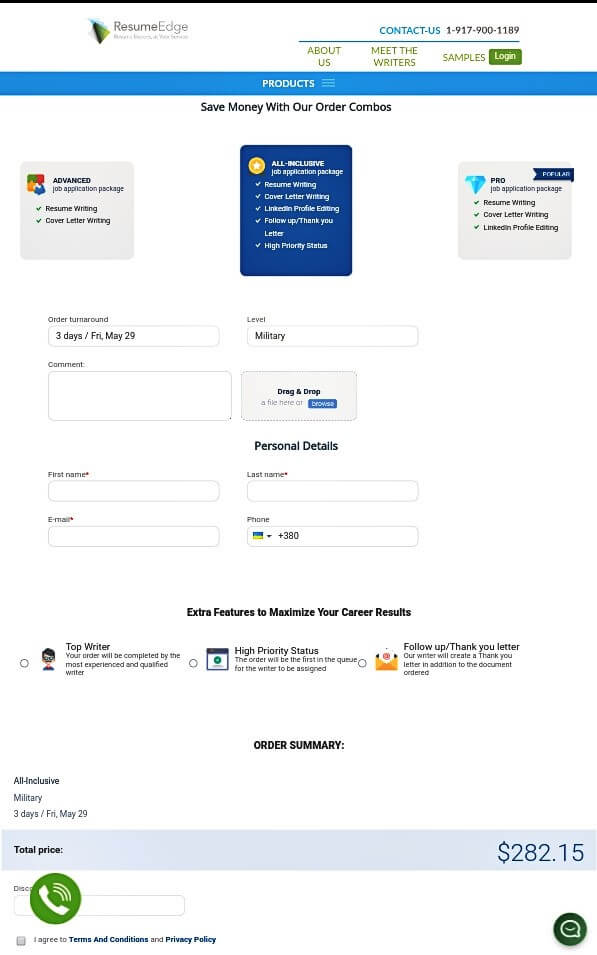 You can pay for your order by using your credit card or PayPal. However, you may also contact their customer's support to find out more about any other alternative methods of payment. According to many reviews, the quality of resumes does not correlate with the prices for such. Here is what their customers say: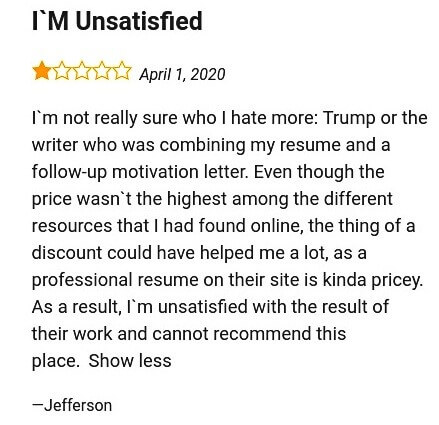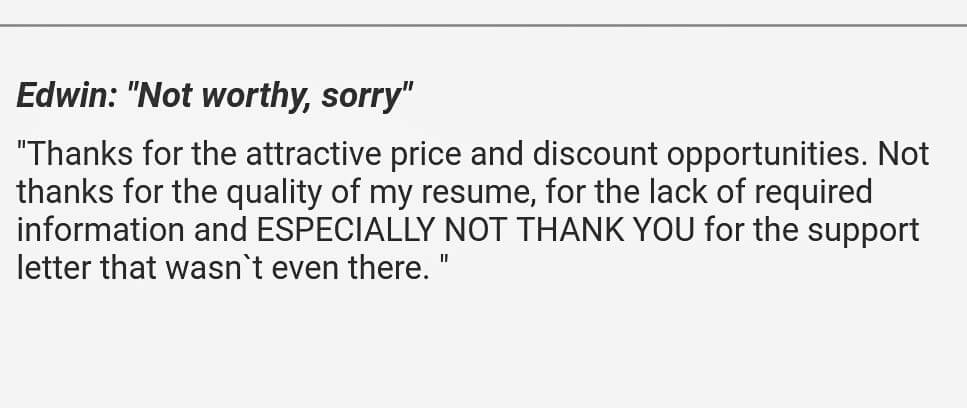 This service not always provides discounts, but mostly in case of their failures.
Guarantees
Resumeedge.com offers some ordinary guarantees. Here they are:
It promises to address all your concrete expectations. However, we have found out that, in fact, customers do not always experience this approach.

Resumeedge.com also promises to complete your orders in time. However, we have found reviews about the breached deadlines. Here is one example: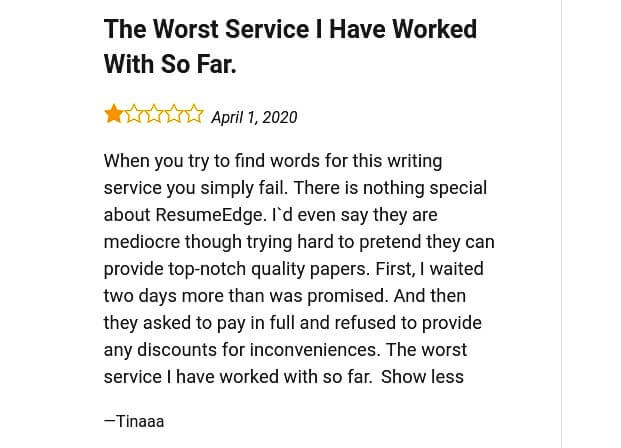 Support
Resumeedge.com has very bad customer support. Its customers experience the lack of support, respect, and responses at all. Here what they say: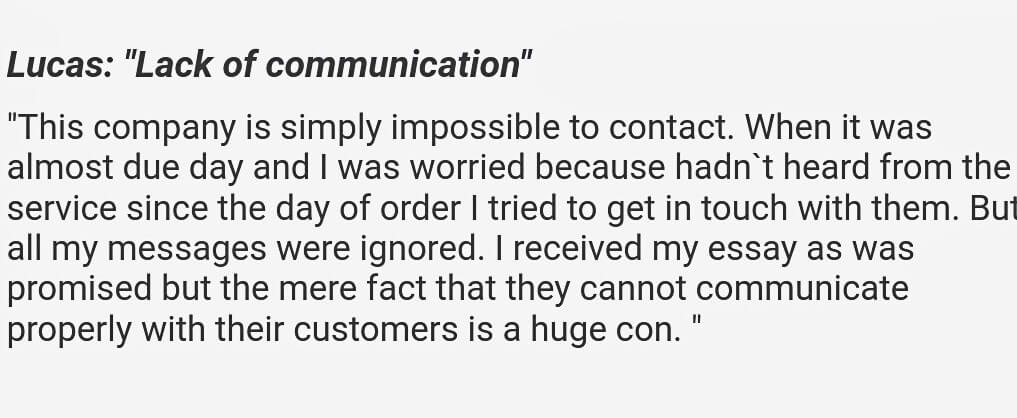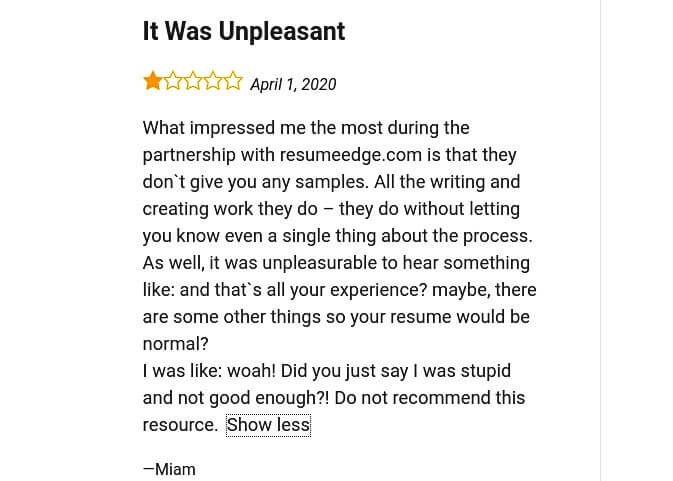 We consider this point of service as crucial. So, in any case Resumeedge.com should enhance its communication strategy.
Online Reputation
This service is well-known and you may find many reviews about it, including positive. However, there are many negative reviews also. We have identified that Resumeedge.com has difficulties with its customer support, the quality of its documents, and has very high prices at the same time.
Pros and Cons
As for any other services, there are certain benefits of using Resumeedge.com and deficiencies you should be aware of. Pros
website that is easy to use
comparatively fast service in most cases
Cons
poor quality
high prices
is not suitable for complex business writings
problems with refunds
poor customer service
Verdict
From our point of view, Resumeedge.com cannot be considered as a reliable service. Many customers claim about the problems with the quality of CVs and cover letters. At the same time, prices for their services are comparatively high. This service should also enhance its customer support service to make it more responsive and helpful. According to many reviews, you may also face here with the refund problems and will not likely enjoy any discounts.
FAQ about Resumeedge.com
What services can I get here?
You can get here various writing and editing services for your CVs, cover letters, profiles in social media. However, you should keep in mind that customers frequently indicate the poor quality of documents.
If I want to update my profile in social media, what kind of help can I get here?
The service promises you to renew profiles on social media. They are trying to do this in a professional manner. However, it is difficult sometimes for them to achieve such a goal. This service is not their principal one. Their primary activity is preparing job-related documents. We want to emphasize that many customers left complaints about the quality of their primary services. So, we have doubts about their capability to render the supplementary services in a good manner. We did not see any reviews stating about their good work related to the preparation of somebody's profile in social media.
Is this service legit and secure?
This service is official. We have not identified any reviews about its scam nature. However, we saw many reviews about the poor quality of its documents. Resumeedge.com is also assured that all your information is secure, especially your payment details. As they use reliable third-party providers, we hope that you will not face any security issues.
How does this service ensure the quality of my document?
From its website, we have found out about their checks of grammar, errors, and omissions. They declare about their accomplishment-focused rather than a task-focused approach. However, we saw many negative reviews related to the poor quality and structuring of CVs and cover letters.
Is there any opportunity to choose my writer?
Unfortunately, the service itself selects a writer for you. At this point, we have noticed during our review the lack of information about the skills and qualifications of its writers. Taking into account the quality of prepared documents, we are not sure that Resumeedge.com involves providing services, only writers with degrees. During your cooperation, it is possible to communicate with your writer. However, there were many complaints from its unsatisfied customers about not prompt responses of writers and failures to meet the original requirements.
What about their customer support?
This service has its customer support, but it is not always helpful and responsive. Even when customers place their orders, they frequently don't receive prompt responses from the customer support managers. The same happens when they have questions about their orders. If a customer needs his/her document urgently, it can be worrisome. So, we can consider this service as helpful only for orders with longer deadlines.
Will my resume be used for other orders?
The company promises its individual approach to any order. However, they keep any document for two years. We cannot exclude the risk of using your document for similar orders.
What about revisions?
Resumeedge.com assures that your document will meet all industry standards. It also promises to revise your document as many times as may require within the following seven days after receiving the first draft. If you are not satisfied after this period also, your document will be edited. This can be another type of service.
Can I ask for a new writer?
Yes, you can ask for assigning a new writer in case of any serious difficulties. From our point of view, it is not very good to speak abstractly about finding solutions if you are not satisfied with your new writer also. We don't see any concrete steps they will take to resolve potential issues.
Can I get my refund if I am not satisfied in any case?
This service does not provide any refund options. It promises to work on your document until you are satisfied. In rare cases, they promise to provide you approximately 15% refund of even less. This issue is considered by the company at its sole discretion. We cannot exclude at this point the risk of wasting your money as we saw similar negative reviews.
Get the Job You Deserve!
Professional Resumewriting Service
Get started