Home
/ ResumeProfessionalWriters Review From Independent Experts
Written by: resumewriterreview
ResumeProfessionalWriters Review From Independent Experts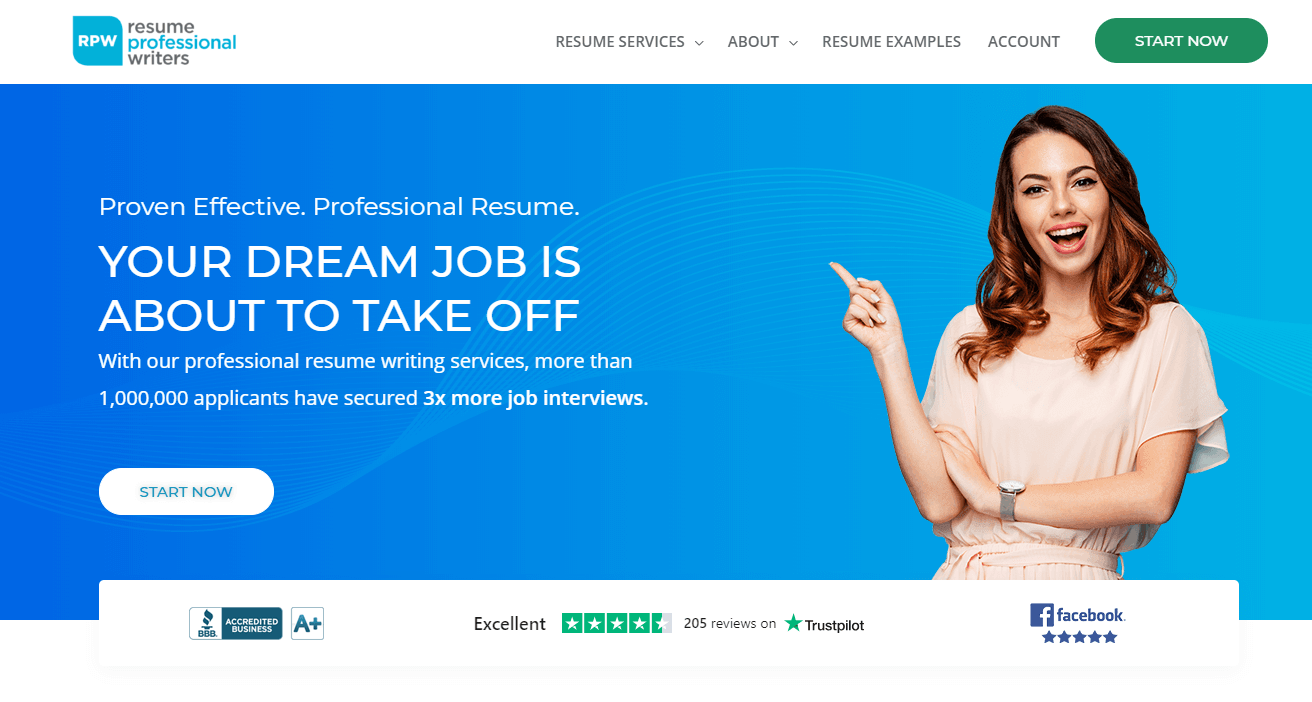 Job search is always a challenge. If this is your first job after graduating from college or university, you do not yet have the practical experience and professional value. But even seasoned professionals can face challenges in their careers. The main secret is the resume.
There are many companies these days that offer professional career assistance. ResumeProfessionalWriters is one of them. However, even though their website looks nice, it doesn't mean their assistance is really of high quality. We want to provide you with an honest review of this company. Read on, and find out all the truth before you place an order.
Range of Services
As you can see, the resumeprofessionalwriters.com is specialized in different types of resume writing. You can order a LinkedIn profile optimizing, a CV writing. There is also an opportunity to hire a writer who will provide you with a federal resume paper to apply for a government position.


However, we think these services are not enough. It seems like they don't work with your personality, don't provide customers with coaching sessions, career tips, etc. Of course, they can save you time if you are not ready to compile the document yourself. But is this service worth your money? Let's see how much their resumes cost.
Pricing and Discount Policy
If you hire a regular professional writer, you'll find out that one's services cost at $10 per page. The traditional resume consists of 1-2 pages maximum, and it doesn't need unique content: all information is available. It's just your biography, your professional, and your volunteering background.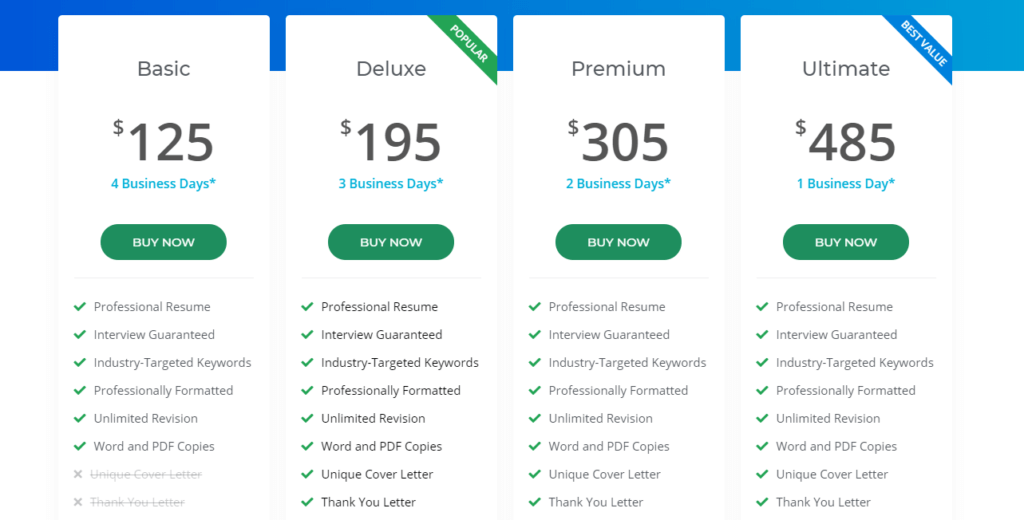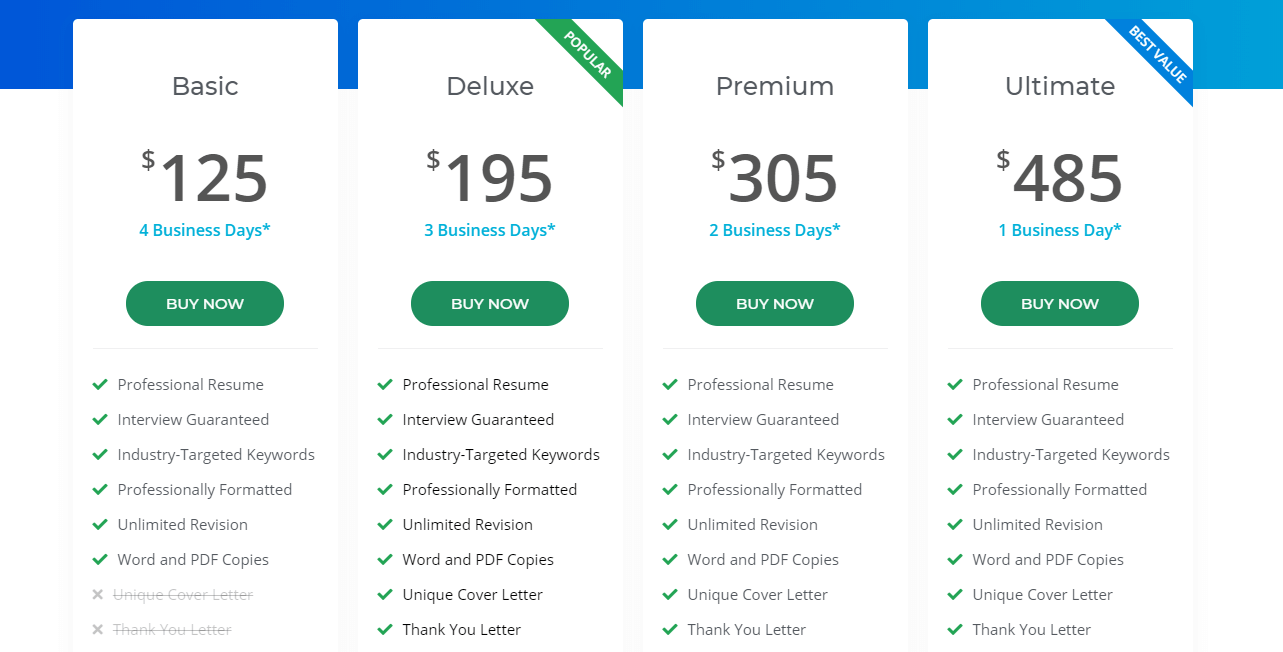 So, how much do you think the ResumeProfessionalWriters take? The cheapest plan will cost you $125. The good news is that you can receive the final draft in 4 business days. However, if you need the paper urgently, you need to pay much more. The maximal package includes posting on career boards, free ebooks, and a couple of other services. It may look attractive, but it definitely doesn't cost at least $500.
Quality
Of course, there are job seekers with different budgets. Maybe you have some savings, and you're ready to pay for the service if it can guarantee you the result.
If you explore services description at the resumeprofessionalwriters.com and check some testimonials from real customers, you'll understand that they can't offer you high-quality. Their papers contain mistakes and typos; sometimes, writers forget to add important information. Besides, they don't provide consultations, and they know pretty little about you and your professional advantages.
Guarantees
Each writing service provides customers with some guarantees, and this one is not the exception. Here is a list of their promises you can find on the website:
3x more job interviews;
free revisions;
industry-targeted keywords;
professional formatting.
However, though these words are bright enough, it doesn't mean you can expect the real result. For example, they say they will update your resume if you do not have interviews for 60 days. It is too long to wait. You pay a lot of money to get a guaranteed result. So, they should do something more to provide you with them.
Support
Any professional writing service has a customer support service that works 24\7 to provide loyal and potential customers with qualified help. If you have any questions, you can ask them and expect an instant response. Traditionally, companies provide a support form and a live chat for communication.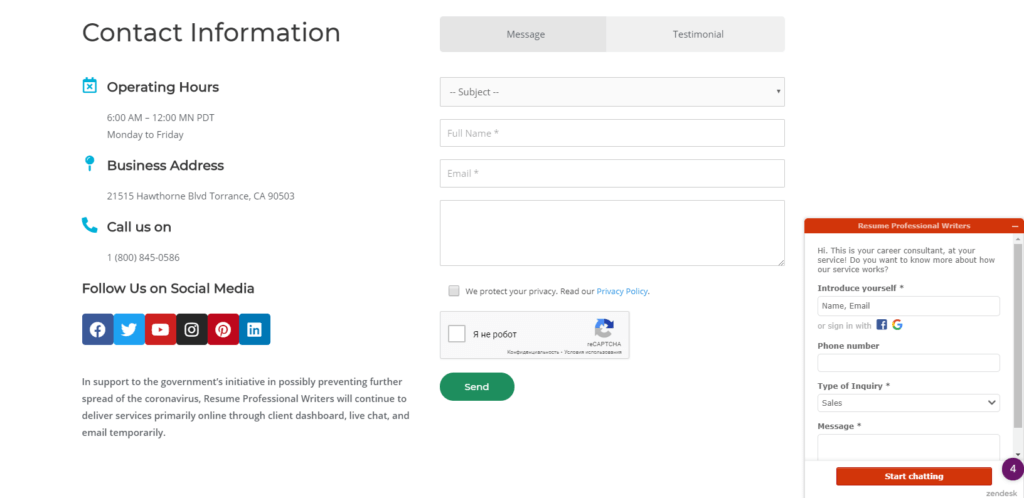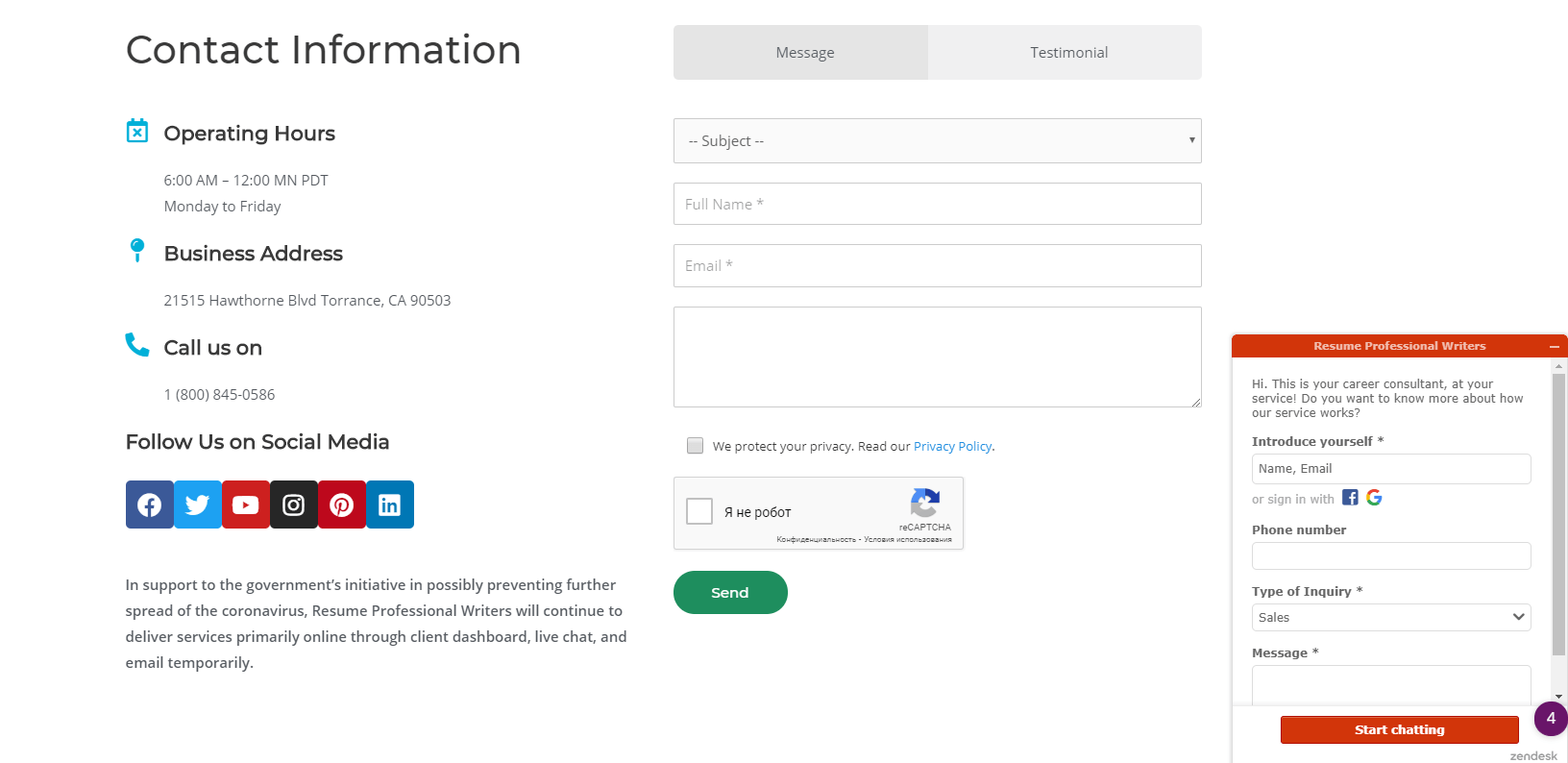 But we can't call it a live chat. It is rather a bot that provides you with automatic answers. Besides, they want you to provide the contact data. You even haven't decided whether you want to submit an order, and you already need to share personal information.
Online Reputation
Looking for a good resume writing service, you should always check testimonials on different independent platforms. They are written by people who have already ordered a resume and can tell something about the final draft.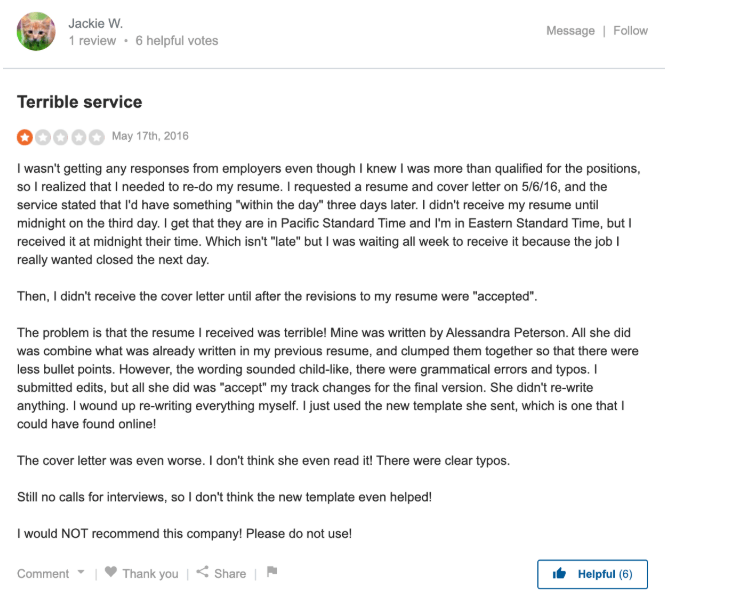 The most popular websites are Sitejabber and Trustpilot. We've explored them for you to find a couple of reviews about ResumeProfessionalWriters. Take a look:
Pros and Cons
As you may understand, it is not so easy to find some advantages of this company. However, each coin has two sides. Here is a list of some prons, but they are not so valuable as cons.
Stylish website;
Blog with useful articles;
Several packages to choose from.
As for the disadvantages, we want to mention:
Poor papers quality;
High prices;
Bad support.
Verdict
We definitely can't recommend this resume writing service. Most likely, they are not scammers that receive money and don't provide students with papers at all. But they are not customer-focused: the quality is poor, and prices are too high, especially for people who are looking for a job.
FAQ: What You Should Know About the Resumeprofessionalwriters
Who will write my resume?
The company claims that they work with an expert and dedicated resume writers only. They have a decent education, a flawless command of English, and professional expertise. The company has specialists in different industries, so if you're pursuing a job in sales, government, healthcare, IT, or any other fields, you can submit an order.
How can I contact my author?
It is impossible to organize a personal meeting since the company works online. Its professionals use email, phone, and fax to communicate with customers. These ways are very convenient and absolutely free. If you have some questions for your author, send a request.
How many packages do they have?
ResumeProfessionalWriters offers 4 packages:
Basic at $125;
Deluxe at $195;
Premium at $305;
Ultimate at $485.
Read their description attentively to understand how you can benefit from them.
Why is a resume so important?
Employers receive a lot of resumes, and they don't spend pretty much time reading them all. That's why it is important not just to provide a list of your previous job positions, but to present the information correctly. Your future employer should understand that you're the specialist that they really need.
How soon will I receive my paper?
Once the company gets your payment and your requirements, it will only take a couple of business days to have the first draft. If it goes about the cheapest plan, you need to wait for 4 business days. However, please ensure that you have enough time before the deadline. You need to proofread the text to ensure it suits your expectations.
Do they offer any additional services?
You can order not the resumes only, but other career papers as well. If you need a biography, a cover letter, a statement of purpose, a salary report, an optimized LinkedIn profile, submit your request. Once you press the Order button, you'll see the list of additional services and their prices. For example, you can even order a resume website.
Can they improve my existing resume?
Of course, it is possible. You can receive critical comments on your existing resume to understand your mistakes and make conclusions.