Home
/ RESUMEWRITINGSERVICE.BIZ REVIEW
Written by: resumewriterreview
RESUMEWRITINGSERVICE.BIZ REVIEW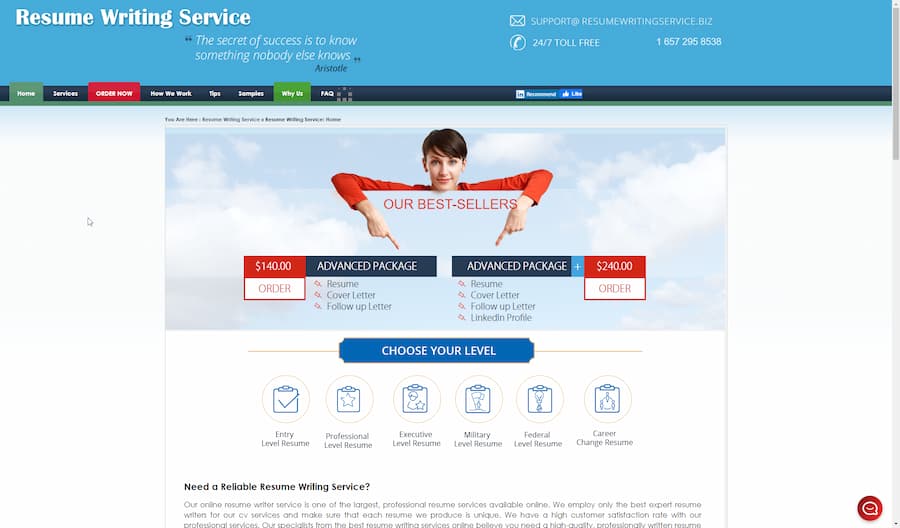 IS THIS SERVICE A GOOD CHOICE WHEN IT COMES TO JOB APPLICATION HELP?
With plenty of packages and some great reviews all around the Internet, ResumeWiritngService.biz has started on the right foot in our reviewing process. There are plenty of similar companies who live on the Web, but hardly a lot with the reputation this one has.
This is not a small company. In fact, they have offices in Malaysia, Italy, Switzerland, UAE, and Germany, which means that the demand they receive daily is large. This also means a grand database of resume writers, as well as a grand list of different products you can order. In its basis, ResumeWritingService is a company that aids you in the process of scoring an interview, but also the part where you actually have to impress during the interview. Let's see what they have to offer.
QUALITY
The quality of resumewritingservice.biz is widely known and can be clearly witnessed if you see their reputation and comments from customers. There are also some samples on the website which serve to prove the good level of the writers employed in this company. Moreover, you'll be finding some expert tips for your interview and applications, as well as some general work tips that might help you excel in your career.
LIST OF SERVICES AND PRICES
Seeing how big the company is on an international level, it seems only natural that they'd have a big list of services. This company's goal is to help people get jobs, not just apply to them. That's why they have resume, cover letter, LinkedIn profile, thank you and follow up letters, but also interview preparations, lists of top job sites and SEO tips for a LinkedIn profile.
All of these can be ordered separately and in the package. Naturally, the packages are the smarter option money-wise, since they help save a lot compared to ordering different products individually. For example, the advanced package (resume, cover letter and follow-up letter) costs $103.96 total, while the advanced package plus (resume, cover letter, follow-up letter, and LinkedIn profile) costs $179.96. There's also a LinkedIn package that combines LinkedIn profile, LinkedIn job search tips, and LinkedIn profile SEO tips, which comes at a rate of $103.96.
You can also choose to select separate products from their grand list. For example, a single resume costs $95.96, which makes it obvious why the packages are the smarter option, especially the advanced package. For less than $10, you can get a cover letter and follow-up letter too, making that offer that much more inviting.
On top of the services found in the three packages, there are also some other services you can order extra, such as resume proofreading, LinkedIn recommendation writing, resume editing, etc. The tips section comes free of charge with any order, so make sure to select the ones you want before making one. This list combines LinkedIn profile SEO tips, interview tips, list of top 10 job sites, LinkedIn application and networking guide, etc.
To make it even better, you can choose a writer you trust and have ordered from before. But if you do, you'd have to add an extra 10% on the price of your order, and you won't be getting the first-time discount. The discount for new customers here is surprisingly high 20%, which makes those realistic rates rank more real.
CUSTOMER SERVICE AND DELIVERY
Finally, having an exquisite customer service is a prerequisite for the success of a resume service with such wide range. Resumewritingservice.biz seems to have a good one – tool free number, a non-stop available support agent, as well as an email you can use for contact.
This customer service is very popular, too. They seem to handle orders well and, in cases where customers have filed some complaints in regard to their orders, the agents have complied with those requests and solved the problems free of charge. It is safe to say that the guarantees you'll see on the site are realistic.
We also didn't find any issue with the delivery process. Based on customers' statements, the service delivers resume just in time and has created a very smooth ordering process.
All the things discussed in this review make us believe that this service is a good average service when it comes to job application help.