Home
/ RESUMETARGET REVIEW
Written by: resumewriterreview
RESUMETARGET REVIEW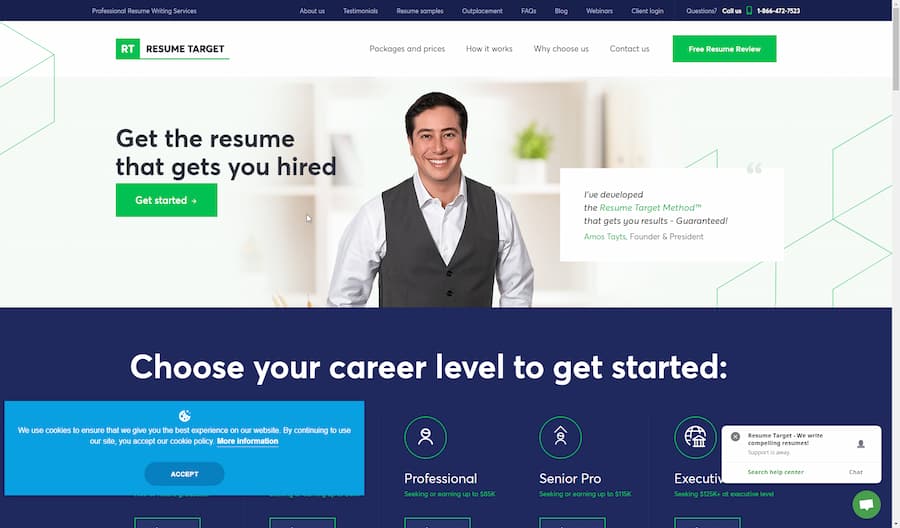 LEARN WHY RESUMETARGET MIGHT NOT FIT YOUR NEEDS IN OUR FULL REVIEW
When it is time to change the career path it's sometimes hard to create a resume which will lead to your main aim – get the dream job. Moreover, at today's market, in addition, to resume you need to have a CV, well-written cover letter, LinkedIn profile and always be ready for the interview with tricky questions invented by human resources professionals. The resumetarget.com is what is probably so-called a professional career consulting service which provides all services you need to get a new job.
A quality resume is a basis for your search and now it's possible to order it online. The customer reviews one of the factors which will influence your decision. We were not able to find lots of resumetarget reviews from customers, so decided to write our own in order to help you to decide are they worth your attention and will they be able to deliver everything you need to get a job of your dream.
QUALITY
Since it's hard to determine whether the service is really capable to deliver the high-quality resume only by reviewing the samples, we decided to order hard-to-write executive resume for the fake person. We passed all required details to the team and selected advanced package. After that, we were interviewed via phone and the writer assured that the resume will be brilliant.
The paper came in a couple of days, and we were not excited about this content. It has been created using standard Microsoft Word template following very standard structure. Moreover, we found some stylistic errors in the content. Moreover, there were some grammatical errors as well.
LIST OF SERVICES AND PRICES
The best resume writing companies usually offer a wide spectrum of career services. Which include but not limited to resume writing, LinkedIn profile creation, cover letter writing, resume design, CV writing, interview consulting and several others less important. This service is trying to offer everything you might need. Yet, they are quite expensive comparing with the competitors.
The price here depends on several factors. First is the career level starting from student and ending with executive resume writing. Second is the package – you may choose from basic, advanced and premium. And the thirst is urgency. The cheapest resume is about 200 USD, as for executive – it'll cost you about 700 USD. We were not able to find any resume target coupon code to reduce the price. We even asked the support to give us a discount code, but they said they don't have one.
CUSTOMER SERVICE AND DELIVERY
In-time contact is very important when you are ordering online. So, it's highly important to get in touch with the service anytime you need help. This service provides support 24/7 via chat, email and toll-free phone. However, to get in touch you need to wait for 15-20 minutes which is not okay. Usually, services are offering instant contact with the support team since it's dedicated to helping customers. The support team is polite, but regarding your order or billing, you should still write an email to the corresponding department, since online agents are not responsible for such issues.
At the first glance, the delivery of resume at this service is very easy. You choose the service plan, prepare for the interview and wait until writers create the resume for you. However, this type of service still involves additional questions regarding your previous experience, and calls you'll get from the writing team or emails can annoy.