Home
/ Resumeble Overview That Can Help Dramatically
Written by: resumewriterreview
Resumeble Overview That Can Help Dramatically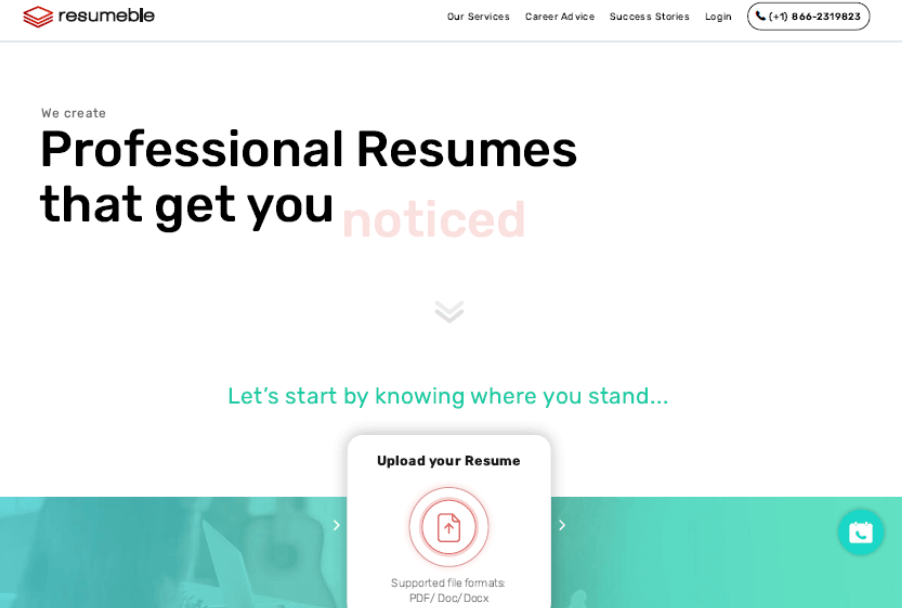 Resumeble is a resume and cover letter service located in the USA. It renders services worldwide and promises to provide you professional services that can help you move forward during your application process for a new job. We have scrutinized all options this service offers and identified certain drawbacks that may negatively impact the final quality and create risks for customers. We hope you will avoid such consequences if you decide to choose this service. But, this may turn out to be ineffective in certain cases, taking into account these significant points.
Range of Services
Resumeble offers to its potential customers resume writing services that can make them noticed. We presume this is related to HRs mostly. If you want to use this service, you may actually order here resume or cover letter writing. It is also possible to update your LinkedIn profile here to align with the job application. You get ready customized documents or templates; everything here depends on the exact package you choose. Still, our experts identified that documents are not customized enough for concrete applications.

Pricing and Discount Policy
You can order here packages that vary from around $150 to around $340. Basically, you may get a resume and a cover letter likely made professionally. For the most popular professional packages, you will also get an option of LinkedIn write-up, costing you around $230. You will get extra options of additional reviews and email to recruiters and thank-you letters (this may cost you the maximum sum of around $340).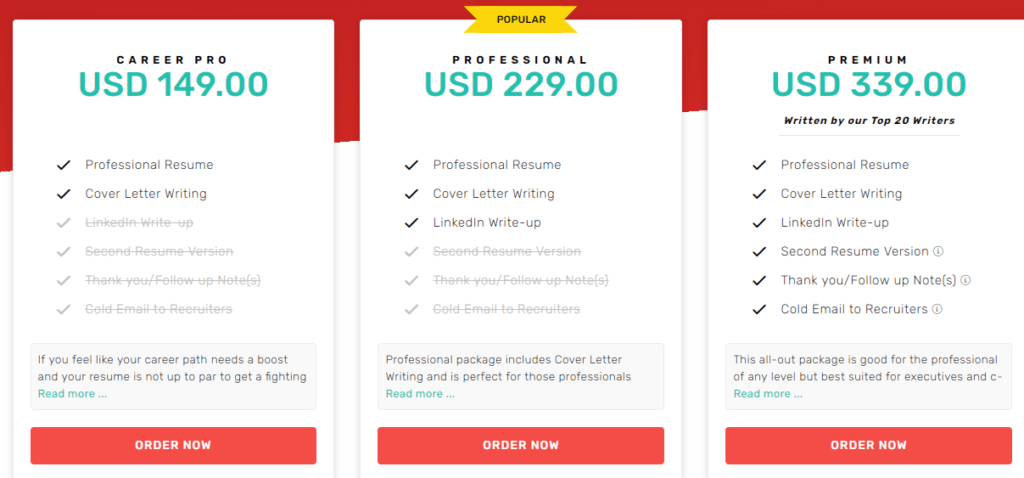 The service also may provide you discounts. Still, this is only occasionally. For instance, the company celebrates Earth Day by providing 20% discounts to its customers.
Quality
Our point of view is that Resumeble delivers service of too poor quality that has to be improved. This is required to make service more equivalent to the service's rates for their services. Our experts saw other alternative options in the market that could provide better samples of documents for the same rates.
The main issues we address while speaking about the insufficient quality are the formatting of documents that are not arranged properly, the structuring of documents that should be enhanced before the delivery to the customer, and also the lack of valuable details. The last point is one of the most important as writers fail to include the exact details to win the ready documents. That negatively impacts the process of customization of a resume.
Guarantees
Resumeble likely provides you these guarantees:
likely quality services
wide range of writing options
support during the order completing process
confidentiality of interaction
Support
Resumeble has a support team that doesn't operate well. They fail to provide answers on time and arrange all communications properly. If you need to get help urgently, this may take too long while waiting for the response. At the same time, you may not get the right answer to the matter that worries you. This can be due to the lack of competencies or time for providing the response. In any case, this aspect of Resumeble work should be improved under any circumstances. Here is how their support sections look at the moment.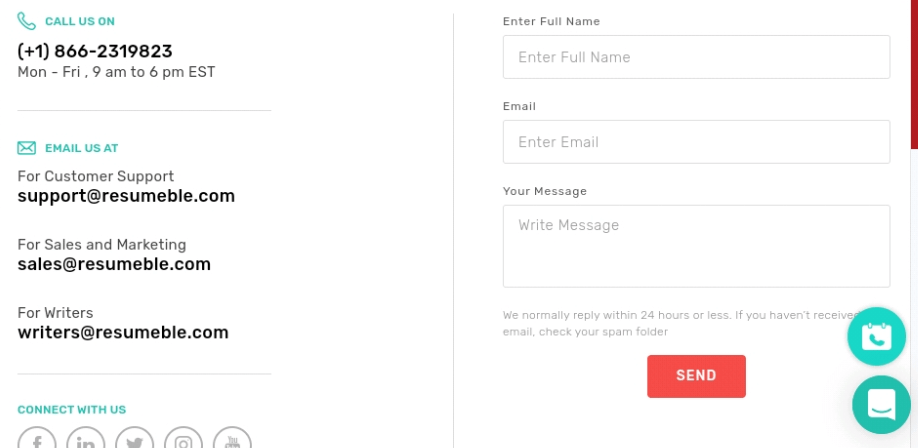 Online Reputation
Resumeble doesn't have a totally good reputation. We have looked through reviews from customers. Some of them were totally positive, while others were far from good. The customers complained about the quality of service, rates, and support team of this service. This makes us think that Resumeble is not too customer-oriented. It can draft for seven days, for high rates, and deliver a poor-quality document. Our point of view is that the service should work better on the quality of services it renders to customers.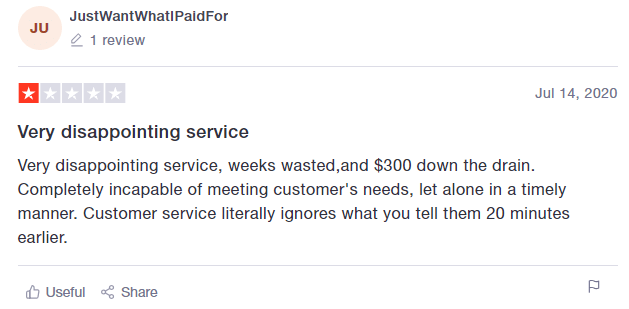 Pros and Cons
Of you decide to use Resumeble writing service, you may notice these positive sides of its operation:
convenient website that easy to navigate
lots of information about the services
available at any time
Resumeble writing service also has these drawbacks of its operation.
insufficient quality of services
ineffective support while making documents
high rates and unclear discount policy
Verdict
After a more or less comprehensive review of Resumeble writing service, we can only suggest you avoid such a platform. It lacks qualified writers that can address non-standard issues. As a consequence, the quality of resume and cover letter-making services suffers. You may get a poorly written document for too high rates, from our point of view. This makes a service not very much affordable. Things may even get worse as you cannot expect to get discounts there. The support is also far from perfect in this service. So, if we summarize the most important points, you should be aware of and consider while making your choice, these should be the following:
poor quality ready documents
high rates without discounts and loyalty options
ineffective support
you should wait for too long
FAQ about Resumeble
What is General Impression about This Service?
We have concluded preliminarily that Resumeble is not a kind of service that can ensure top quality but has expensive quality rates for its services; its website is quite simple and a bit outdated. Generally speaking, the service doesn't appear to be good enough for coping with complex or non-standard requests for resume writing. If you need a personalized solution, we suggest considering other options. Our first impression was proven during the further assessment and appraisal.
What Pricing Policy Does This Service Have?
Resumeble has quite expensive rates for its service. We assess the pricing policy the service has as quite inflexible. We also have not identified any sufficient discounts and loyalty programs for this service. Our experts think customers should pay too much for the kind of services rendered by this service.
What about the Range of Services ResumeCompanion Suggests?
Resumeble renders a wide range of employment-related services. They promise to provide you professional CVs, resumes, cover letters and help you arrange LinkedIn profiles. They emphasize especially the professional nature of the service they render. At the same time, it can also review the ready-made samples you provide there and also suggest templates. This is a narrow range of services.
What Kind of Quality Customers May Expect from this Service?
Again, Resumeble makes a special accent on the quality of services they deliver, such as professional ones. As we actually see, this quality is not sufficient for the service of this kind. Delivered documents look more like templates that lack details about the applicant's history. They are too generalized. That is not a very good solution for those you really want to be noticed.
What about the Time for Delivery?

Resumeble delivers documents during a long period of time. It is impossible to make any amendments to the delivered document. For urgent writing needs, that can be quite difficult. If you see that your resume/CV requires amendments and revisions, that also can take too long. You may choose your deadline, but how soon you can get the result may depend on a variety of factors.
Is It Possible to Expect Confidential Interaction with this Service?

Suppose the service tells about using and offering templates and fails to emphasize the confidentiality matters. In that case, we don't believe it is possible to expect to get confidential interaction with the service. Resumeble doesn't provide sufficient details about the confidentiality matter and how it is going to secure your personal data. That makes the overall process of interaction difficult to predict. We don't think the service will intentionally make an outflow of personal data. Still, it doesn't care too much about that matter. Our point of view is that the service should pay far more attention to security and confidentiality matters. And also it should inform customers about those matters.
What about the Support Team of this Service?
Resumeble doesn't have a well-operating support team. The response time is long, and an agent may also fail to address the issue correctly and ask for too many excessive details. This may vary on a case-by-case basis. But, still, in the case of an urgent matter, this deficiency may create substantial problems for customers. Clients suffer from that aspect. In our opinion, the service should work better and rearrange its support team better.
How Can You Summarize the Offer of this Service?
We assess the work of Resumeble resume writing service as not effective enough. Precisely, the service needs to improve the quality of services provided to customers and ensure a more flexible pricing policy adapted to customers' needs. Their support team also doesn't operate well and properly as it sometimes fails to address matters clients refer to and do this on time. If you preliminary consider this service as a good option for you, we may only advise you to look for other more suitable alternatives.