Home
/ RESUME STRONG REVIEW
Written by: resumewriterreview
RESUME STRONG REVIEW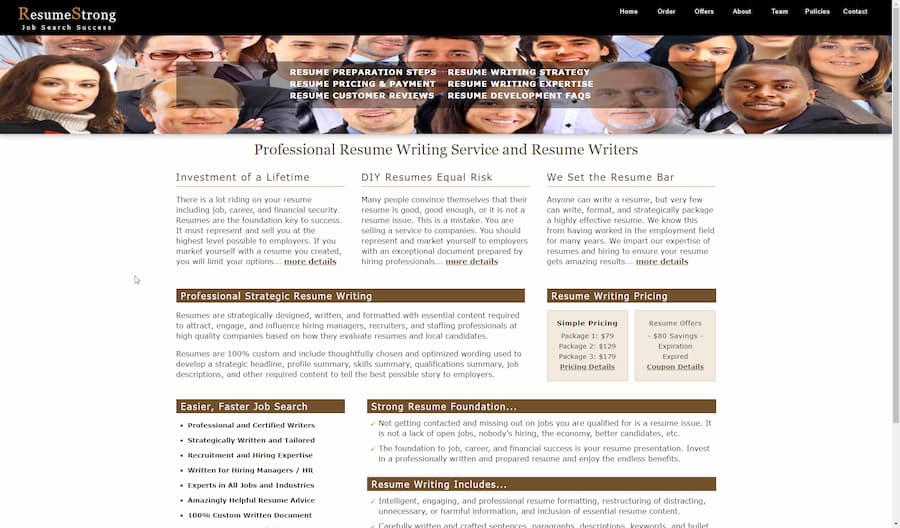 RESUME STRONG REVIEW
Resumestrong has a decent website, precisely describing their services. All webpages are full of neat and proficient write-up, instead of empty spaces and dangling graphical art as seen in many other similar sites' landing page. The first glance at the site definitely makes one look deeper into the company. The detailed FAQs on the site would further clarify any queries or doubts someone might have in mind before placing an order with them. The site looks good and complete. But let's look into its features in detail to see if this site is worth investing in.
QUALITY
We placed an order with resume strong to check the quality of their resume writing service, selecting the lowest priced package being offered. The resume was delivered right on time. As we started reading, let's just say we saw that there could be a lot of room for improvement in the contents. It appeared to be too wordy but with very little value in each point. The experience as described in the resume was not as professional or outstanding as the content on their website itself. It had just as much chance of getting shortlisted for a job interview as any other resume written by the customer himself (free of charge). Perhaps the writer assigned to us was not qualified enough for the area of expertise the resume was order for. If not, there must be some explanation for the lack of proficiency in the resume. In short, we were not satisfied with the quality.
LIST OF SERVICES
Resumestrong.com does not specifically list their services on the site, but they state their 3 different packages, with features included in each. The company is not offering any discounts or complementary services (such as a job portal or general career consultancy) like the competitors usually do. Their services can be summarised into the following list.
Resume writing
Cover letter writing
Keywords optimization
Follow-up or thank you letter writing
Professional advice
The higher the price of the package selected, the more items from the list are included. Some of the above are an added advantage they are offering, compared to other resume writing sites, such as follow-up letters. However, this category could have been termed as 'custom writing' to include all the other kinds of official documents as well. What's missing in particular, as we noticed, is LinkedIn makeover, which other resume building sites usually provide, especially in their highest priced package.
PRICES
The following table shows their price packages. The price of the Silver package seems quite reasonable, while the Platinum package could be slightly above the market rate. Anything above that would be considered expensive for the quality they are delivering. They offer 2 payment methods at checkout.
| | |
| --- | --- |
| Package | Price |
| Silver | $ 72 |
| Gold | $ 89 |
| Platinum | $ 139 |
CUSTOMER SERVICE AND DELIVERY
Although there is a contact page on the website, there is no clear information on how to contact them instantly. We could not locate any contact form or live chat, but while reading through the contact page contents, we found a telephone number and email address. Usually we would say, customers would like to chat right away with the support team if they need to contact this kind of a paid service providing site. Unfortunately, they do not have such a mechanism, which makes them look less efficient or considerate towards customers.
GUARANTEES
In terms of guarantee, there is not much that the site has to offer. They do not have a refund policy. Despite having a 'Policies' item on the main menu, it does not direct to any page or policy. Maybe it is still under development, which gives quite a bad impression about the site's maintenance. They do have some discount offers though, such as the $139 package for only $89 for a limited time duration of 2 weeks. But even in these offers, there is no mention of any kind of guarantee, may it be in the form of guaranteed satisfaction with the quality or guaranteed job offer as a result of using their written resume to apply for jobs.
ONLINE REPUTATION
We read many resumestrong reviews to confirm our judgement about their service quality. As expected, most of their customers have a similar opinion to ours. It seems like they are able to sell their service through their site content for the first time, but are not able to retain customers for repeat orders. Some of their customers have given them a rating score of 2, at a scale from 1 to 10. Others have given 4 or 5. Overall, the online reputation of the site is more towards negative than positive.
CONCLUSION
Not wanting to sound too negative, we would say that this is just another company trying to make its footing in the professional resume writing industry. There is nothing wrong in trying it out. You can order a resume from them if you are currently looking for a job and do not have the time to prepare one by yourself. But if you do not want to continue with them after your first order, we would totally understand. And so would almost every other person from among their past customers!