Home
/ THERESUMECENTER.COM REVIEW
Written by: resumewriterreview
THERESUMECENTER.COM REVIEW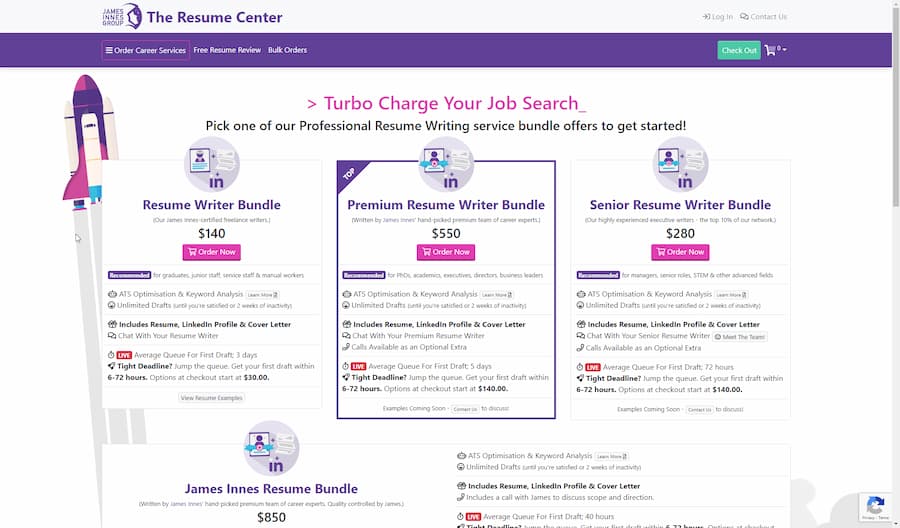 WEIGHING THE PROS AND CONS OF THE RESUME CENTER SERVICE
The Resume Center looks more than decent if you base your opinion on their website design. In fact, except for the rather steep prices there, we didn't find a single thing that wasn't enticing for a visitor. They don't really have samples to look at or a blog with any useful information, which can be considered a step back to those who want to see what they'll be ordering. But, other than that, the site looks pretty perfect.
Or at least, that's the impression you get when you access the website. If you look outside of it, you will see that their popularity level is much lower than the expected.
QUALITY
Quality is the top requirement people have from services who write their resumes and cover letters. However, the terms and conditions only mention refunds in the case when a deadline is not met, not in a case where the quality is poor. Therefore, 'quality guaranteed' doesn't really exist here.
The rest of the offers on TheResumeCenter look pretty trustworthy and free revisions are mentioned everywhere, in any package you select and purchase. The disappointing part is that there is no mention on how long you can ask for revisions, how many you can get, and whether or not they have to accept your request.
And from the words of unhappy customers who shared some testimonials online, revisions aren't always granted.
LIST OF SERVICES AND PRICES
Before we go into what their services and prices are, it is important to mention the free resume review. However, this seems to be a clever idea by theresumecenter.com to tell you that your resume isn't good enough and that you need to purchase a new one.
As for services, there are many of them. This is not your ordinary resume company that gives resumes and perhaps a cover letter here and there. They have plenty of offers, including individual orders and packages.
But, these are rather pricey and don't fit an average candidate's budget. In your search for a job, being asked to spend $525 for a package by co-founder James Innes is an exaggeration, and the remaining offers aren't that great, either. Their cheapest package is $100, while a single hour of interview preparation will cost the customer $145.
This is a common case with resume services because, let's face it – if they are good enough to get you a job, you would probably not need a loyalty program to use to get another resume. But in this case, it is a pity, because the high prices remain high for everyone.
CUSTOMER SERVICE AND DELIVERY
There is a live chat which led us to believe that the customer support works all the time, but that isn't really the case. The live chat works from 10 to 22.00 from Monday until Friday. If you don't find them at these hours or need them at other periods, you can use the contact form and wait for a response.
That's a bit of a problem for people who need immediate resume help or have some concerns about their deliveries. And while they seem to be meeting the deadlines they set for the resume services in all cases we read about at this point, the delay of responses is a serious issue. Whilst The Resume Center says that they respond in less than 24 hours, some customers claim that the response rate is often days after you get in touch via their contacting form.
Overall, theresumecenter.com is legit and there are split opinions about the quality of their services, but for the prices they charge, such different opinions are unacceptable.