Home
/ Resumeprime.com overview: general points
Written by: resumewriterreview
Resumeprime.com overview: general points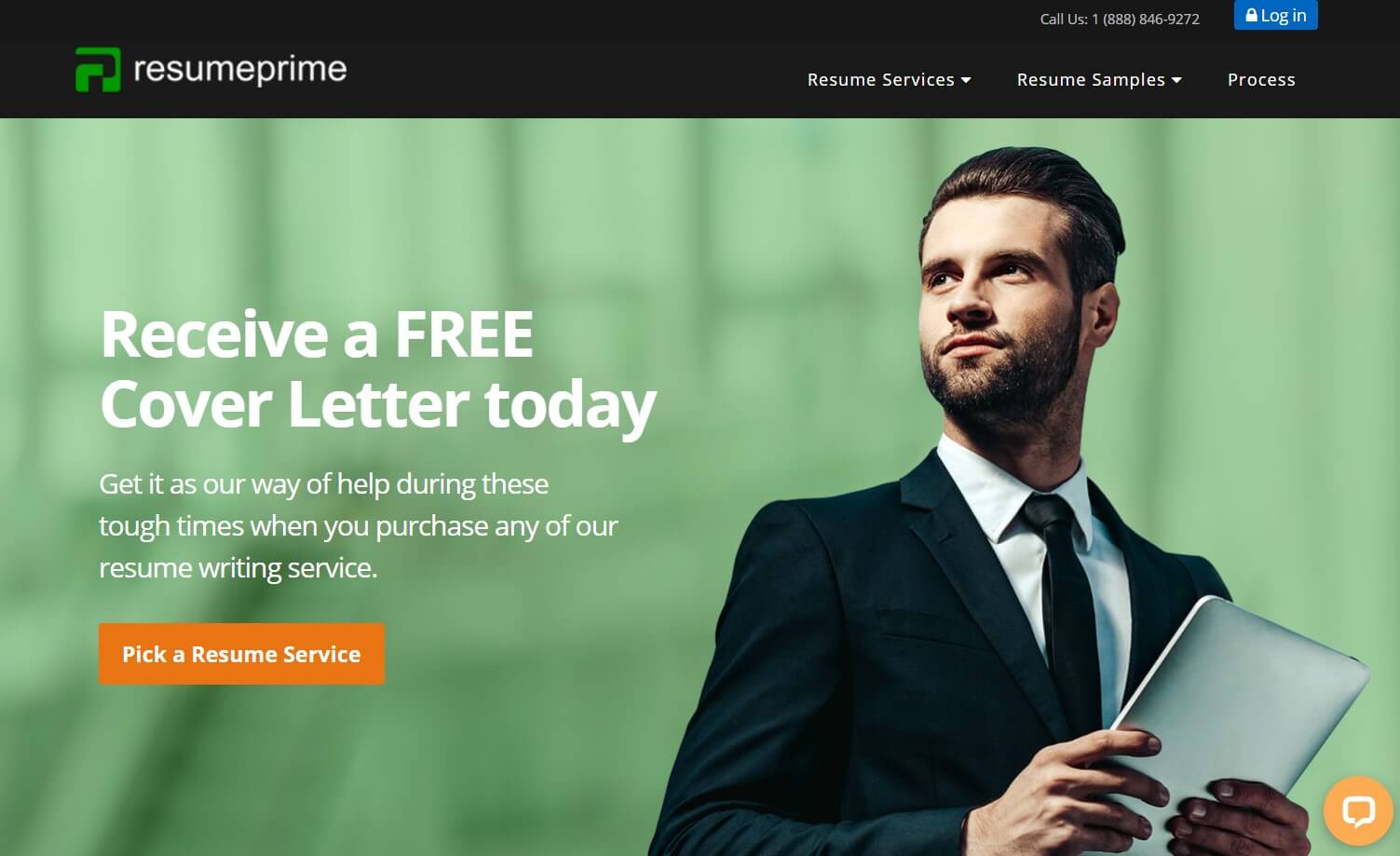 Resumeprime.com offers different job-related services: writing of resumes, cover letters, and providing various career advice. This service promises a tailored and quality resume, highly trained professionals, and client-oriented customer support. We focused mostly on its main offers. After our analysis, we revealed that its customers did not always get the promised benefits, precisely:
The quality of CVs and resumes suffered. This service didn't have enough skilled writers.
Their documents were not always tailored to the customer's field. We saw cases when writers simply used the previous drafts to complete the orders for their new customers.
The customers didn't always receive the support of this writing service.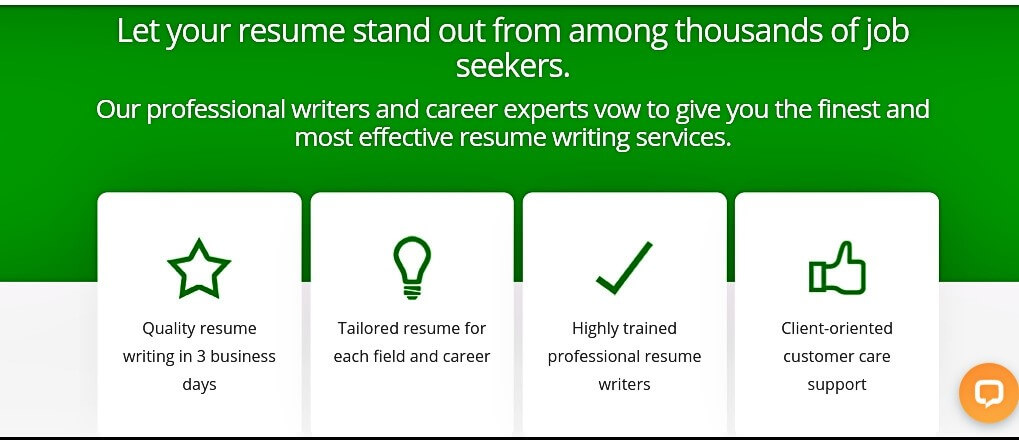 Let's review all these and many other points more precisely.
Range of Services
Resume writing is a primary service. From Resumeprime.com website, we have found out that a resume can be prepared within 3 business days. Again, these documents will be likely tailored to your field and career goals.
Pricing and Discount Policy
The prices for writing services are comparatively affordable. Any kind of entry-level resume will cost you around $110. For this money, their writer will present your goals, skills, achievements, and potential to your target organization or school. For more comprehensive and professional resumes, you should pay around $190-230. For this price, you will get a document that highlights your experience and skills as a professional.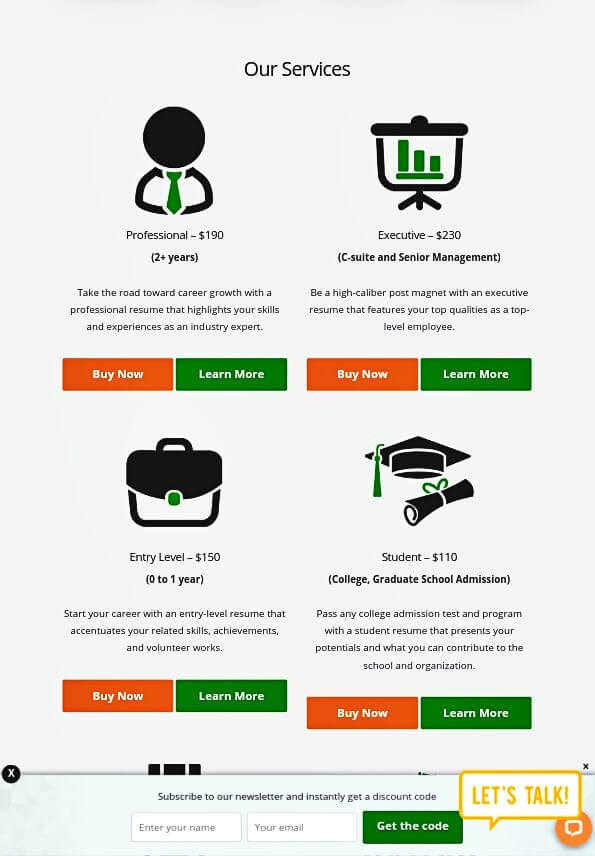 Quality
Resumeprime.com is likely to hire the best writers. However, from their website, we didn't see any clear description of the skills and experience of these writers. Presumably, not all of them possess the required skills and expertise. Among reviews from its customers, we saw many messages claiming about the poor quality of documents. Moreover, in some cases, its writers even managed to copy a text from other CVs without making any requirement adaptations. Here is what one angry customer says: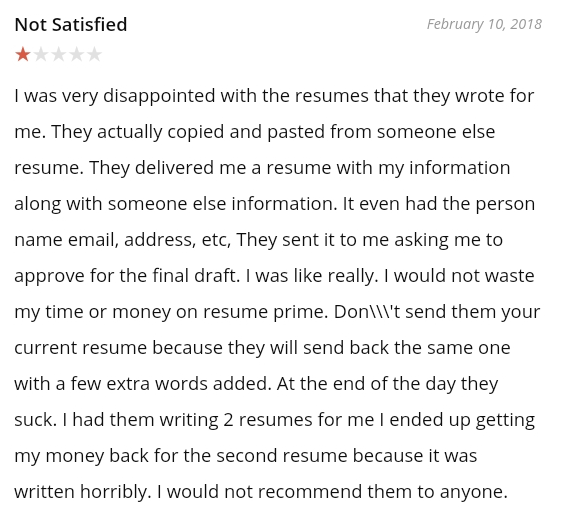 Even when Resumeprime.com reassigned its writers, some customers treated their experience as unpleasant. Here is what another customer says: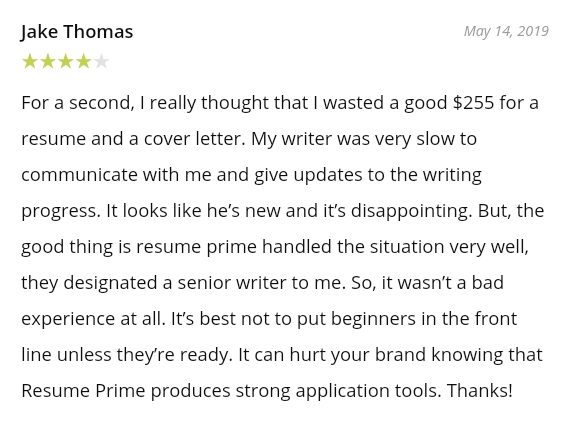 In most cases, such reassignment was caused by the improper qualification of a previous writer.
Guarantees
timely delivery
revisions in case of your dissatisfaction
We had our deep look at these guarantees. First of all, the declared deadline of 3 business days will work mostly for simple CVs. If not all your demands have been observed and you require making amendments, you should expect delays. Another important point is your option to revise a CV as many times as you may require. Sounds very good, but the reviews from Resumeprime.com customers reveal that such revisions were not always helpful. Writers failed to meet all the initial requirements of the customers. In these cases, they got neither their CVs nor the refunds for such.
Support
Resumeprime.com treats its support department as a customer care support. Many customers were satisfied with this service. In most cases, customer support representatives are really fast and responsive, but not always. We had identified cases when some representatives failed to reply in time and provide necessary assistance to their clients. However, these cases were rare.
Online Reputation
The reputation of this writing service is controversial. It receives both good and bad comments about its work. Notably, all negative comments are related to the quality of documents and the qualification of writers. We treat these matters seriously and consider that Resumeprime.com should enhance its approach to work.
Pros and Cons
Pros
affordable prices
convenient website
Cons
low quality
slow writing process
difficulties with revisions
Verdict
We cannot give excellent marks to this writing service. We saw many good comments from the previous customers about its work. However, during our analysis, we focused mostly on bad comments to identify the main problems its potential customer may face. We have found that the main reason for the customers' dissatisfaction was the poor quality of works. This was our major criterion. We can conclude that some of Resumeprime.com writers lack their qualifications and work a bit slow for this kind of service. This platform should also work on its customer service. It is good, however, not always responsive and helpful. So, based on the results of our research, we treat this service as average. From our point of view, it can be a not very good option for customers with high standards and demands.
FAQ about Resumeprime.com and some helpful advices
What services can I get here?
Resumeprime.com can offer you various services related to your CVs, motivation letters, and other similar types of documents. Also, you may request to update your existing CV or cover letter. If you need assistance with building your career, you may also request for their advice. The service has consultants that can potentially help you with any career challenges you may have.
Is Resumeprime.com legit and secure?
Yes, this service is legit. We have not identified any negative reviews claiming its scam or fraudulent nature. However, we saw reviews with negative statements about its work.
How does Resumeprime.com ensure the quality of my document?
First of all, it assures that all involved authors are qualified and experienced. As we saw many positive reviews, we can conclude that such a statement is true. This service really has many good writers. However, at the same time, many negative reviews were related exactly to the poor quality of documents. Namely, its customers complained about the lack of skills and experience of writers about their tardiness. These quality-related issues are principal. Please keep such in mind before making your choice.
Is there any opportunity to communicate with my writer directly?
Yes, you have such an opportunity. We even encourage you to do so. The main reason is that you need to communicate all your requirements. This can save your time afterward. As we have identified, their writers are quite responsive. However, they do not always manage to grasp all requirements at once. Of course, they try to do their best to make you satisfied with the outcomes. Unfortunately, this can take your extra time. To prevent this time-wasting, we encourage you to communicate with your writer precisely and clarify all your expectations comprehensively.
What about revisions?
Resumeprime.com writers are ready to revise your work if you are not satisfied with your initial draft. We saw respective negative comments from its customers asking to revise their documents. Usually, all writers are helpful at this point. They are ready to amend your document according to your preferences and comments. However, as you may understand, this can take additional time because, in some cases, customers required more than one revision. So, it is better either to speak precisely with your writer at the beginning of your cooperation. Otherwise, you may need to choose another service with a more probable and faster positive outcome for you.
Can I assign a new writer?
Yes, you can. Resumeprime.com can substitute your initially assigned writer if you are not satisfied with his/her work. The problem you may have at this point is that your first writer can lack the required skills or simply be a newcomer. Nevertheless, the service manages to handle such situations effectively and reassigns its writer promptly. As you may understand, this can take additional time. So, if the writing of your resume or cover letter is urgent, you should emphasize this at the beginning of your communication and ask for a more experienced writer.
Will my resume be used for other orders?
According to some reviews from previous customers, Resumeprime.com writers use documents prepared for other customers to complete their current orders. Actually, the problem is not in this issue itself. The main problem is that writers fail to adjust these templates to make them suitable for new customers. They even leave some personal information of the former customers, like email, in the documents for their new customers. This results in the customers' dissatisfaction and negative reviews.
What about their customer support?
Their customer support is good. However, it does not always respond promptly. So, it is better to consider this service for non-urgent assignments.
Can I get my refund from Resumeprime.com if I am not satisfied at all?
Resumeprime.com strives to complete your order and make you satisfied. So, they are likely not going to let go of you and will work on your document to make everything as you need. We have not identified any negative reviews claiming any problems with refunds. We hope that in case of the customer's complete dissatisfaction Resumeprime.com simply manages to handle this matter effectively.
Get the Job You Deserve!
Professional Resumewriting Service
Get started