Home
/ Resumespice Review – Everything You Need to Know
Written by: resumewriterreview
Resumespice Review – Everything You Need to Know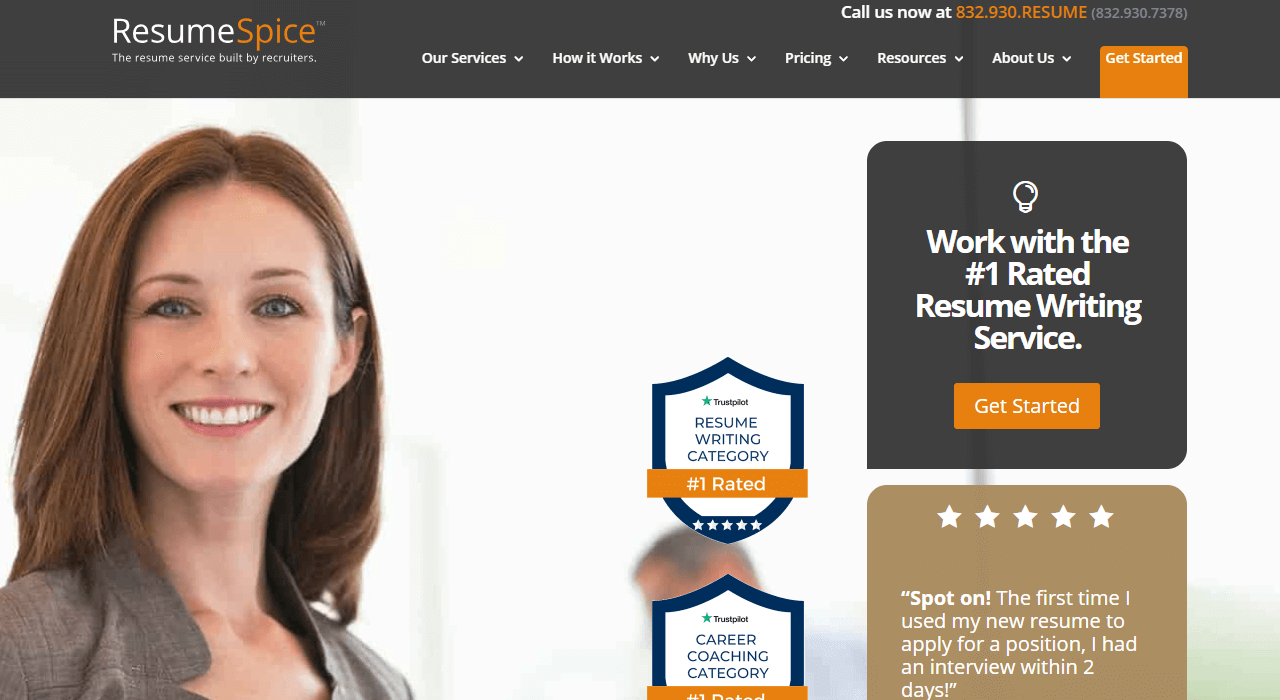 Once you have entered any resume writing platform and see nothing except for advertisement, it becomes extremely hard to understand what is real and what's not. That's why it is highly recommended to review users' feedback and some articles before ordering such kind of online assistance.
Here you will find only relevant information about the well-advertised resource that is called – ResumeSpice. Does this topic seem interesting to you? If yes, in less than several minutes, you will find out everything about it with this review.
Range of Services
When entering the service section of ResumeSpice, you just notice lots of offers and packages with professional assistance. This fact might be considered a positive one, but once we start choosing the needed service, it took us so much time and effort.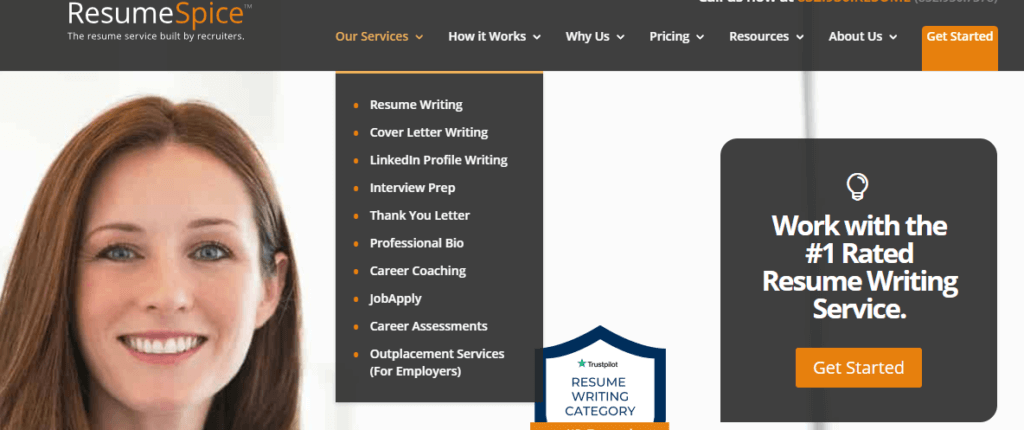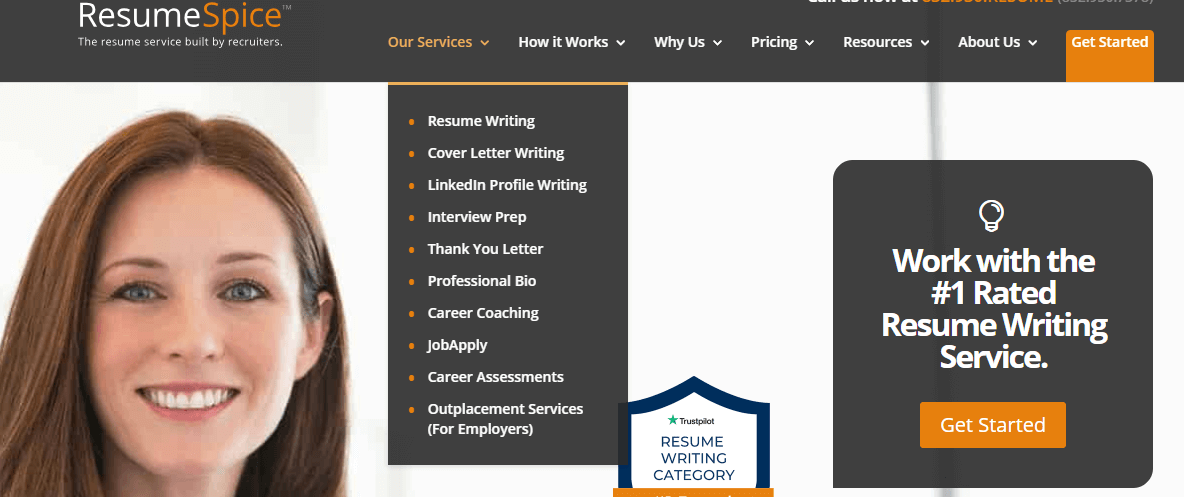 We spent 20 minutes or even more just reviewing the information about the existing services. Don't you agree that it is too much for a quick process of order? At least this was mentioned in the advertisement which we have found online. Among the offered services there are career coaching, writing of resumes, setting up LinkedIn, cover letter assistance, professional bio, and lots of other things.
Pricing and Discount Policy
Frankly speaking, prices are extremely high on ResumeSpice. Yes, you can immediately check this information on the site and decide whether or not such costs are suitable for you. However, let's mention just a couple of examples so that you have a general understanding of the price range.
For instance, the usual entry-level CV completion costs $349.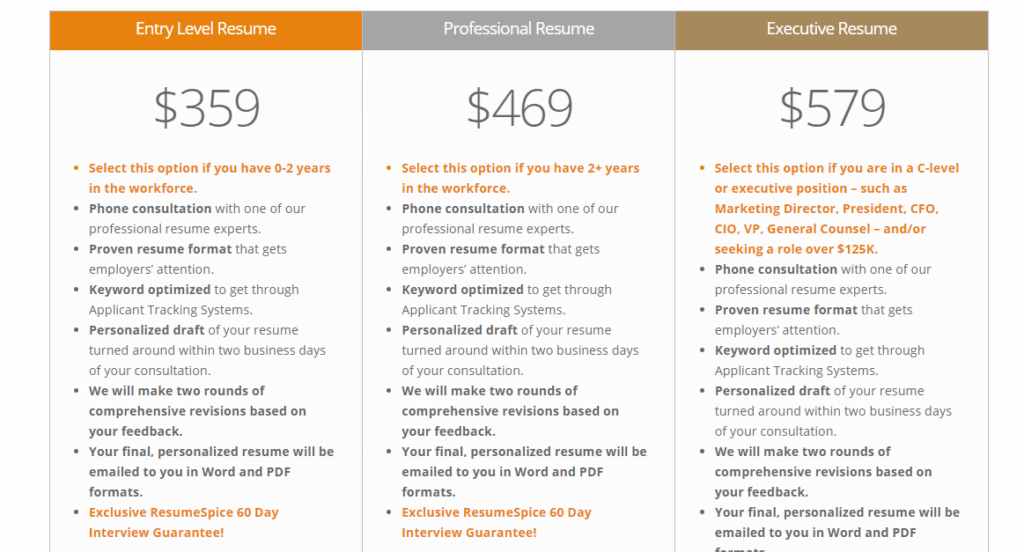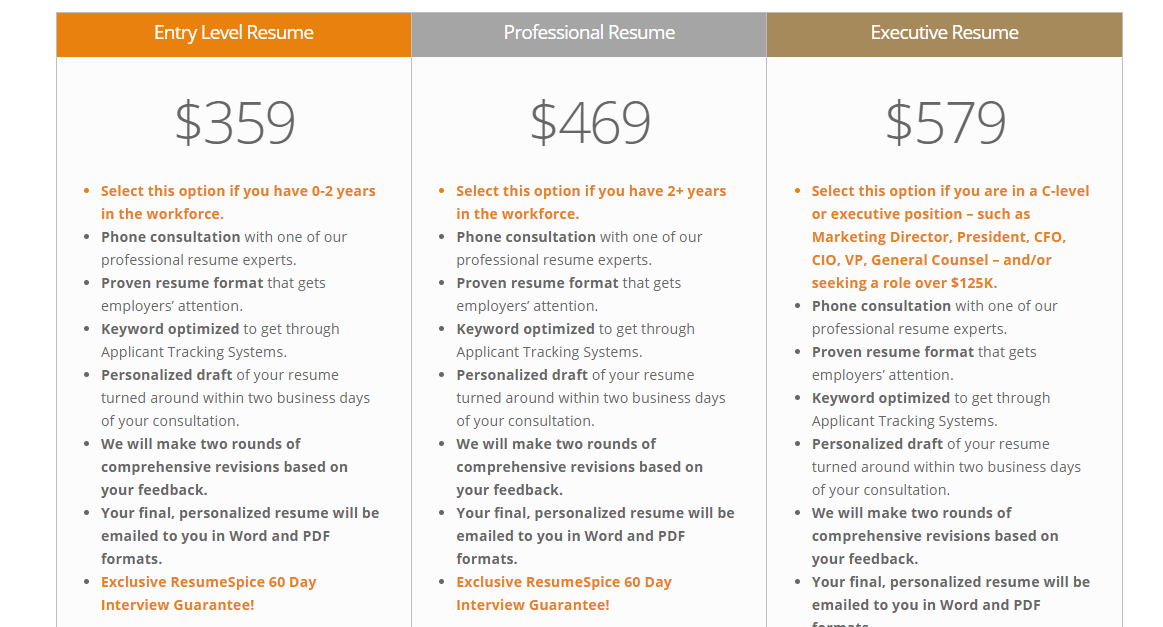 Here you are paying only for one usual standard form of writing where just your personal information is included. Isn't that too much? Moreover, you can ask only for 2 revisions after receiving a final version of the resume.
To be honest, even cheap resources offer an unlimited number of revisions.
The executive CV is even more expensive and will cost you $569.
Job application packages are charged per month, and the cheapest one is $799. In addition to this, you will need to pay a one-time fee.
Quality
For the quality test, we decided to order the cheapest resume on ResumeSpice. At the stage of ordering, we were delighted with the process. The writer contacted us extremely quickly via phone call and professionally specified all the necessary details for the writing process.
The problems started when we received a final version of the CV. Sure, there were no evident mistakes, but the structure was awful. An out-dated template was used, with some strange phases that really shocked us. There was no exclusivity in writing, just an out-dated standard form that won't be noticed online.
Guarantees
The only guarantee that we have found on ResumeSpice was called 60-day interview assurance. However, you'd better follow a huge list of step in order to claim for it. Such as:
CV should be sent 15 time at least;
Minimum 2 job post descriptions;
You can claim this guarantee no later than 90 days after receiving the final version;
You will be offered only resume revision, but not all the services which you have paid for.
Support
There are a couple of options for communication with the support team. They include a phone call, email sending, and contact form on the platform. Unfortunately, there is no instant chatting, which might sometimes be really helpful.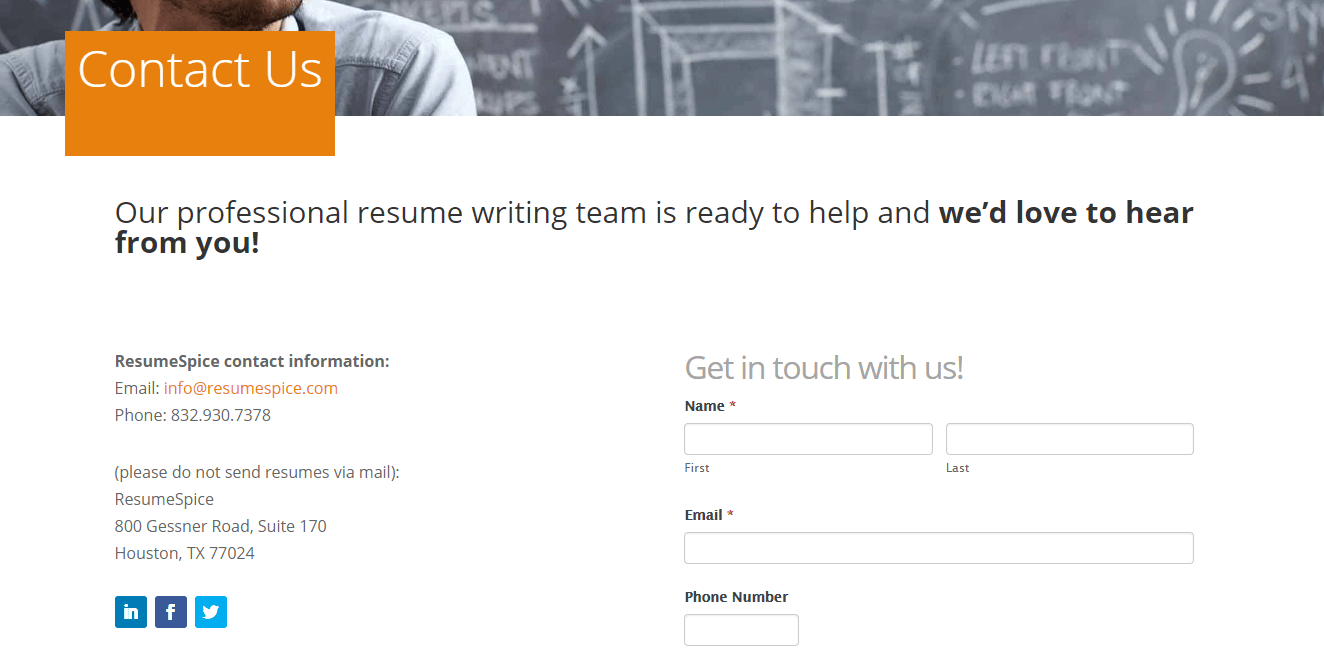 Online Reputation
It was extremely difficult for us to find real information about ResumeSpice. It is rather obvious that they are using a serious marketing strategy in order to delete or change any kind of negative feedback from real users. Moreover, the existing positive comments are too great to be true. So, it is up to you – believe the existing data or no.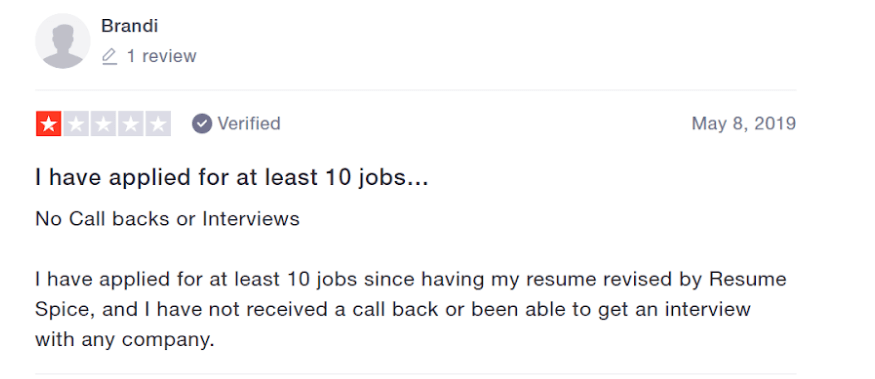 Pros and Cons
Pluses of ResumeSpice:
quick ordering process;
huge variability of services;
professional communication with writers.
Minuses of ResumeSpice:
extremely high prices;
too much overwhelming information;
absence of instant support service.
Verdict
When entering ResumeSpice for the first time, you can be positively impressed with the variability of services, great design, and simplicity of the site's navigation. However, it is only the first impression.
Once you start ordering something or just choosing the needed assistance, everything becomes much harder and more expensive. Probably the biggest drawback of this service is the pricing policy.
FAQ – The List of the Most Highly-Requested Questions
Is there something special about ResumeSpice when comparing with other similar sites?
The range of services is a rather standard one, as well as the process of ordering. The thing which really makes this platform unique is the bad quality of order fulfillment.
Can I find real feedback from the users?
Sure, this information is easily accessible on the official platform as well as on other online resources. You can find such comments on different social networking platforms in a matter of seconds.
What clients were this resource created for?
There are no limitations relating to the uses of this platform. Any member with any level of specialization can easily order services on this website. The only thing that is highly important to check out is the service that suits your personal needs.
How does the process of order look like?
It is extremely simple; just choose a desirable service, fill in a simple form with all the necessary information, and make a payment. Then the managers will contact you and ask for additional clarification if needed.
Is it possible to order a service without a LinkedIn profile or previous CV version?

Sure, there won't be any problems. Just leave your order, and the team of writers will quickly make everything necessary. Yet, clarify all the requirements as the resume writers may be not so attentive.
What is the standard length of the resume ordered on ResumeSpice?
This is a rather individual thing which totally depends on the number of years you have been working. The average number of pages is something between 1 and 3 pages. Just because it will be extremely tiring to review longer CVs. A candidate who has just graduated from the University and doesn't have any practical experience will most likely have a page-long resume.
Is it possible to purchase only a cover letter on ResumeSpice?
You can purchase anything you need separately. For instance, if you want to order only a CV, cover letter, or LinkedIn profile set up. Just choose the option which suits your needs.}
Can a user choose a specific expert?
In case you have previously ordered any kind of service on this website, you may ask for a specific person whom you have already contracted with. In any other situation, the platform will choose the needed professional automatically.
What if I am not from the US, can I order the assistance?
Sure, it is not a problem. ResumeSpice offers assistance for anybody worldwide, but it is working mainly with users who need English CVs or other written services in English.