Home
/ Topresume.com Overview – Everything that matters for job seekers
Written by: resumewriterreview
Topresume.com Overview – Everything that matters for job seekers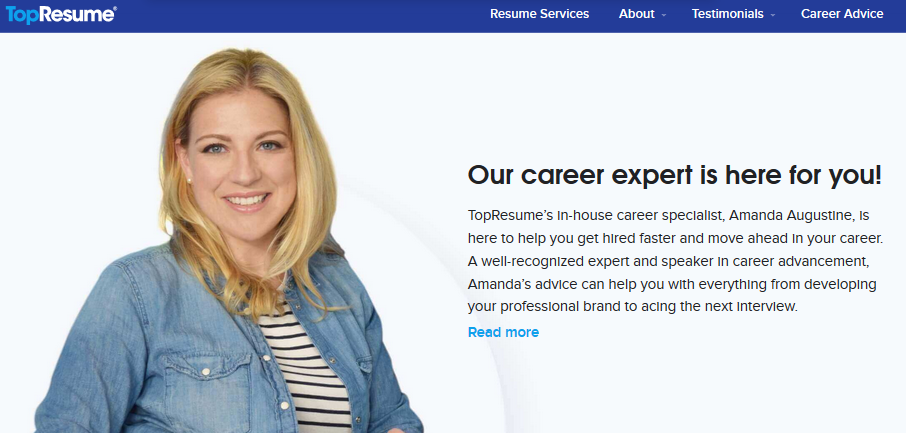 With lots of resume building services available nowadays, it becomes quite uneasy about selecting the right one, which will meet all your demands. And today we are going to analyze TopResume platform for you to define if this company's services are really worth paying for.
Range of Services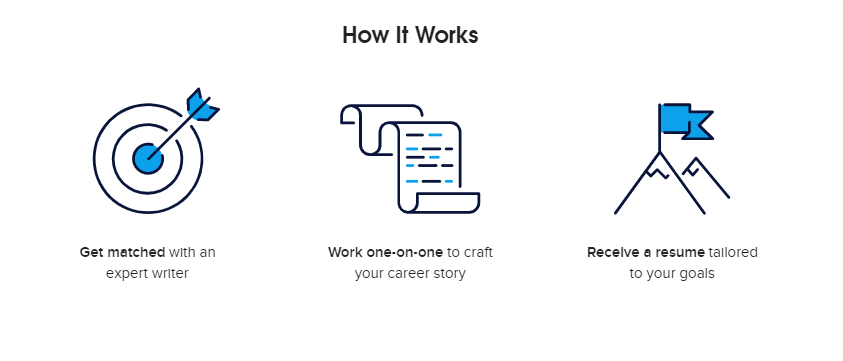 At Topresume.com, they offer you only paid services for a resume and cover letter writing and makeover of your LinkedIn profile. For free, you can get just an expert review of your current resume.
There are no free resume templates to download or an ability to order a single resume for a reasonable price. On the website, you can find, though, some articles about efficient resume composing techniques and other writing tips.
If you want to order a resume from the expert writer, you will have to select the tariff package for $149. It may have been a normal price if this package had included anything else except the resume writing service, but no – this is all you can get for that money.
Pricing and Discount Policy
The service offers you three packages to choose from. However, it is difficult to call them packages indeed. The cheapest one, for example, will cost you $149, but you will find nothing else there except the resume written by an expert.
They also promise you some peculiar formatting to give you more opportunities in the job seeking. In reality, though, it is not a separate service of the package; it is what a normal professional resume should include anyway.
The second package will cost you $219, with the only benefit added – a cover letter.
The price of the third package is $130 more. And for that, you get only one extra service – LinkedIn profile creation. In our opinion, other platforms offer all that range of services for a much lower price.
Quality of TopResume services
At Topresume.com, they claim that their writers are experts in 65 industries. It means they can polish your resume or cover letter to be impressive for almost any field of work. At the same time, we've encountered quite a number of reviews from their former users who testify to the opposite.
Some comments suggest that resumes and cover letters, which people receive from the service, contain grammar mistakes and poor formatting. Others say that it doesn't feel like an expert writer makes them, as they look more like machine-generated texts with no individual approach.
And the most outrages slip-up is that sometimes important career records, which clients mention in their data, are missing from the final resume.
Guarantees TopResume provides
If you don't get invited on 2 job interviews within 60 days after receiving the first copy from TopResume, they offer:
a guarantee to rewrite your resume for free;
a confidential evaluation of your existing resume.
Although, the company provides the guarantee to rewrite your unsuccessful resume for as many as 2 interviews, still there is no guarantee of receiving your money back if it doesn't prove its value again.
Support
To get in touch with the TopResume team, you can use the website form or email address to write a letter or a contact phone number. The only disadvantage is that they work only on weekdays and 9 hours a day.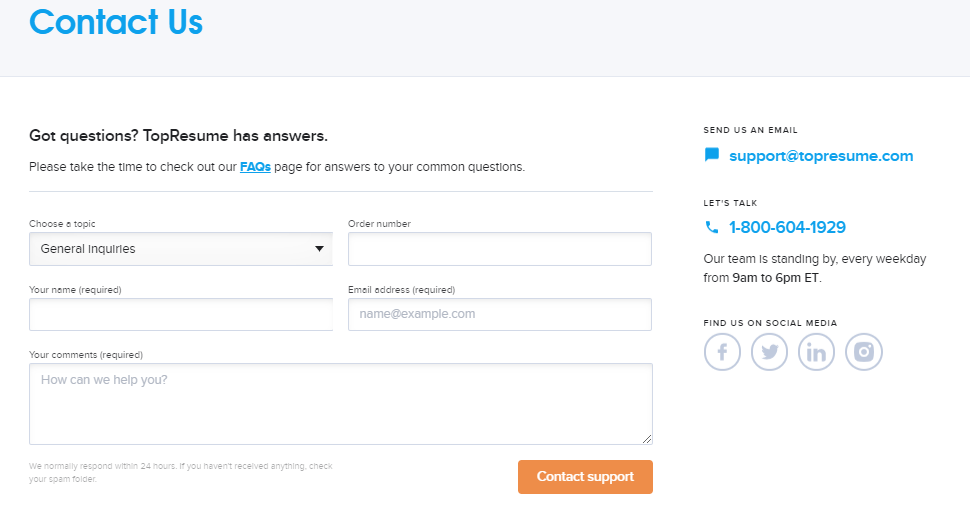 So, you will not receive a quick reply if you decide to contact them on Saturday or Sunday, or in their after office hours. There is also no live chat on the website, but if your request is not urgent, it may be not a problem.
TopResume Online Reputation
According to many reviews, which we've examined, clients of TopResume service are often not happy with the texts they receive. After paying for the work, they have to rewrite resumes and cover letters on their own or address other resume-building services.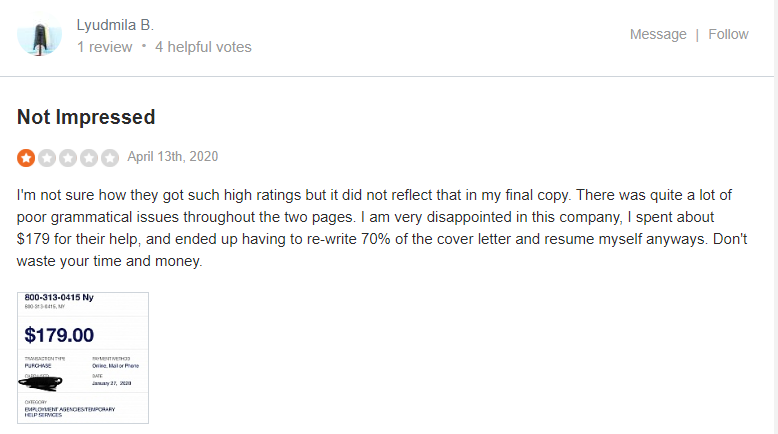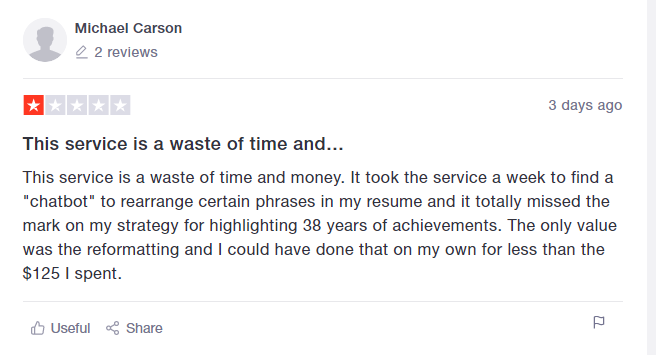 Pros and Cons
Together with having a modern user-friendly website with the minimalistic design and staff with experience in recruiting and career coaching, there are several blunders, which shape an opinion about TopResume service:
unsatisfying quality-to-price ratio;
no resume building tool available on the website;
limited number of services;
no money back warranty.
Final Verdict
We had expected more from TopResume until we started studying their website and services provided. It would be nice to have more services available and lower prices for resume building. Lots of companies offer much more for such a cost.
FAQ: Questions of the day about Topresume.com
Is there a service of LinkedIn profile building?
Yes, the company offers the makeover of your LinkedIn profile, which is a good feature for career building in a modern world.
This service is available inside the Executive Priority package together with a resume and cover letter composing. However, the cost of it is $349.
If you seek for a service of LinkedIn profile creation or restyling and don't need any help with the resume writing, you can order this single service for $125.
Is there a resume-building tool on the website?
Unfortunately, we haven't found one. Among available resume building services at Topresume.com, there is the service of sending your existing resume for free checking by experts or ordering it from scratch.
The price for the latter, though, ranges from $149 to $349, depending on additional service you may need, like cover letter writing or LinkedIn profile creation.
What is the difference between the packages at Topresume.com?
The cheapest package for $149 includes only resume building by an expert.
The second package for $219 gives you an additional service of a cover letter building and a warranty to be called for at least two interviews within 60 days.
The most expensive package for $349 provides all mentioned before services plus work on your LinkedIn profile.
Unfortunately, nothing more is included in all three packages.
Can I pay for a package by installments?
Yes, you can. The company cooperates with Affirm service, and it allows users to pay for 3, 6, or 12 months at a time. The annual percentage rate for that is from 0 to 30%.
Is there an interview preparing service at Topresume.com?
On the website, you can only make use of a blog to find some articles with tips and recommendations for the interview preparation. Still, we have discovered a sister website, which is TopInterview.com, where they offer you coaching sessions for an additional cost.
At the same time, lots of companies offer you interview preparation inside one package with resume building. And it turns out to be more cost-effective.
How long should I wait for the ready resume?
Usually, this process takes from 1 to 2 weeks. After you provide all your details to the writer, you will have to wait about a week for the first draft.
During the next week, you can provide your feedback to the writer. In this time, they offer you only two revision circles.
What is not encouraging about this, you are unlikely to receive the resume earlier than a week after ordering. And it's quite a long period for jobseekers.
How can I provide my information to the writers?
They offer you to fill in the questionnaire, where you provide the information about your experience and objectives for the future career.
Your previous resume is not obligatory to provide, but according to their explanations, it may facilitate and speed up the process of creating a new one for you.
From what we've discovered, this is the only way of communication with your writer. They don't mention any phone conversations for more close cooperation with you, which is disappointing.
Can I get a field-specific resume at Topresume.com?
The company states that its writers are experienced in 65 industries. They also mention that federal or military resumes are available to order.
However, it is disturbing that lots of comments on the Internet suggest that not everyone is happy with the resumes delivered from the service. Some users doubt that the resumes are composed by real experts in a filed, rather than an automatic tool. It explains why some resumes look more stereotypical than tailored.
Is there a refund policy if I'm not satisfied?
Unfortunately, no refund is provided. In case you are not happy with the work done by TopResume writers, you can only expect for a rewrite.
The same refers to the guarantee of two job interviews within 60 days – if you are not invited after this period, the only thing you can receive from the company is a rewritten copy of your resume and no money back.
Get the Job You Deserve!
Professional Resumewriting Service
Get started