Home
/ ExecutiveDrafts Overview: Honest Opinion
Written by: resumewriterreview
ExecutiveDrafts Overview: Honest Opinion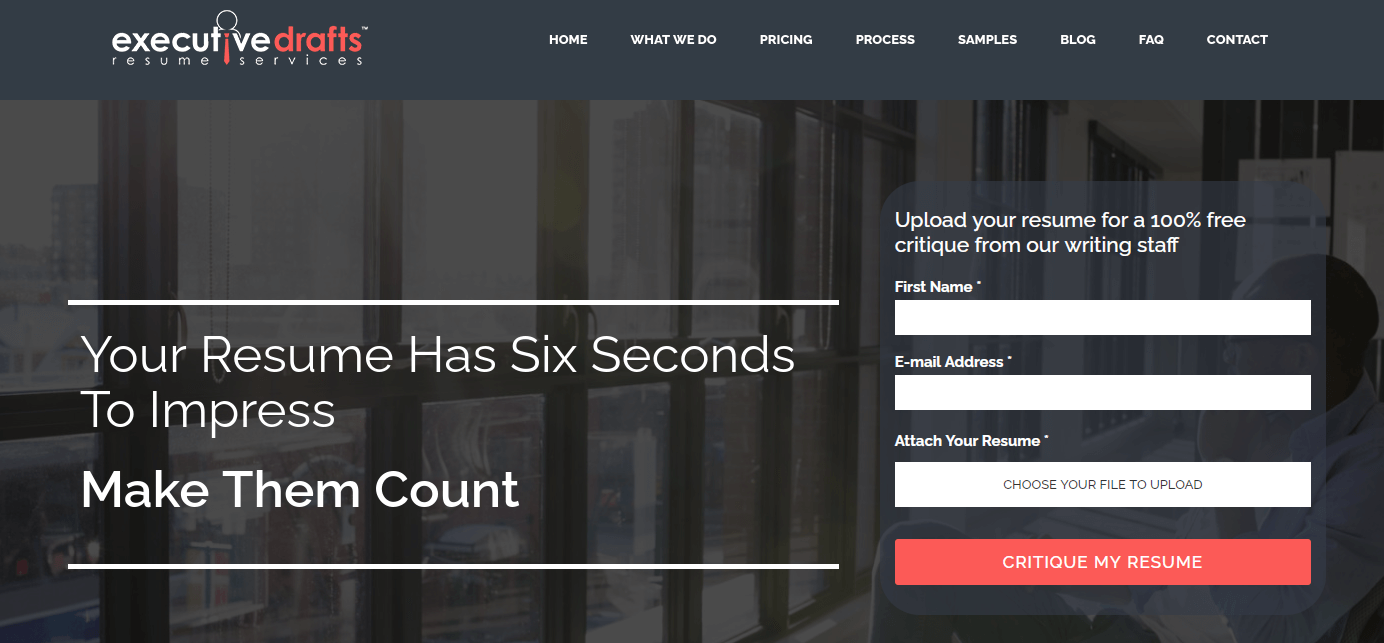 If you want to find a good job and build a successful career, you cannot do without an outstanding resume. It should be brief and clear, informative, and attractive. It is not so easy. The Executive Drafts company provides such services, but what about their quality?
Trusting your future to various online services is taking risks. It is very important to learn a little more about the company, its advantages and disadvantages, pricing policy. What is also important is the real opinions of customers. That's why we offer you an honest Executive Drafts review so you can make your final decision.
Range of Services
As you already understood, this company specializes in resume writing. Moreover, they claim that Forbes has included them on the list of websites for successful careers. Well, let's find out what services they offer.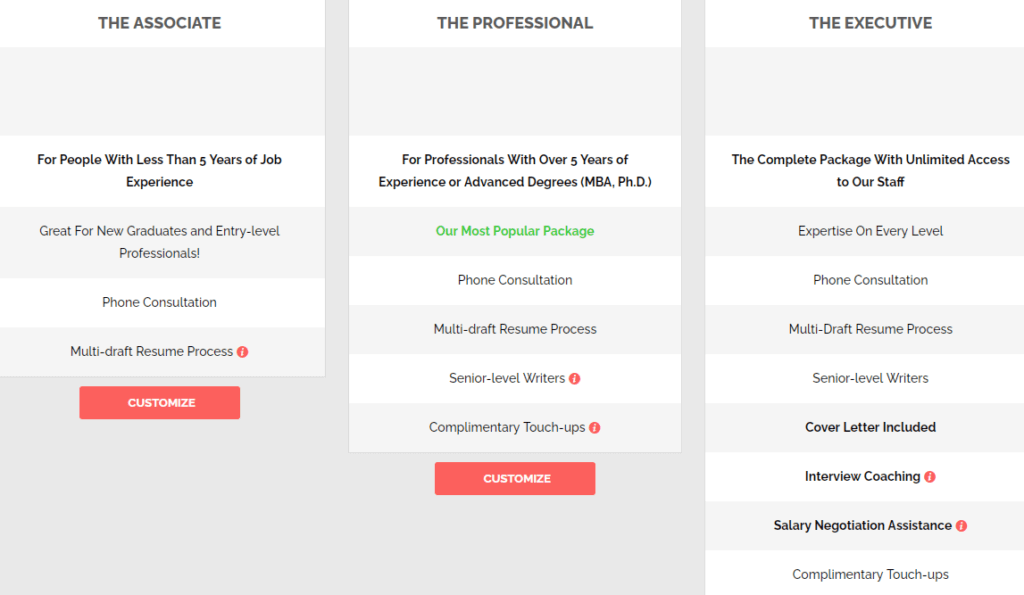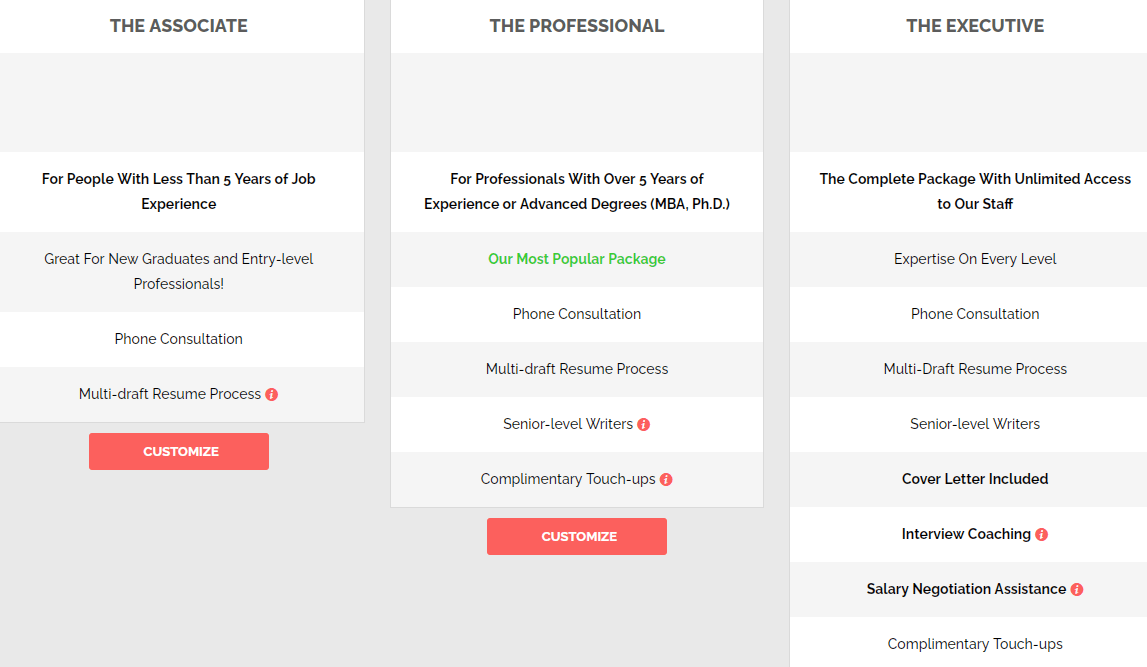 The first option is an offer for beginners. If your work experience is less than 5 years, you can talk by phone with a specialist who will make your resume. It doesn't look expert enough.
Perhaps the second option is in great demand. It is intended for people with solid work experience as well as those who have completed an advanced degree. They receive not only a telephone consultation but also a few drafts of the resume, which are supposedly prepared by top authors, as well as free corrections. To be honest, it is still not clear why this service is attractive for experienced professionals who are successful in their careers.
The last offer is exclusive and unlimited. It looks really interesting, as it includes not only the possibilities already presented above, but also writing a motivation letter, interview coaching, and help in salary discussion. This is the only package that looks attractive.
Pricing and Discount Policy
Now, when you know which services they offer, how much do you think they cost?
We guess that the phone consultation should not be more expensive than, for example, $50. It is a reasonable price for new graduates or entry-level professionals. They don't have work experience, they may need some support, and they can pay a symbolic price for it. But what does executivedrafts.com offer? $249, wow. Maybe they think that $249 looks more attractive than $250? Or the "2" is indicated by mistake?


The last option that we liked cost $499. Ok, maybe there are professionals who can pay this sum for services if they are worthy. But we are ready to bet that people who have extra money are expert enough, so they simply don't need the recruiter's assistance.
We also haven't found any information about the discount policy. It is sad. People like discounts, even if it is 5% only.
Quality
If you read some testimonials about this company, you'll see that it does not go about the quality. The resumes contain mistakes and typos; it is unacceptable. They don't look professional.
Guarantees
We would like to share a list of guarantees with you, but it is impossible. They don't have it. The only thing this company promises is to provide you with a revision if you don't like a resume. Let us remember you: they take at least $249 for a resume, and they say, "If your new resume isn't getting the results….". How is it possible?
Support
Despite the fact that Executive Drafts claimed to have round-the-clock service, we didn't get an instant response. The live chat looks good, but it is not live, to be fair. You just sit and wait until someone answers you. Modern people don't do it. They can find another company in a couple of minutes. This reaction speed is simply unacceptable in the 21st century.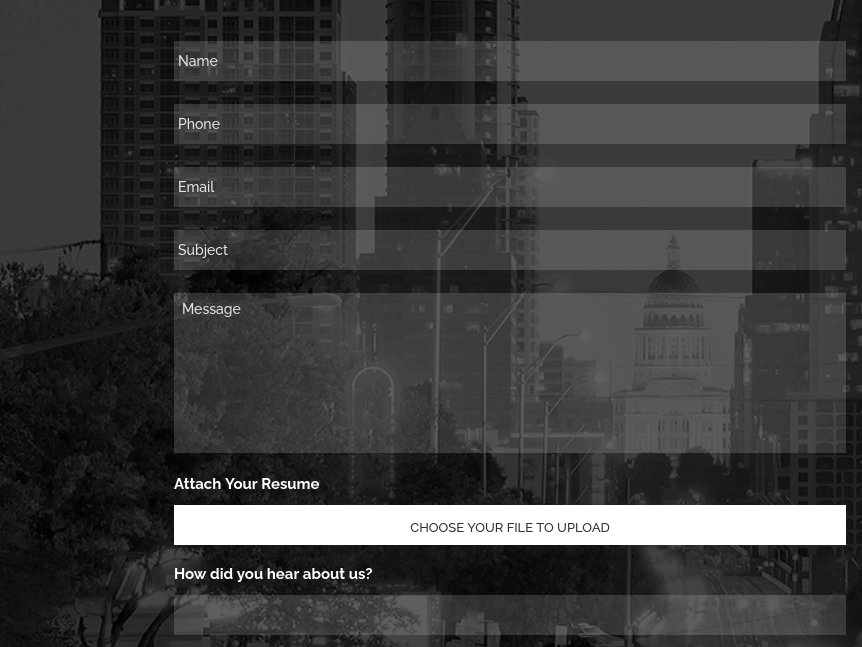 Of course, they may have a force-major. Everything is possible. But they should apologize and offer you a discount.
We finally received the answer. But guess what? It was from the bot. And they asked us to share our email. It is definitely not a live chat.
Online Reputation
One of the best ways to check the reliablity of service is just to check reviews. We use TrustPilot and Sitejabber to check different companies, since these platforms are independent and no one can change the text of review there.
However, there are no reviews for Executive Drafts on both platforms. Thus, we may suggest that this writing service completed a few orders or didn't have them at all. Otherwise, they would have at least several testiomonials.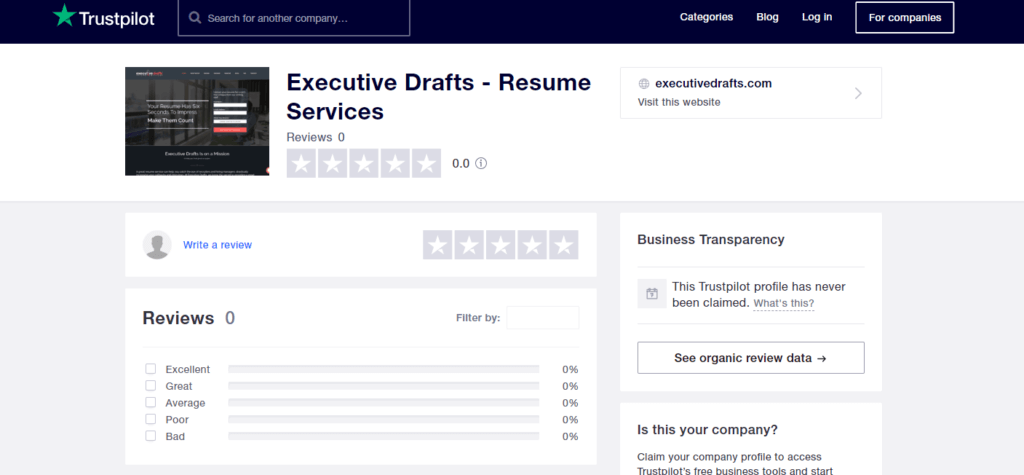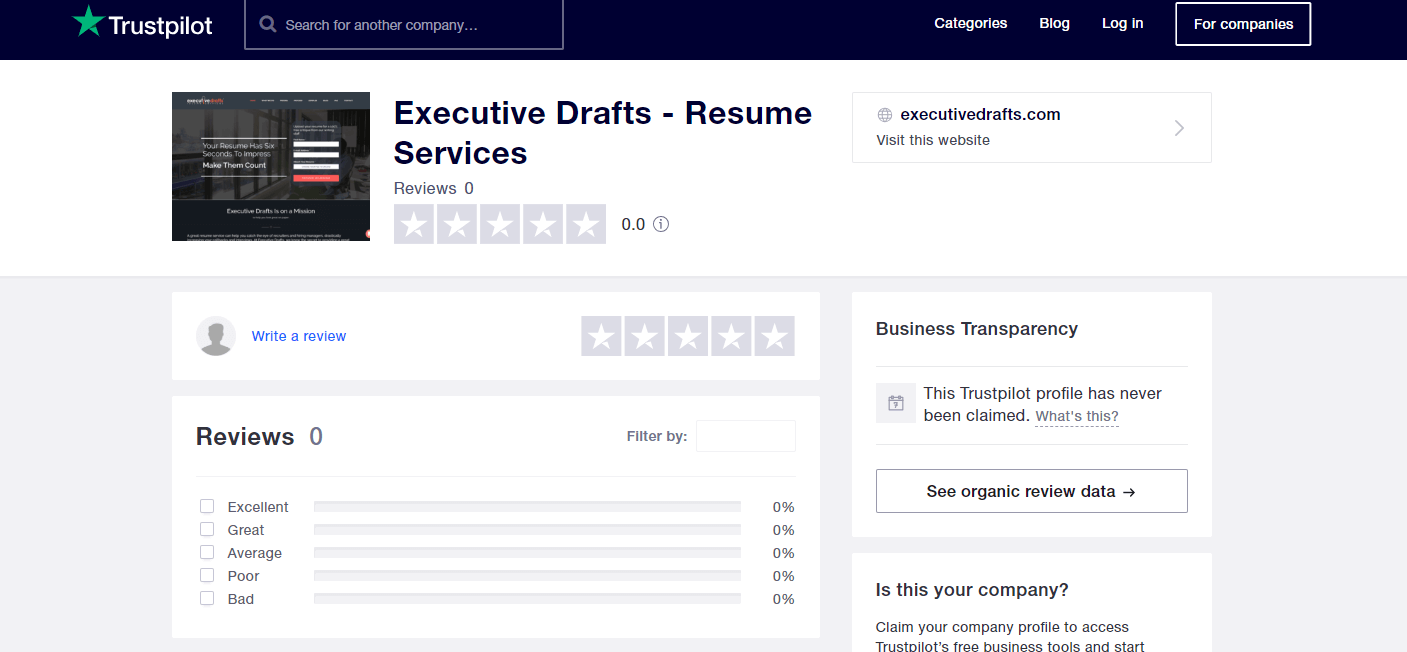 So, this service may be marked as unexperienced.
Pros and Cons
We've written a lot about cons of the Executive Drafts, so let us provide you with some pros:
Nice website design
Some resume samples
Blog with articles
Verdict
We can't recommend this service. Even free websites with career advice are better. Spend an hour to look for actionable tips online, or devote this time to find the real professionals. The Executivedrafts.com team is not them.
FAQ: All You Want to Know About Executive Drafts
How to make an order?
Once you choose the package you like and customize it, press the Purchase button, and proceed to the checkout. It is the place where you can provide contact data and some details. Within 24 hours, the company's manager will email you with further information. You'll also discuss the date and time of the phone consultation.
Which package should I choose?
It depends on your career background and experience. If it is your first resume and just want to understand your further actions, the basic plan would be enough. But if you've been looking for a job for a long time and get rejected for unknown reasons, you need a deeper analysis. There may be a lot of reasons why you can't pursue the desired position, and executivedrafts.com promises to find them out.
Which payment systems I can use to pay for my order?
Executive Drafts works with Visa, MasterCard, AmericanExpress, Discover, JCB, Diners Club International. These are the most popular processing networks, so you shouldn't worry about your payment.
Why do I need a phone consultation?
First, the manager will evaluate your current resume and your career history to understand your background. Then you will discuss the preferable positions and their requirements. Lastly, one will provide you with some ideas for the resume and answer your questions. The phone consultation takes about 20-30 minutes, usually.
Is the cover letter included?
It is not included in the "THE ASSOCIATE" and "THE PROFESSIONAL" packages; however, you still can add it to your order. Just press the Customize button to see additional options. It will cost you $50.
What is the full list of additional opportunities executivedrafts.com can offer?
If you think that the phone consultation is not enough, but you don't want to choose the "THE EXECUTIVE" package, you can add one of the following options and pay extra:
LinkedIn Profile optimization;
Personalized cover letter writing;
Interview preparation;
2-day turnaround.
These services will cost you from $50 to $149 (per hour), just plus the sum to the cost of your package. For example, the "THE ASSOCIATE" plan plus the LinkedIn profile optimization is $324.
Can I get a discount if I already have a resume?
No, you can't. Actually, most customers have existing resumes, but they don't work for some reason. You can use free online constructors to come up with the basic draft. But the job search is not about templates; it is about your personality and your professional value.
Are personal consultations possible?
Sorry, but no. Executive Drafts works via phone and email only. This approach was chosen because it helps to provide people with professional assistance regardless of their current location. You can't meet the consultant face-to-face, but it saves you a lot of time. Besides, personal consultations would cost even more.