Home
/ Resume2hire Overview – Only Real Feedback About The Service
Written by: resumewriterreview
Resume2hire Overview – Only Real Feedback About The Service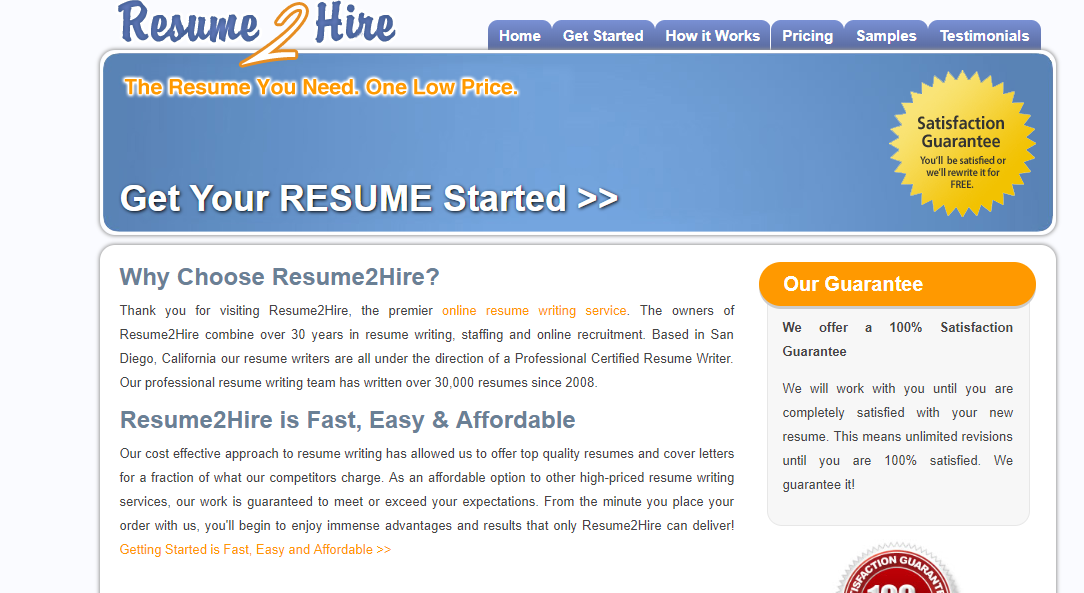 Nowadays, we are constantly in a rush for something more important and meaningful. That's why we try to delegate all the tasks we could to have more spare time for creativity and self-development.
For simplifying the process, there are lots of platforms that can offer you – resume writing assistance, dissertation completion, and anything else you need. But how to be sure that these websites' quality is great and you won't just waste a huge sum of money? To help you with this dilemma, we will start by sharing our experience in Resume2hire.
Range of Services
It is a great idea that you can get assistance according to the hiring process in one place. However, after reviewing the information about offered services on Resume2hire we were left with lots of information but no practical help.
On the website, there are listed packages of services with prices. The problem is that you cannot order just a resume or proofreading assistance; you are almost forced to purchase this unnecessary pack for a fixed sum of money. Doesn't that sound strange?
After reviewing their incomprehensible offers, we concluded that they have such options as:
Cover letter completion;
Resume writing assistance;
Proofreading;
Keyword optimization.
It looks great, but why a user cannot choose only one option that is urgently needed for his/her situation. We couldn't explain this fact.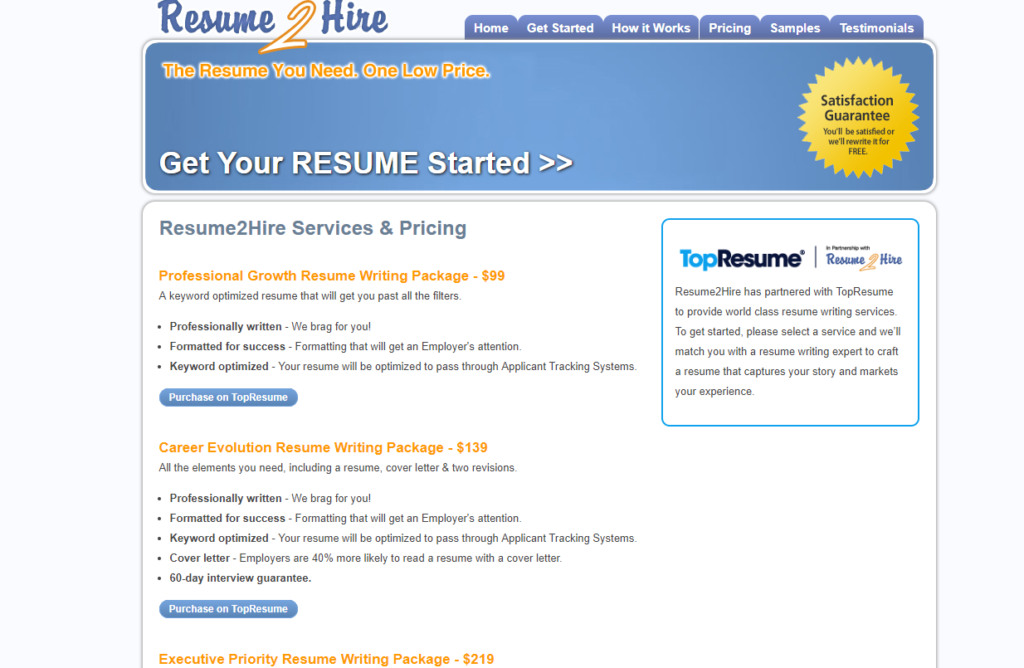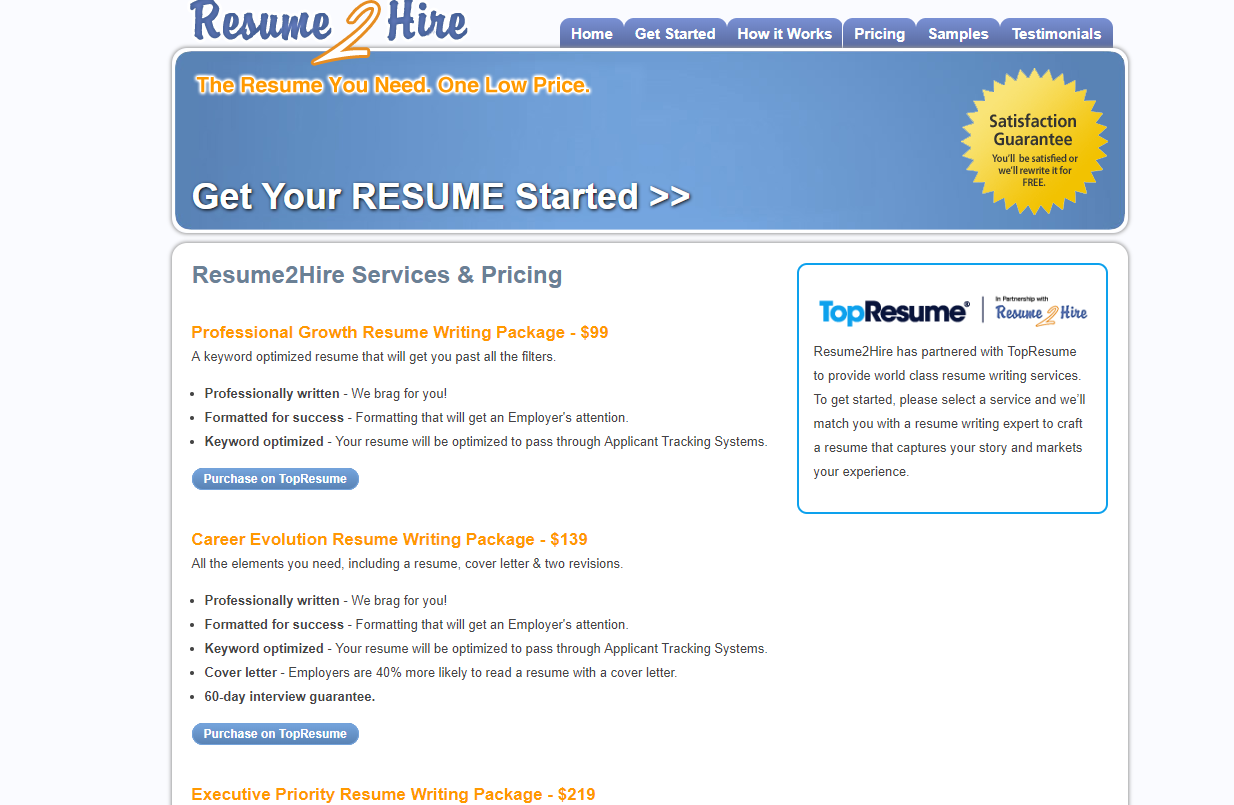 Pricing and Discount Policy
The price range on Resume2hire is a rather fixed one. There are 4 packs of services which you can easily order. The minimum package costs $75, and the maximum is almost $219. In this section, everything is rather clear, if you think that the prices are reasonable, you can order their assistance, and in case you think they are too high, then you can skip to another writing service.
The only strange thing is that with more pricey services you are getting an interview guarantee and with a cheaper one, there aren't any. Moreover, there isn't any additional information about these guarantees and what assistance they include.


Quality
Quality of Resume2hire or any other writing resource can be checked only via reviewing their work. So, we decided to make a simple investigation of this resource in order to give you the most relevant information on this topic.
We have ordered one of the available packages and scanned a resume on spelling, grammar, punctuation mistakes, and plagiarism. As for the last criteria, the received resume was almost 100 percent unique. Nevertheless, all the other things, such as grammar and spelling mistakes, were noticed immediately. Generally speaking, we've found more than 12 mistakes in a CV from Resume2hire .
Guarantees
We have checked all the services and features of Resume2hire, but unfortunately found only one 60-day interview guarantee. After reviewing this information, we have more question than before:
How many times does a user need to sent a resume?
What to do after this 60-day period?
Can a user really get a full refund?
How much time it is necessary to wait before the refund?
Support
Unfortunately, after reviewing Resume2hire, we have found the only email address in the FAQ section and nowhere else on the site. There is no chance to use instant chatting help assistance or call professionals in case of an urgent situation.

Online Reputation
Resume2hire posted dozens of positive reviews on their website. Yet, it is not even the screenshots from trusted platforms. If you check Trustpilot or Sitejabber, you won't find any reviews about this writing company. Thus, we may consider that this platform created testimonials for their site individually.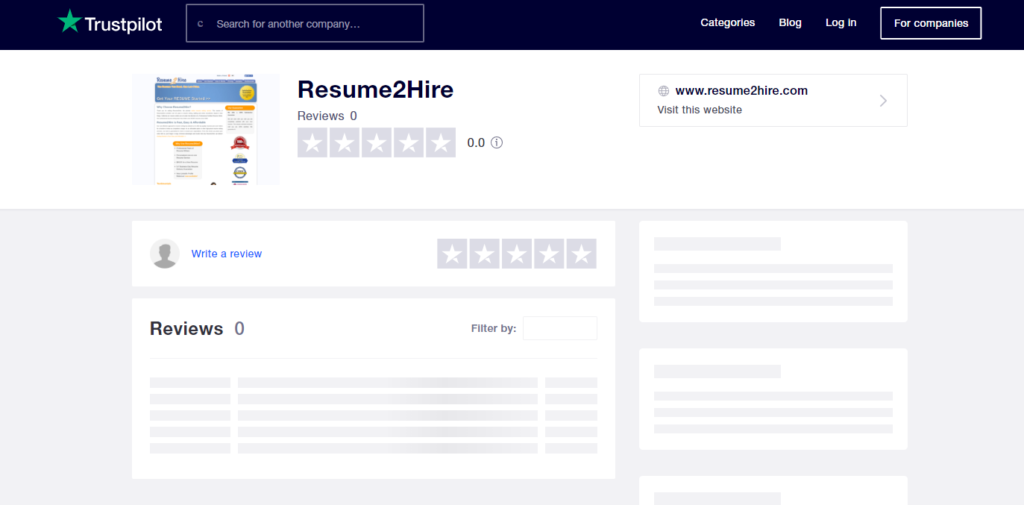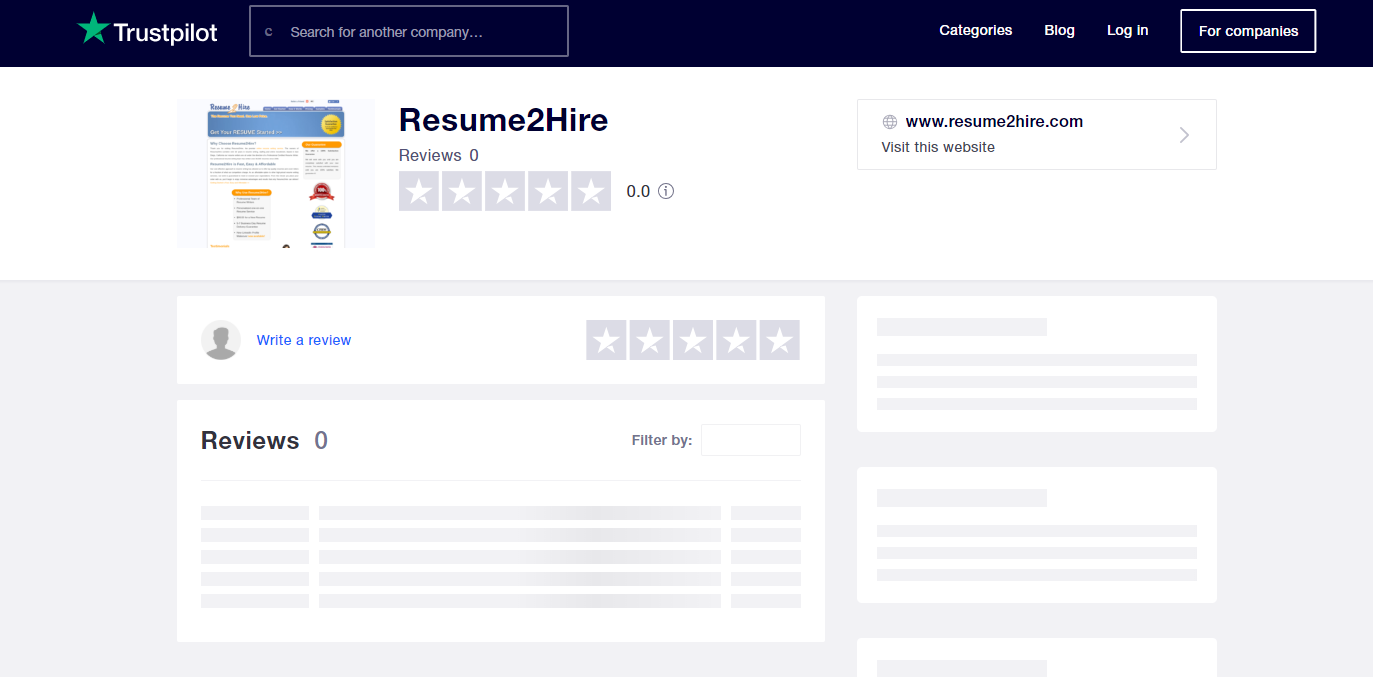 Pros and Cons
Resume2hire Pluses:
Availability of LinkedIn makeover;
Reasonable prices;
60-day interview guarantee.
Minuses:
Unprofessional support service;
Lack of flexibility for the clients;
Mistakes in the writing.
Verdict
Generally speaking, Resume2hire is an ordinary writing service with a couple of minutes that need to be solved ASAP. Nevertheless, once all these cons are changed, the quality of their work may be evaluated way higher than it is right now.
FAQ – The Most Frequently Asked Questions
When will be the order completed?

An initial order will be received within the following 5 to 7 days from its purchasing. Resume2hire isn't working at weekends and holidays. That means if you have left an order on Sunday, we will start processing it the next working day. The same relates to holidays.
What to do if a user isn't satisfied with the result?

In such a situation, you will need to contact a support team or consult with the writer who was responsible for this order. Try to explain what are your complains about the received text, and it will be changed according to your requirements.
In what format CV will be sent to the client?

All the completed resumes are saved and sent in word docs. However, if you need text or PDF format, just notify Resume2hire service beforehand, and you will receive it as requested.
Is there a possibility to purchase 2 different resumes via this writing service?

If you are planning to apply for different job posts with different resumes, you need to consult with the responsible writer at first. Maybe he/she will create such writing which can suit totally different positions. In case it is impossible, you may be offered to purchase an additional CV.
How does the process of communication with the writers organized on Resume2hire?

Once you have left the order and made a payment for the chosen service, you will receive an email from the professional writer. So that you can add any additional requirements you might have. Also, you may interact directly with the support team via their email address.
Are there any guarantees that my resume won't be shared online?

Of course, this online writing service guarantees confidentially of all the orders. A piece of the received information is immediately encrypted, and no one can get access to it. Even a professional team of writers doesn't have access to your private information. There is no need to worry about this.
Is a cover letter really necessary for the application process?

The availability of the cover letter can greatly improve your chances of success during the application process. Hiring professionals receive so many resumes every day that it might be difficult to review each and every one. Short writing with only the most general information about the candidate will certainly stand out you from lots of other applicants.
If I need to make some additional changes to my CV, do I need to order another version via Resume2hire?

All the resumes are sent in the word format so you can easily make some changes yourself if there is a necessity. The professional style of writing won't be changed due to small editing in the document. So, there is no necessity to order another CV via the writing service.
Who will be responsible for the completion of my resume?

They claim that only professional and experienced writers are working on this service. That's why you will be offered an available writer with the needed qualification and skills for the completion of your tasks. In addition to this, your resume will be checked by professional proofreaders.
Is there a need for a thank you note?

Sure, there is a huge necessity in this formal writing. After your interview, you'd better spend some time and send this writing. It will show that you are a professional candidate who suits the position better than anybody else.