Home
/ Channing Resumes Overview That Will Help You to Choose the Reliable Service
Written by: resumewriterreview
Channing Resumes Overview That Will Help You to Choose the Reliable Service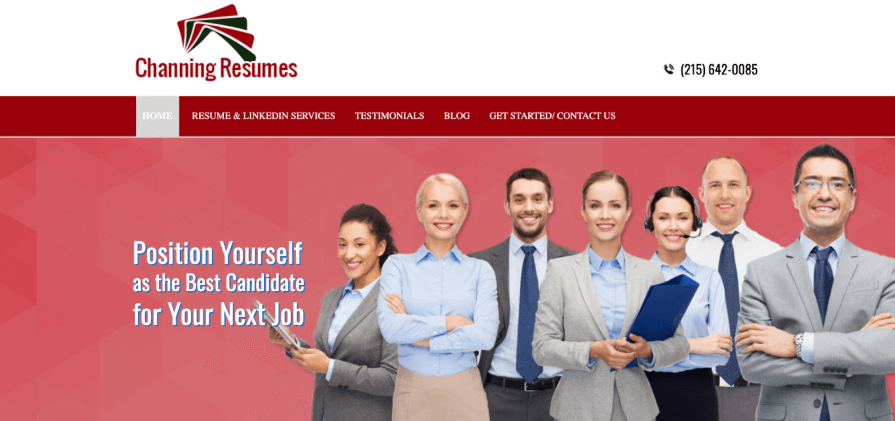 Looking for a job? This process is pretty challenging. We all were there, and we know what hurdles you have to face. Once you found an interesting job description, you have only one chance to apply for this position and make the right impression. And if you fail at this stage, you just lose the desired opportunity in no time.
Honestly, it is very easy to fail since hiring managers receive dozens of resumes on a daily basis. They just drop out papers they don't like. That's why so many people like you are looking for companies that will help them with their CVs and cover letters. Channing Resumes is one of them. But does it mean that this company is reliable? Do you receive some guarantees when you trust your career planning to this service? Let's delve deeper and find out!
Range of Services
The first thing that you should pay attention to is a list of services. It will help you to understand the primary focus of the company. For example, there are businesses that are oriented on entry-level candidates or executives only. Or there are companies with a specialization in interview preparations.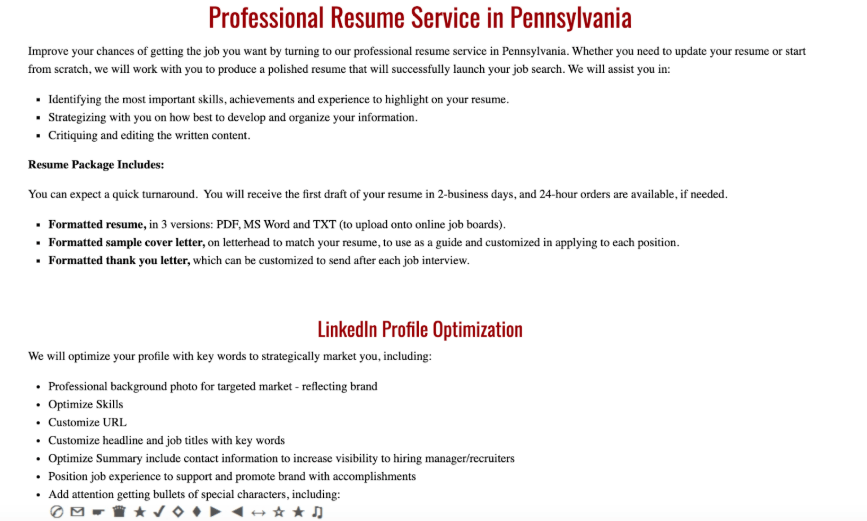 As you can see, Channing Resumes provides resume writing and LinkedIn development services. This company is founded by Linda Channing, who is a certified resume writer and career development professional. According to the company's website, Linda has 20+ years of working experience. Well, it sounds impressive. But does she write all resumes by herself? What about other resume writers? There is no information.
Channing Resumes Pricing and Discount Policy
Pricing policy is the next aspect that you should consider since you should be rational when it comes to your finances. Looking for a job, you can't just splurge your money. Spend it only when you understand that it is a wise investment that will pay off. Many resume writing companies have very high prices because they think that their customers just don't have another choice.
But what about this one? The interesting fact is that there is no pricing list on channingresumes.com. We have explored the website, and we haven't found any information about prices. Ridiculous! Honestly, it looks suspicious. It means they may have different offers for different customers, and it is not a fair game.
Channing Resumes Quality
It is difficult to speak about quality when you know nothing about the company. There are 2 resume samples on channingresumes.com, and they might think it is enough to understand what they offer. In fact, these resumes are just average. Yes, they contain the necessary information about candidates, e.g., technical skills, professional experience, education sections, etc. However, it is difficult to understand what these experts bring to the table. Everyone can write such a resume, and you don't need over 20 years of experience to come up with a paper like this.
Guarantees
Don't hire a company until you know what guarantees it offers. There are some basic things that are necessary for all businesses, regardless of specific services. For example:
Absolute confidentiality;
Personalized approach;
Reasonable prices;
Timely delivery;
Free revisions;
Money refund.
Unfortunately, we haven't found any information about Channing Resumes guarantees. They claim that they will deliver the first draft in 2 business days, but there is no information about their actions in case of delay. They also don't write about a money refund or other ways of compensation that are required when customers are not satisfied.
Channing Resumes Support
There is a limited number of ways to contact Channing Resumes. They have a phone, email, and a form on the website. No live chat. No round-the-clock option. They just don't have customer support as they don't have guarantees or any other necessary options.
Online Reputation
The interesting fact is that we have found several reviews about Channing Resumes, and all of them are positive. On the one hand, there are really less than 10 testimonials, and it looks suspicious. If this company has 20+ years of experience, why don't they have more reviews? And why are all of them positive if there are so many flaws that we've noticed? We think that friends or authors themselves wrote these comments.
Pros and Cons
Honestly, it is not that easy to find advantages when the company itself doesn't tell you about them. That's why we are going to focus on some cons that you need to consider:
outdated website;
lack of information about services;
lack of information about writers;
no prices;
no guarantees;
average samples;
no customer support.
Linda Channing's biography sounds interesting, but it is not enough to show potential customers that you're a reliable service.
Verdict
We can't recommend Channing Resumes. It looks like this company is not focused on customers, and it doesn't aim to make their lives easier. Instead, it makes them harder since you need to find the information yourself. If you have enough free time, you might contact them. But in any other case, it would be better for you to choose another company.
FAQ — What Do We Know About Channing Resumes?
Who is Linda Channing?
Obviously, Linda Channing is the founder of this company since it has her name. That's why it is possible to find some information about her on the main page. It claims Linda is a professional who has career consulting skills and experience. She also has an appropriate certification from different associations.
You can also find Linda's LinkedIn profile here with additional information on her experience.
How To Place An Order On Channingresumes.com?
It is interesting that most other companies ask you to fill in the form with your requirements. They have this process automated, and they also provide you with a personal account where you can track the progress. When it comes to Channing Resumes, they don't provide you with these options. There is just Linda's email, and you should send your message to ask about further actions. They also have a phone number so that you can call. It doesn't look very convenient.
What Is a Free Resume Review?
It sounds very unexpected because it is impossible to find any useful information on channingresumes.com. However, they write that they have a free resume review option. It means you can send your paper, and they will provide you with short feedback on it. The turnaround time is 48 hours. Why do they do it for free? There are so many questions without answers.
Are Articles on Channing Resumes Blog Useful?
Yes, they have a blog! The bad news is that it is pretty outdated as well. There are several articles written in 2014-2018 years, and they are definitely not related to the hottest topics. For example, they don't write about looking for a job during the pandemic. They surely don't develop their website according to customers' needs. So, how do they attract new people?
When Will I Receive My Resume if I Order It From Channing Resumes?
They promise you a quick turnaround. When you order your paper, you receive the first draft within 2 business days. There are also 24-hour orders available.
What Resume Services Do They Offer?
Well, they have some information about their resume services. You receive:
Resume in 3 versions (MS Word, TXT, PDF) that are formatted appropriately;
Cover letter that matches your resume. However, you need to use it as a guide, depending on your desired positions.
Standardized thank you letter that you need to customize and send after your job interviews.
What Are LinkedIn Development Services?
Channing Resumes can also improve your LinkedIn profile — optimize skills, customize a link, add keywords, optimize summary, and so on. These actions are necessary to make your profile visible and more attractive to recruiters. However, there is still no useful information on channingresumes.com, e.g., their prices, the ordering process, the further plan. They don't have any samples of LinkedIn profiles, etc. It doesn't mean they are 100% scammers, but they are definitely not customer-focused, and you should spend a lot of time even before you understand what they offer and how much their services cost.