Home
/ Careersbooster Overiew: find out the truth
Written by: resumewriterreview
Careersbooster Overiew: find out the truth

We are happy to welcome you at the freshest and the most honest Careersbooster review. We have received multiple requests from users worldwide asking to survey this company and the services they offer. Even though there are many positive comments online, we decided to check the service ourselves, and it turned out that everything is not so positive as it seemed at first. Unfortunately, we noticed that most comments were similar, which witnesses that the company simply orders positive reviews. Continue reading to find out if Careersbooster is as good as it seems at first. We promise that you'll be amazed to learn the truth!
Range of Services
When visiting the website, you may see a menu on the home page with a drop-down list. There can get familiar with a list of provided services: – Resume writing; – CV writing; – Resume editing; – CV editing; – Cover letter writing. Additional services include knowledge, skills, and abilities narrative, resume submission to the employer, key selection criteria, thank-you, and follow-up letters, and e-cover letters. The last costs $19, while the key selection criteria – $158. Every service is divided into six experience levels, each of which has a different price and approach: entry, professional, executive, career change, military, and federal level. The company claims that they have writers, who work with a specific level depending on experience, degree, and background. To test the company, we have ordered a career change resume.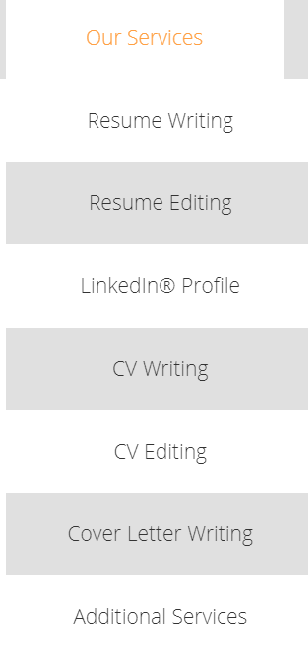 Pricing and Discount Policy
The prices at Careersbooster are very high. For example, an entry-level resume completed within 5 days will cost you $129, while an executive resume for the same time period will cost $179. The shortest deadline is 24 hours, but you will have to pay more for the urgency. If you need both a CV and a resume, be ready to pay $288. We think that these fees are too expensive. But maybe the quality is worth the pay? Let's find out.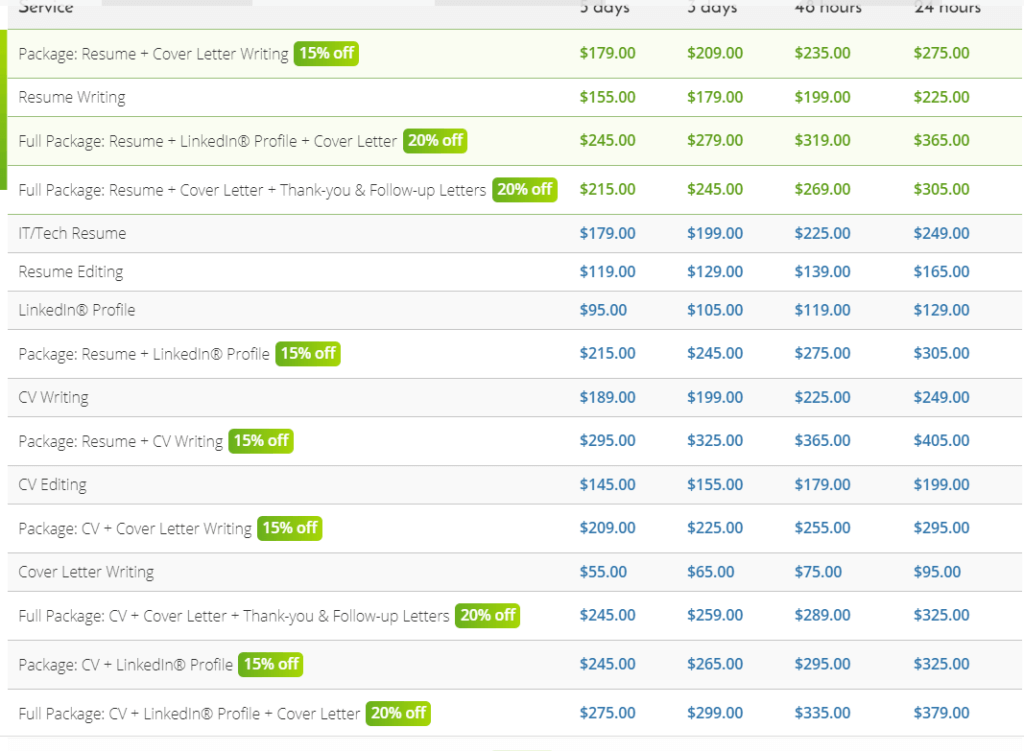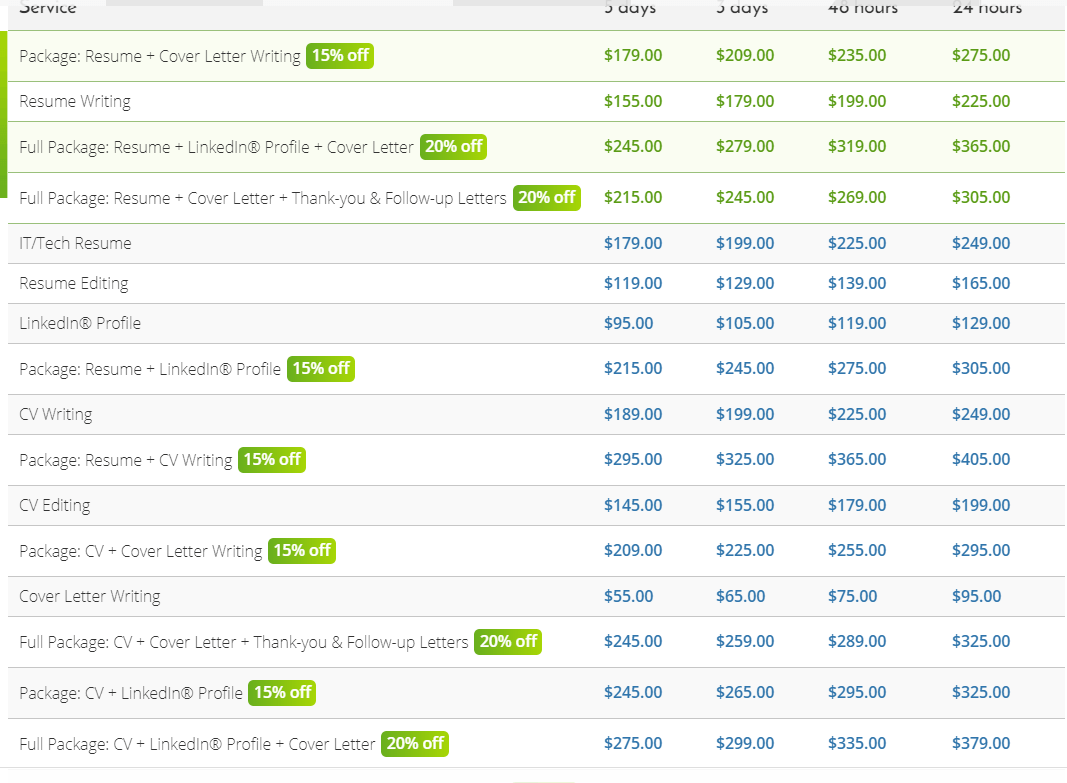 Careersbooster Quality
We have ordered a career change resume without any urgency. It was completed with a one-day delay, which is a big minus for the company. Moreover, there were multiple mistakes in the text, and we had to ask for revisions. Unfortunately, managers stopped answering our questions and requests, so we didn't get any revisions or refunds. It seems that our resume was completed by a student or a foreigner, and not by an experienced English-speaking author.
Guarantees
Careersbooster decided to follow the strategy of multiple writing services and created a Terms and Conditions section with lots of information that doesn't promise anything. Moreover, it is really difficult to find this page, and only after a few minutes of searching, we managed to see it on the bottom. There is quite a blurry refund policy, which claims that you can get your money back. However, only if you prove that you got a really awful paper.
Terms and Conditions
Refund
Support
We are not satisfied with the support team at Careersbooster. They didn't want to answer our questions, and after sending a few complaints, they probably blocked us because it was impossible to send a message. They say there is a toll-free number to contact the support, but actually, it charges money. So be ready to pay quite a lot if deciding to give them a call.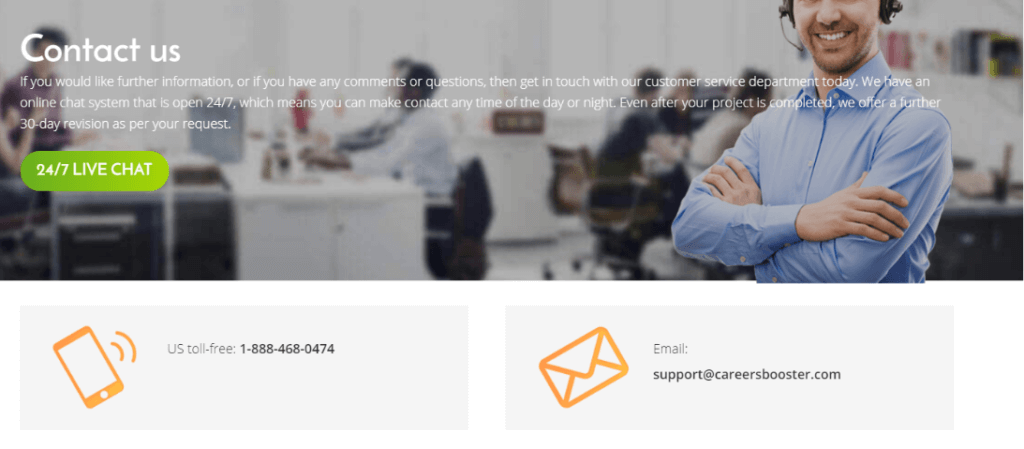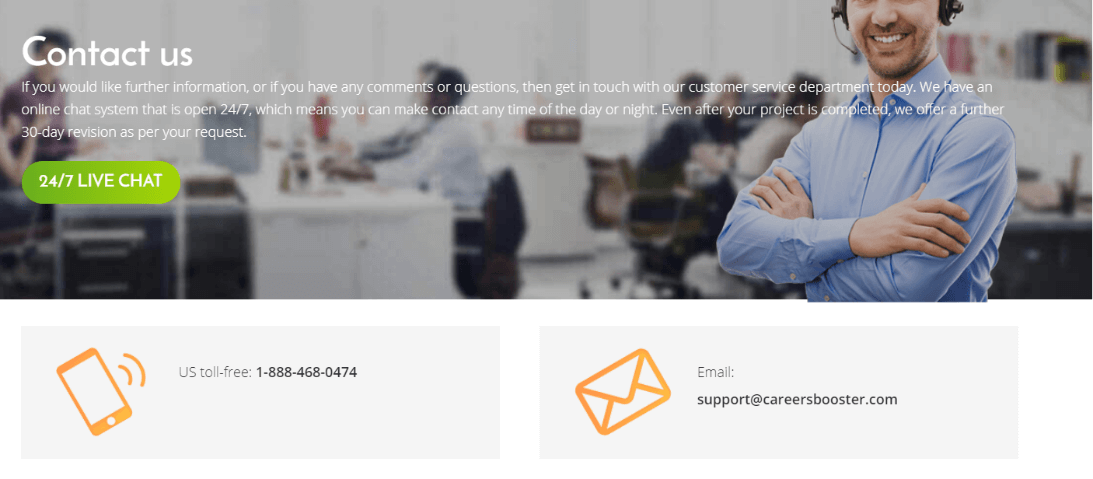 Careersbooster Online Reputation
At first, we have found quite many positive comments on websites with revisions. However, after analyzing those comments, we found out lots of similarities and the same mistakes. Most likely, those reviews were written by the same person to improve the reputation of the company. When surfing other websites for testimonials, we found out that many people are not happy with Careersbooster. They complain about a late delivery, high prices, and the absence of a refund. We can relate to it.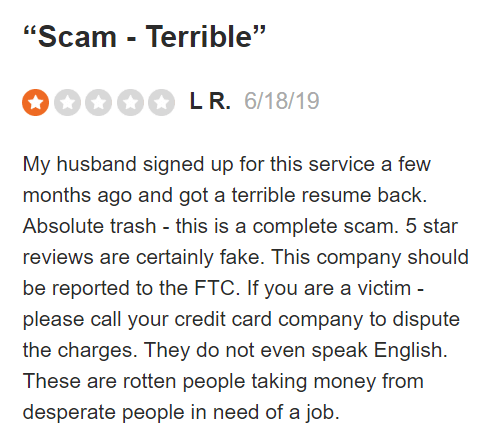 Pros and Cons
Positive aspects of the service:
Modern website
Many different features and offers
Negative aspects:
High prices
No refund
Lots of mistakes in the resume
We could continue our list of cons but you probably see yourself that there's not much good about this company and there is lots of room for improvement.
Verdict
Careersbooster is a website where you can order resumes and CVs from professional writers. At least that's what written on the platform's site. Unfortunately, the resume we have ordered was of poor quality, and the prices they charge are extremely high. In addition, we have found lots of negative comments and can't recommend this writing service if you value your time and money.
FAQ: we'll answer all your questions
How long does it take to create a resume at Careersbooster?
The average deadline is 72 hours. However, the company's representatives claim that urgent orders can be completed within 24 hours. Of course, the price will be much higher, and there is no guarantee that the submission will be timely.
Who will write my resume?
Careersbooster has around 200 resume writers (or at least they claim so), who specialize in 40 different subjects. Unfortunately, we weren't lucky to be assigned to an author who understands the specialization. Thus, our resume was poorly written without any accordance with field requirements.
What are the types of resumes I can order?
Depending on the type of your resumes, Careersboosters offer six different levels: entry, professional, career change, executive, military, and federal. Each of them has a different price and a set of features. We have ordered a career change resume, but it was obvious that the structure was more suitable for a federal one. Probably they use the same templates for each type and just charge different fees.
Are Careersbooster secure?
Company representatives say that they don't disclose sensitive or any other information to third parties, but there are no proofs. Details about encryption software or other security measures are absent, so we can't confirm whether this writing service protects its users.
What if I don't get hired?
They say that if you don't get an interview invitation within 30 days, you can contact the customer support within five business days, and they will revise the resume. Unfortunately, this means that you can't expect a refund or any other discount. They will make slight corrections, and you'll have to face the same resume again.
What are the resume formats available?
The resumes are delivered in three formats: electronic, web, and scanned. The first one is sent via email or online, a web resume allows viewing it online, while a scanned resume is sent to an employer, who uses filtering technologies with keywords.
Are their writers professional?
It is impossible to check whether Careersbooster's writers are professional or not. Yes, the company claims that all specialists have degrees and experience, and are working in a particular field. Unfortunately, the resume we ordered proves the opposite.
Can I create a resume of my own?
Yes, it is possible to create a resume of your own. However, Careersbooster emphasizes that it's difficult for a regular person to create a catchy and remarkable resume without professional assistance. Of course, they are making money when someone fails to write a CV.
Is it easy to make an order?
Unfortunately, it's impossible to name Careersbooster's website simple and user-friendly. Actually, it's rather complex, and a beginner or inexperienced user will find it rather difficult to place an order or find out additional details. The website is slow, and there is too much unnecessary information, which probably aims to distract you.
Get the Job You Deserve!
Professional Resumewriting Service
Get started