Home
/ Visualcv Overview – We'll Reveal the Truth
Written by: resumewriterreview
Visualcv Overview – We'll Reveal the Truth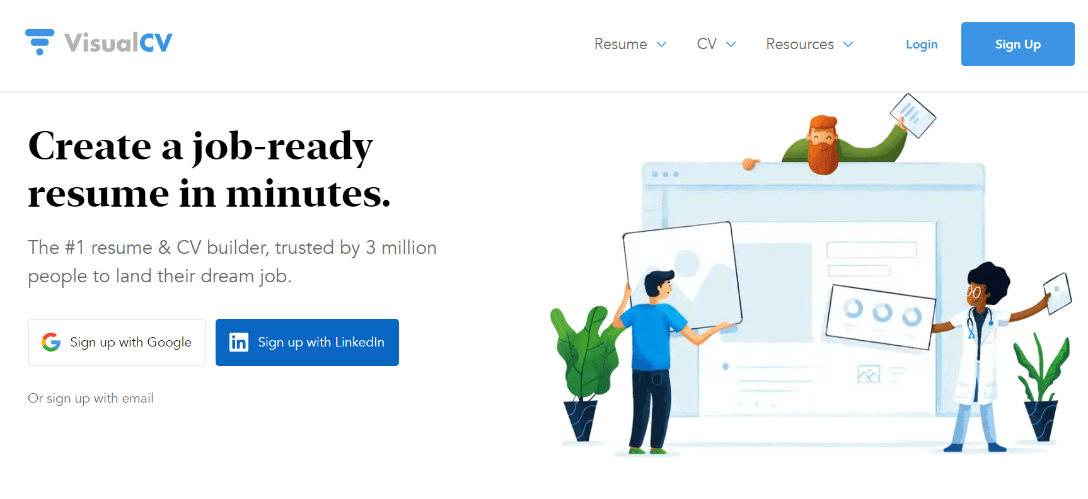 VisualCV was founded in 2007 in Canada and is quite widely used all over the world. It is a tool, which allows creating, editing, and storing CVs on the platform. We have received multiple requests for reviewing this website and decided not to make you wait.
Below you can get familiar with the most detailed and updated review of this platform, which will help you to decide whether VisualCV is for you or it is better sticking to traditional writing services.
Range of Services
This platform was created solely for creating resumes and CVs, so there no other services you will find on the website. The number of templates and resumes that you can use greatly depends on the chosen subscription.
If you are using the platform for free, you can create two resumes, but paid members may have an unlimited quantity of resumes. The same concerns uploading files: free users can upload up to 50 of them, while paid users – unlimited quantity.
Unfortunately, you can't create cover letters or any other sections. The VisualCV is limited only to resumes, so if you need something more than a CV, this platform is not the best option.
Pricing and Discount Policy
It becomes a mystery why resume builders prefer keeping the pricing section a secret. And VisualCV is not an exception because it is almost impossible to find out the price before deciding whether to use their services or not.
However, when starting a free account, don't expect anything extraordinary: you'll be limited in templates, options of download, the number of resumes, and much more. For $12 a month, you'll get one online CV, 14 templates, and unlimited uploads. When paying $18 a month, subscribers get any time cancellation, unlimited resumes and files, 14 templates and 1 online resume, PDF and Google Docs download, CV tracker, and a personal domain name.
Visualcv Quality
We expected to get an extraordinary resume, but unfortunately, the result was rather mediocre. While you are the one to create the CV, there are lots of mistakes to make. So why pay money if there is no one to correct spelling and formatting?
On top of it, the templates are rather common, so you won't get any outstanding and unique.
Guarantees
We tried really hard to find guarantees that would mean that the service is able to protect its users and subscribers. However, VisualCV don't seem to care much about the people who pay money, and we could only find the two following guarantees:
Privacy Policy
Account cancellation
However, the Privacy Policy section is rather wordy, and it becomes impossible to understand what your rights and responsibilities are. Moreover, it grants website owners with multiple rights and subscribers – with huge responsibilities.
Another guarantee is that you can cancel the account any time, but this takes effect at the end of the billing term. The only positive moment is that if you cancel the account within 30 days from the subscription, you'll get a full refund. However, we saw multiple comments from users who claim that they never saw that money.
Support at Visualcv
VisualCV customer support is far from perfection. You can reach them via live chat or telephone, so there's no way one can get assistance with an urgent request. The available communication channels include email, a built-in message window, and social media accounts. However, customers claim that it takes the company 1-2 business days to respond. Probably they are too busy or have too many problems to solve.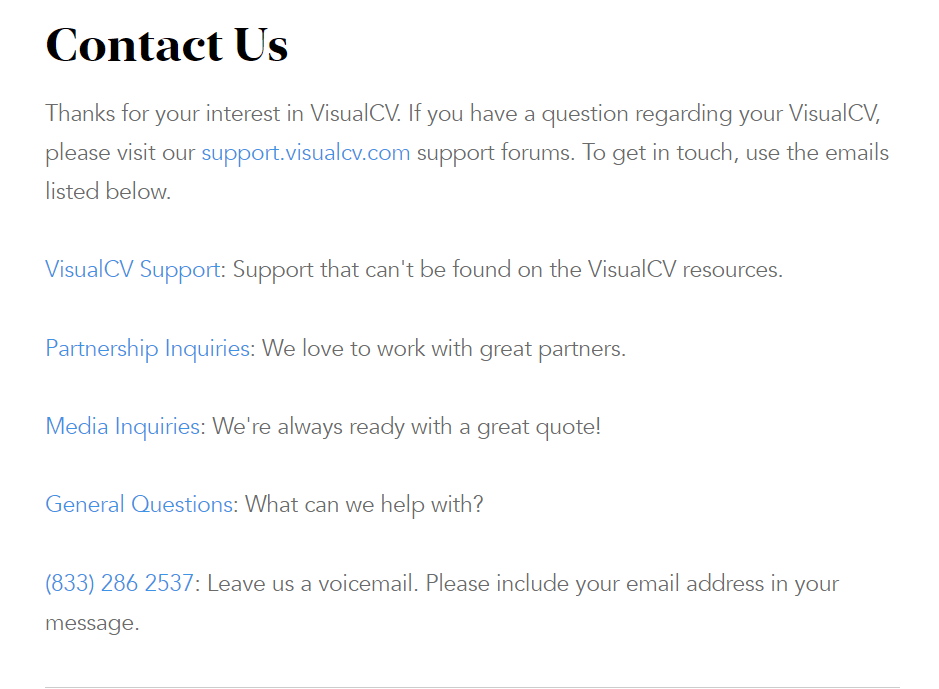 Online Reputation
After reading online testimonials, it becomes obvious that there are enough of those who love visualcv and those who find this service a waste of time and money. Some people managed to create good resumes, while others said that the templates are boring and outdated. Probably everything depends on your preferences and expectations. Let's just say that we weren't impressed by the CV we managed to create.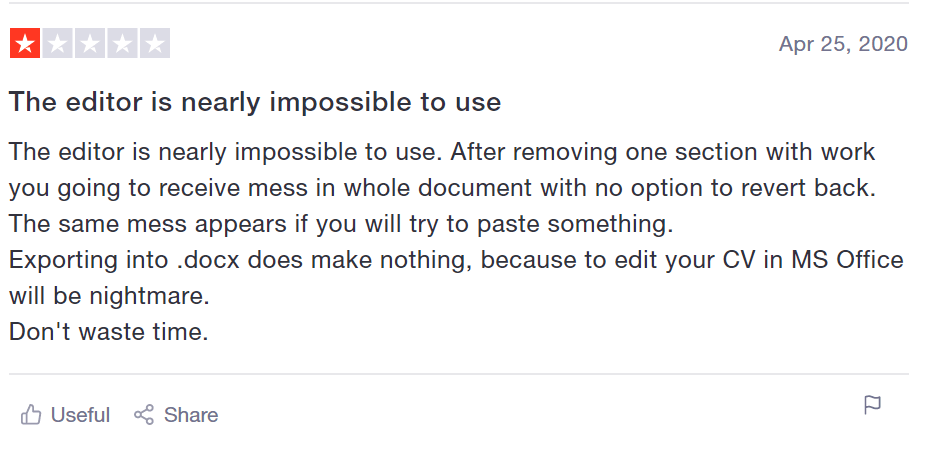 Pros and Cons
Positive aspects of the Visualcv include:
Smooth design
A free version
Negative features are:
Absence of cover letters
No page with prices
Impossible to print the resume
Verdict
Today we have discussed VisualCV.com. It is a modern tool for creating resumes and CVs based on built-in templates. There are free and paid subscriptions, which allows getting familiar with the service without paying a thing.
However, the resume we created was rather mediocre and lacked originality, and thousands of other subscribers confirm that. In addition, the price page is absent, and it's a real challenge to find out how much you will have to pay. To summarize the review, this tool is legit and can be a good option if you don't expect anything extraordinary and will agree to use the same templates that thousands of other subscribers have already used.
FAQ – answers to the questions you may have
How can I reach their customer support?
You can reach the company in three different ways: by clicking the Contact Us button at the bottom of the official page, by emailing the managers or leaving a message at a devoted number.
However, they don't inform that customer support rarely responds and that in a case of any problems, there will hardly be anyone to help.
Can I use their services only for a month?
Yes, there are various pricing plans on the website, so you can pick a VisualCV pack depending on the needs. For example, if you just want an editor for several months or to create a CV for a PDF application, simply pay for a month or two.
There are also packages for those who want to store their resumes and CVs online. Our only concern is security issues because you provide lots of personal information, and it's kept on the website.
How can I use a custom domain name?
To host the CV on a domain, you need to login to your provider and point the domain to VisualCV IP address. Make sure that the name matches the domain name authorized on the setting page. However, this feature is only available for Pro members, and you'll have to pay an impressive sum for it.
Why VisualCV is unique?
While regular resumes may be plain and boring, with this tool, a potential employee can add charts, photos, videos, graphs, clips, and any additional documents to make the CV brighter and complete. You can also add achievements as they appear without forgetting about them later.
The only drawback is that the templates are copied, so thousands of other applicants have the same generic resumes showing that you didn't create it on your own.
Can I change credit card information?
Yes, there is a chance to update any personal information, including payment details on your account. But after testing this option, it turned out that the website is rather slow, and a part of the data wasn't saved. Thus, we had to change it once again.
Is it different from other writing sites?
There are many writing companies on the Internet, which deal with resumes. However, they provide plain and boring CVs that no one reads. The biggest advantage of VisualCV is that this tool is bright and modern. However, the privacy issue is a big drawback. Who knows, maybe they'll figure something out?
Does it have a built-in spell checker?
No, there are no instruments, which would check your CV on grammar, vocabulary, and spelling mistakes. Thus, if your language skills are far from perfect, there won't be a spell checker or a proofreader to help.
How can I check whether VisualCV is affordable?
You don't have a chance to check if this service fits your budget before actually paying for it. The price tags are hidden, so you can't compare the fees and decide whether this service is affordable.
Get the Job You Deserve!
Professional Resumewriting Service
Get started