Home
/ MONSTER RESUME REVIEW
Written by: resumewriterreview
MONSTER RESUME REVIEW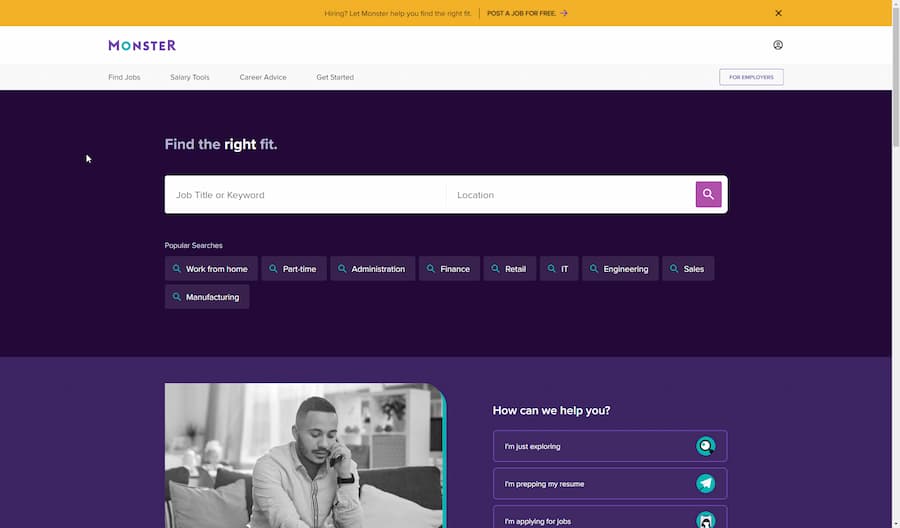 THINGS TO KNOW BEFORE ORDERING A RESUME AT MONSTER RESUME
While we juggle with our personal and professional lives, we might need to change jobs in between. The process of applying for a new job while continuing with the current job until we get a better job offer is a troublesome task. Instead of taking out the time to prepare a proficient resume ourselves, we can hire a professional to do it for us. There are many websites offering this service nowadays. Today, we are going to discuss the services and quality of one of these, which is Monster.com.
QUALITY
The best way to find out about the quality of the services provided by a site is to test it by placing a small order on it. For our monster resume writing services review, we had the following criteria, in the sequence as listed, to check their quality.
Web layout – is it user-friendly and offering adequate information?
Delivery time – do they deliver within the timeframe set on the order?
Objective evaluation of the resume delivered – is it free from errors such as grammar or spelling mistakes, plagiarism, length (too short or too long), vocabulary limitations etc?
Other monster resume service reviews available online – what do others who have used the site have to say about it?
At the first glance, the monster resume website appears to be professionally designed. The company is actually running a job portal, and they offer monster resume services under the 'Career Resources' section of the website. This is a good approach to expand the scope of business, as they must be able to cash on their existing customer base of people looking for jobs. After all, it is the people who are doing job search who need to write a resume! They have listed down quite a few incentives for people to choose monster resume builder instead of opting for some other site for the same purpose. Some of these incentives are listed below.
Certified writers
Customization of resumes
Unlimited revisions
Professional development programs
All the above sound great! We have to admit, they are quite good at selling their service. They definitely pass our first criteria. Moving on to our second criteria, we placed an order for a resume and cover letter to check it out, since that seemed to be their most popular package. The order was delivered on time.
Objectively speaking, the resume that we received was, although good but, not strong enough to justify the price we paid for it! Someone who is paying more than $100 would at least expect a thoroughly descriptive work experience listed in the document, which could make their past job roles sound more fantastic that they actually had been. Although we could not find any language errors in the resume, it certainly did not match up with the price. We would assume that people who pay this kind of price would be applying for top-level managerial positions, and would need a really outstanding resume to make it through to the interview phase. Hence, we were a bit disappointment with the quality in this regard.
LIST OF SERVICES
Very precisely, following is the list of services or packages they have.
Resume only
Resume + Cover Letter
Resume + Cover Letter + LinkedIn Makeover
They also offer templates to choose from, samples of which can be seen in articles posted in their 'Career Advice' section where they discuss how a resume is seen from a recruitment manager's perspective.
PRICES
Needless to say, their prices are on the higher end when compared with other online resume writing service providers. The following table reveals the price for each of their package.
| | |
| --- | --- |
| Package | Price |
| Resume | $ 129 |
| Resume + Cover Letter | $ 169 |
| Resume + Cover Letter + LinkedIn Makeover | $ 349 |
CUSTOMER SERVICE AND DELIVERY
There is a chat bot installed on the website that serves as customer support. When you contact them via the bot that appears as a contact form, an instant reply is sent to your email. This is an advantage for monster resume service since many other sites offering the same service lack instant customer support.
GUARANTEES
The site gives guarantee for customer satisfaction. Although they do not guarantee a job offer within 1-2 months of using their resume like other similar sites do, they state that customer will be offered revisions until they are satisfied, without any extra charges.
ONLINE REPUTATION
When we read other monster resume service reviews, we found critique similar to ours. People do feel that their service is expensive. There have been customers who, after paying the price, were still not able to get the job they applied for. Some also mention that once you order from the site, you would not know how to delete resume from monster, which means your professional details will be saved with them and could be used as publicly displayed samples in their articles. This can be a red flag for most people, especially for those at top managerial positions.
CONCLUSION
To conclude our monster resume review, we would say that although it is good, we would recommend you explore other options first to get your resume written at a much more reasonable price.